From March to August, Tasmania will play host to local and international culinary legends including Alain Passard, Dominique Crenn and Christian Puglisi, as TasTAFE Drysdale presents the 'Great Chefs Series,' a collection of unparalleled degustation dining events hosted in Launceston and Hobart.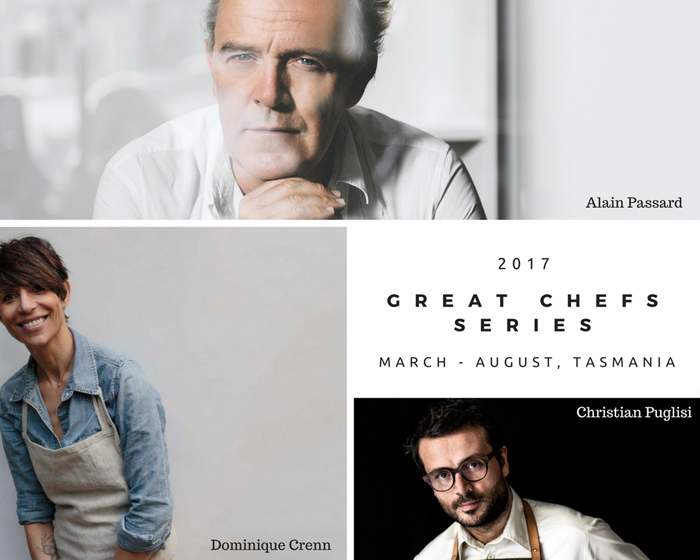 With the calibre of the Chefs involved it seems entirely befitting that the festivities are due to commence at the beginning of the World's 50 Best celebrations in Melbourne.
Each event shall showcase Tasmania's widely celebrated, exceptional and unique produce, as the Chefs involved spend time prior to the dinners to learn from local producers, growers and winemakers to develop their menus.
The visiting Chefs bring years of excellence at the highest service levels to Tasmania:
Alain Passard's restaurant Arpège is number 19 in the World's 50 Best and he is widely regarded as a Chef that has influenced a generation in the kitchen, with his traditional techniques and approach.
Dominique Crenn was named the World's Best female Chef in 2016 and has pushed the boundaries through the evolution of techniques from traditional grounding with her strong social, poetic and environmental narrative underpinning her molecular gastronomy.
Christian Puglisi's restaurant Relae is number 40 in the World's 50 Best and is part of the brigade that has built the food scene and reputation in Scandinavian countries and brings a very strong sustainable, organic focus to his craft and a style which is deliberately different to other visiting Chefs.
The finest local produce and wine suppliers have been respectively introduced to the events programme to highlight Tasmania's rich culinary heritage including: Flinders Island Meat; Cape Grim Water; Goaty Hill; Tamar Ridge; Moore's Hill; Holm Oak; Delamere Vineyards; Tamar Valley Truffles and Josef Chromy Wines.
To commence the series, Chef Passard will be based in Launceston for approximately eight days whereby he and his sous Chefs from Arpege will work with TasTAFE Drysdale apprentice Chefs in delivering a four-course lunch on Wednesday, 29 March at Josef Chromy Winery, Relbia and a ten-course degustation dinner on Saturday, 1 April at TasTAFE Drysdale campus in Launceston. Chef Passard will also be delivering an intimate private dinner at Peacock and Jones in Hobart on Thursday, 30 March.
Dominique Crenn and Christian Puglisi will travel with their kitchen teams and together with the apprentice Chefs from TasTAFE Drysdale will deliver a ten-course degustation dinner each. Dominique will partner with Goaty Hill Winery on Saturday, 8 April and Christian will match his menu with a selection of wines from Tamar Ridge Winery on Wednesday, 12 April.
Throughout April to August, six Melbourne and Sydney based Chefs will visit the Tasmanian shores, each spending time mentoring the TasTAFE Drysdale students and developing a unique seven-course degustation for the public. Visiting Chefs to Launceston include; Guillaume Brahimi, Phil Wood and Mike McEnearney and Hobart based David Moyle, whilst Jacques Reymond and Mark Best will make the pilgrimage to Hobart.
The events provide the opportunity for TasTAFE Drysdale to take part in an exceptional vocational experience, delivered by the highest possible culinary leaders from around the world.
Tickets and further information for these events can be found at www.greatchefsseries.com.au.
Photo of Alain Passard thanks to Douglas McWall.