By Sean Melrose.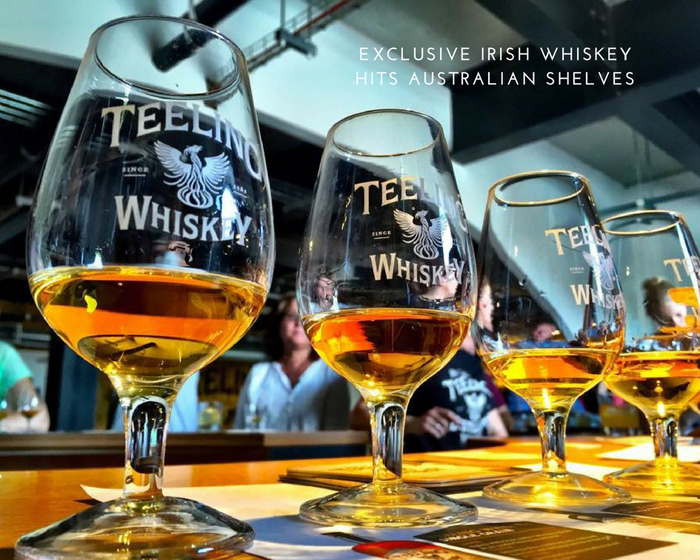 Gathering awards at a fast pace not unlike a rampant snowball, big things appear to be in sight for small batch whiskey company Teeling. Riding the worldwide maple coloured wave of Irish whiskey resurgence, Teeling has done particularly well in Australia of late, experiencing an 81% year on year brand growth down under.
The whiskey has been around for some time, its roots dating back to 1782 though a decline in demand spelt the end for the much loved distillery in the 1900s. A recent revival in the Irish whiskey market caught the eye of Teeling brothers Jack and Stephen, who decided to take the plunge and restore their old family legacy. Their modern day focus is hand crafting and small batches with a combination of authentic methods and innovative techniques.
In response to their whiskey's growing popularity, the young Teeling duo are launching a number of new single malts that will be available in Australia from early March. Select venues around the country will be putting on events and polishing their best whiskey glasses to celebrate the arrival on Aussie shores of the Teeling Revival Volume II 13-year-old single malt, along with their prestigious 24 and 33-year-old single malts.
"We couldn't be more thrilled by the tremendous growth we've experienced in Australia over the last year, not just within the Irish whiskey category, but across the market as a whole."
"We can't wait to introduce what we see as our most interesting whiskeys yet to the Australian market," said Stephen Teeling.
Dublin resident and Brand Ambassador for the Asia Pacific region Martin Lunch was also positive about the Australian reception of the in demand Irish whiskey.
"The last year has been immense for Teeling in the Australian market. It's been very exciting to see Australia's increasing interest in Teeling and Irish whiskey…we've certainly got a lot to celebrate this St Patrick's Day," said Lunch.
St. Patrick's Day eve will see a Teeling Whiskey appreciation night at prohibition-era cocktail bar 1806 in Melbourne, while the next day hidden Melbourne bar Loch & Key will also have Teeling wares up for grabs. Not to be left out, City Tattersall's Club will have a Teeling event in Sydney on the 15th of March, the same city hosting the Irish Whiskey Fair at The Wild Rover on March 13th, where the coveted company will be in attendance.
Teeling's 33-year-old single malt whiskey, a release comprised of just 275 bottles is believed to be the oldest bottling of Irish single malt to hit shelves in recent times. It's this reason behind Teeling's claim to the world's most exclusive Irish whiskey.