From palm fringed tropical islands encircled by thriving reefs to bustling markets and mouth-watering cuisine, Malaysia is one country to add to the bucket list for an exotic getaway.
While we are coming into Summer here in Australia, Malaysians experience heat and humidity almost all year round, with seasons affected by a monsoonal climate and a sporadic downpour or two mid dry season too. Whether you have plans to visit this vibrant country or not, you can always savour a taste of Malaysian cuisine here at home, filled with flavours that are sure to tingle your tastebuds.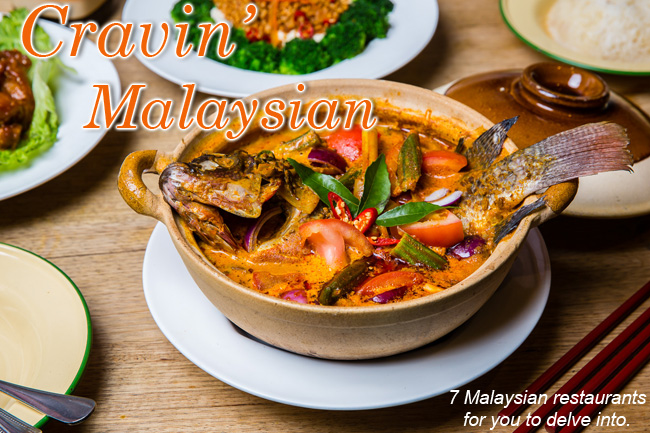 Whole Fish Curry, Sedap. Photo: Nikki To.
Malaysian cuisine is loved for its variety, a reflection of many external influences, both culinary and culturally, as well as for its fresh ingredients and tantalising spices. Find a combination of fast and fresh street food as well as heartier mains worth dining over like dry curries, peanut sauce salads, fried rice, fried noodles and more.
To enjoy a taste of Malaysian cuisine yourself, peruse through our suggestions below, or head over to the Malaysianrestaurantsection on our guide to find the one nearest to you.
Upperroom Restocafe | Sydney City NSW
Enjoy a tasty Rendang curry for lunch in a spacious, industrially styled setting with stress-free black and white tones, all the while sinking into a slick, black leather armchair or spreading out with a laptop and the day's papers to sort at a length table.
Berempah | Willoughby NSW
An exotic culinary journey awaits all who dine at Berempah, with an ambient appearance attributed to the space by an elongated design, warmed by soft light glowing from caged globes strung overhead and a mixture of black and white photography and caricature portraits.
Albee's Kitchen | Campsie NSW
This cosy haunt's menu is sure to impress; creating over 16 sauces a week to be served in the restaurant, Chef Albee Thu is passionate about experimenting with authentic flavours and a mixture of spices, and the result is evident on a menu that transports tastebuds straight to Asia.
Sedap Malaysian Kopitiam | East Sydney NSW
Known by the locals as a vibrant hub bustling with activity, diners come and go throughout the day, slowing only to savour Sedap's aromatic dishes under the strings of warmly glowing lights before continuing on their daily adventures.
Ipoh Town Grosvenor | Sydney City NSW
Spice up work days with Malaysian inspired hawker street food; expanding out into a communal courtyard of Grosvenor Place, visitors to the likely eatery can kick back and relax under a spacious, semi-alfresco ceiling fringed on one side by tall bamboo, filled with rich, wafting aromas from sumptuous cuisine.
Ho Jiak | Strathfield NSW
Rustic and welcoming in style, this eatery charms those passing by with a quaint street vendor style, luring them inside with the smell of steaming meat broths wafting from an open kitchen and offering up seats both at intimate tables or perched up at the bar on bright red stools.
PappaRoti Macquarie | East Sydney NSW
Since opening its doors in 2013, this bustling city establishment boasts a regular calling of customers, eager to enjoy authentic Malaysian cuisine in relaxed, friendly surrounds. Be sure to try their signature sweet and salty dessert, the bacon and chips sundae.