Technically, it's not drinking alone if the bartender is there!
You know the drill…it's Friday afternoon and time to relax after a long and stressful work week.
What better way to chill out than with a cocktail at your favourite bar or restaurant. Alternatively, you could take the party home and concoct the perfect drink to usher in the weekend.
Welcome to our Cocktail of the Week series, where each Friday we will highlight a cheeky creation to tantalise tastebuds and set the tone for good times.
Drawing on Mediterranean flair and inspiration, drop by
Willo Parramatta
restaurant and bar on Smith Street to experience a fresh, unique and seasonally driven menu using Australian ingredients. Find drinks, dinner and design at this trendy Sydney destination, whether perching on a stool at the bar and enjoying a cheeky cocktail; or dining at round wooden tables indoors, as a full glass frontage lets in an abundance of natural light.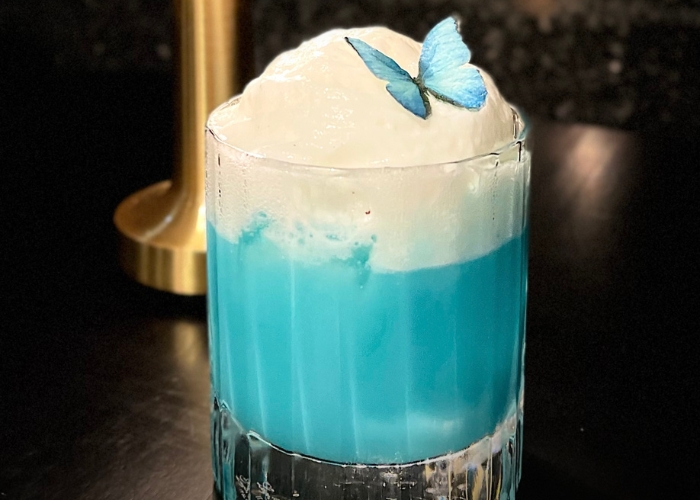 Be transported to a serene Summer sky with a mesmerising blue hue and expertly blended flavours with Willo mixologist Srijan Sangroula's cocktail creation – the
Skyflutter
. Think coconut tequila, blue curacao, crème de cacao and more to make this unique drink – inspired by Srijan's girlfriend's use of rice paper butterflies in her baking.
The Skyflutter cocktail captures the magic of her baking and the mixologist's craft – it's a playful and delightful sip that brings together the best of both worlds.
"Topped with a velvety layer of pineapple foam, infused with citrusy notes and adorned with a delicate rice paper butterfly, each sip is a delightful dance on your palate," Srijan says. "It is an invitation to savour the moment, celebrate life's simple pleasures and create lasting memories."
Capturing the dreamy feeling of the sky above and just like its blue colour, this dessert cocktail brings a sense of calm and wonder – the fluffy white foam adds a light and elegant touch, resembling the floating clouds.
To Srijan, Skyflutter is more than just a drink; it holds a special meaning.
"It is a sweet goodbye to the day and an invitation for the next delightful experience; with each sip, Skyflutter wraps you in its embrace, creating sweet memories until we meet again," he says.
Cheers to an extraordinary drink experience!