December 2012
Advent Calendar Countdown for Bibliophile Foodies
Do you love to read, admire and collect books? Are you amassing a large and specialized collection of libacious literature or know someone who has? One more question… do you love to cook?
If a resounding 'yes' is ringing loud like Christmas bells to one or more of these queries, then look no further for Christmas gift ideas. Akin to an advent calendar (with less calories than the chocolate kind), we're counting down to Christmas with one book in mind per day.
This curation is particularly focused on food, wine and culture as represented by Australian publishers. If you're a gourmand at heart with affinity for home cooking, the new AGFG Shop is an affordable online option selling select cookbooks and food products that will put a taste of luxury into every pantry.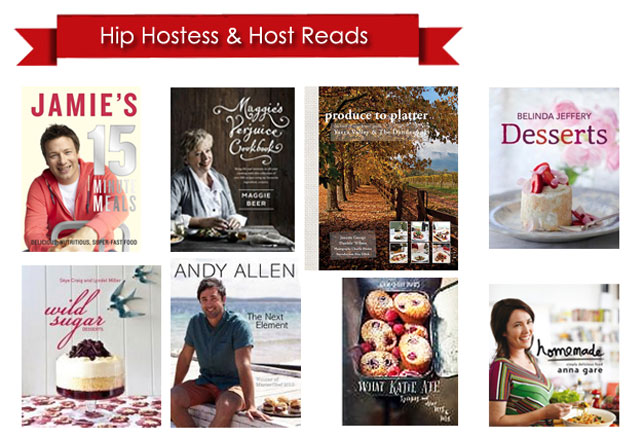 Finding gift ideas on the internet is like taking a drink from a fire hydrant rather than wine tasting at the Good Food & Wine Show. With ease and elegance in mind, read about it, drink it up, cook, eat and be merry.
Anticipating Christmas: Last Minute Gift Lit Consideration
1. 'Maggie's Verjuice Cookbook' by Maggie Beer, Penguin (2012)
At the Good Food & Wine Show this year, there was a distinct buzz around Maggie Beer's cooking demonstrations 'Verjuice – It's Love at First Splash'. Those who had a taste of Maggie Beer's mouth-watering menu at GFWS Oxford Landing Estates Restaurant were swooning with the life and intensity in her food. 'Maggie's Verjuice Cookbook' lavishly highlights this natural acidulant in her recipes, giving cuisine a sharpness and bite.
2. 'Jamie's 15-Minute Meals' by Jamie Oliver, Penguin (2012)
Jamie Oliver does it again, and if you've been watching the tele you know the deal; '15-Minute Meals' is made for weekday meal preparation in mind. If you're already a fan or keen to be converted, read more in our recent interview with Jamie where he stomps out all excuses for kitchen laziness, calling peoples copouts pure bollocks. When it comes to home cooking, you are not allowed to exclaim 'I don't know how' ever again. BONUS: Cool points include the back of the book where each two course meal is displayed graphically in a small format so that it reads over five pages like a comic book.
3. 'Sydney 360', self published by photographer Con Hionis (2012)
Cylindrical panoramas that spin you around on a whirlwind visual tour of Sydney's architecture to shores, from New Thai dining hubs in pedestrian lined streets of Chinatown to the arenaceous marine dock in Balmain.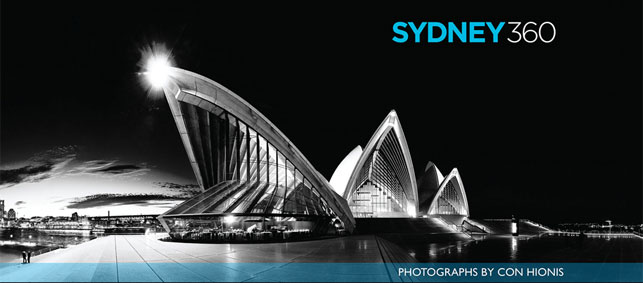 4. 'Produce to Platter: Yarra Valley & The Dandenongs', Smudge Publishing (2012)
Brought to you by a mother and daughter team who specialize in communications, this is their latest publication in the 'Produce to Platter' series featuring top chefs, local secrets, and regional stories alongside stunning full-colour photography from the Yarra Valley & The Dandenongs.
5. 'Australian Wine Vintages 2013' by Robert Geddes MW
Best known as 'The Gold Book', this shiny, metallic, and petit book of advice comes in a white box that requires only a bow – it's the perfect stocking stuffer. Corporate types can order a box or two with their insignia on the front.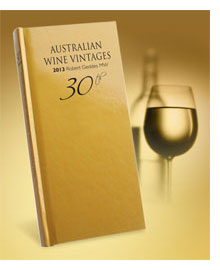 6. 'Desserts' by Belinda Jeffery, Penguin (2012)
Ask Belinda Jeffery and she'll happily tell you she has the best job in the world. Constantly writing cooking tips here, there and everywhere, with each new release she tries to incorporate bits of experiential knowledge wherever she can within its pages. Baking Christmas biscuits… how about trying pecan and honey melt-in-the-mouths, mascarpone and ginger biscuit cake, chewy ginger and almond lace biscuits, and lime and coconut tuiles?
7. 'Wild Sugar Desserts' by Skye Craig and Lyndel Miller, New Holland (2012)
If you like to live on the wild side, there's no reason it needs to stop with your cooking. Bling up your holidays with Glass Balls which are awe-inspiring delicate and ornate spun sugar clusters developed by a diva cooking duo, including Skye Craig whom you may remember from the second season of 'MasterChef', that both maintain 'We love sweeties. We love eating them. We love making them. We love sharing them.'
8. 'The Next Element' by Andy Allen, New Holland (2012)
Winner of 'MasterChef 2012', this twenty-something former sparky is now a reliable cook that lights up a room a room with his down to earth personality and electric, eclectic dishes. Moving right along, Andy loves to cook and there's no looking back… his 'Next Element' is food and his book expresses the process, from cooking basics for your family to feasts with friends – with notes on preparing as much as you can in advance so you can enjoy the festivities – to 'MasterChef' recipes and other new food directions. Check out our New Year blog interviews for more from Andy on the whole writing experience.
9.'Homemade' by Anna Gare, Fremantle Press (2011)
Former Junior MasterChef judge and mentor (also a rockstar back in the day) Anna Gare has gone the length to share her recipes is a really personal way. We know her from television and become further acquainted in 'Homemade'. She's honest, with an impromptu way about her, and we're looking forward to speaking with her early next year. Keep an eye on our blog in February for an interview with Anna on the book, her TV show and love – of food and life.

10.Lantern Cookery Classics, Penguin (2012)
There's something about the orange cover of a Penguin classic that entices readers to pick up a copy and reacquaint with a great writer; sometimes it's a new-to-know experience, other times it's like connecting with an old friend. There are six books so you can pick up the entire series or chop and change the titles around for who loves what. Lantern Cookery Classics showcase: Gary Mehigan, George Calombaris, Kylie Kwong, Maggie Beer, Matt Moran, and Stephanie Alexander.
11.'What Katie Ate' by Katie Quinn Davies, Penguin (2012)
Includes 'recipes and other bits & bobs', not to mention an inspirational artist's success story that has inspired thirty-something women throughout Australia. A food blogger who has graduated to hard copy status, Katie Quinn Davies has gone through the highs and lows and the completion of this book is definitely a coup de grace. An enduring record of her recipes expressed verbatim and accompanied by her original photography, this one merits a permanent place on your bookshelf – though it won't stay there long, as your friends will all want to flip through it straight away when they pop by.
12.'Love and Hunger' by Charlotte Wood, Allen & Unwin (2012)
No photos in this one; this book is a simple antidote to food pressures in the overwhelming world of celebrity chefs. Charlotte Wood writes 'thoughts on the gift of food', an amusing ode expressing how and why she learned to cook in such a way that it becomes a practical guide for you to do the same along the way.
13.'Janella's Wholefood Kitchen' by Janella Purcell, Allen & Unwin (2012)
She's a woman who goes her own way. We know her for many things. Amongst authorship, she's been the 'good' nutritionist counterpart on 'Good Chef Bad Chef' GCBC and is known for her emphasis on SLOW food: seasonal, local, organic and whole. Her recipes are identified as dairy free, gluten free, raw, vegetarian and vegan so 'Wholefood Kitchen' is a handy one to have around. If you, errr… I mean the lucky person you're gift shopping for, is transitioning the household for meatless Mondays or is into the good health, holistic and long term diet approach to meal planning, this is the one.
14.'Meat' by Adrian Richardson, Hardie Grant (2008)
This may be one of the older publications on our list; however, with Australia Day the next holiday we have in mind after Christmas, 'Meat' is a worthy companion for BBQ champs.
15.'The Good Life' by Adrian Richardson, Pan Macmillan (2011)
A new side to the story, showing that there's more to this man than meat. You can't tell a good book by its cover, but can you tell a good book by how its cover feels? Testament to the quality of the homemade recipes within, 'The Good Life' is physically padded – it's soft to the touch, cushy even. Bless, this is a year of cooking and eating with Adrian (whom we also know from GCBC amongst other shows), his family and friends.
16.'Have You Eaten' by Billy Law, Hardie Grant (2012)
A Sydney food blogger, too, some became more familiar with Billy on 'MasterChef'. Originally from Malaysia, the title of his book is a phrase commonly used in his home country as a greeting. Since he moved to Australia in 1996, Billy has picked up food techniques and Western influences including, chocolate – it's not just for desserts anymore.
17.'My Feast with Peter Kuruvita', Hardie Grant (2012)
We've seen him on SBS, and foodies with a love for gourmet products have tried his new product line, now to read these island recipes and incorporate them into our summer life is a feasible option. Food influences you'll come to know include: The South Pacific, Sri Lanka, Indonesia and the Philippines.
18.'Lentil as Anything' by Shanaka Fernando, Vivid Publishing (2012)
An author referred to as a modern revolutionary, 'Lentil As Anything' refers to Shanaka's Melbourne-based community restaurants and the book is his biography that reflects his unique 'people first' philosophy. His tales hint at a 1970s childhood in Sri Lanka and extend to the present where Shanaka maintains and promotes the philosophy that 'everybody deserves a place at the table'.
19.'Sails Noosa Cookbook' by Paul Leete, Independent
When you holiday and Noosa over the holidays, this is a gift to pick up when dining in Sails Restaurant. Their story is worth telling, and like many proud restaurateurs, they've taken it upon themselves to tell an important local story by way of food – 'fresh, simple food presented perfectly and professionally'.
20.'Hot Plate: Asian-Inspired Barbecue', New Holland (2010)
From the chefs of Spirit House in the Sunshine Coast comes a modern Thai inspired world, full of flavour and in this case, Asian influenced BBQ recipes. When these chefs are not busy fuelling the restaurant with extraordinary food, they're sharing their unique style and technique with students in their cooking school. Perfect for summer entertaining.
21.'Latitude 36.50' by Jean-Michel Gerst, New Holland (2012)
Taking us in another gastronomic direction, this collection resonates on a warming level. From a mountainous setting, these recipes are categorically designed with that alpine culture at the heart. Hit the slopes for breakfast, refuel at lunch and opt for an afternoon sugar hit that you've made yourself – there's nothing tastier.
22.'Slow Cooking' by Margaret Fulton, New Holland (2012)
When Margaret Fulton started writing in 1968, her self-titled book sold over 1.5 million copies, teaching the generations how to entertain guests with impressive staples. A timeless goddess of cookery writing, Margaret Fulton is now ensuring we maximize our use of the ever versatile slow cooker for stews, casseroles and… breads and cakes. There's nothing old fashioned about a crockpot and no better way to pick up modern tips than from a legend.
23.'The Cook's Bible of Ingredients' by Margaret Brooker, New Holland (2012)
Photos can go a long way in assisting us in preparing new dishes, at least giving us a visual idea of what we're looking for. Margaret Brooker's book ensures the image speaks loudly in educating us on basic ingredients. A picture book with helpful information that covers the dietary food pyramid; a gamut of area is covered from grains and cereals to sweeteners and flavourings.
24.'Movida Cocina' by Frank Camorra and Richard Cornish, Murdoch (2011)
The king of Spanish cuisine in Australia has paired with writing colleague Richard Cornish to release Movida Cocina through Murdoch Books, which came out late last year - Frank Camorra has done it again. Novice cooks beware... some recipes in MoVida Cocina are indeed hearty while emphasizing simple flavours, but are certainly not effortless in the making. Preparation needs to start three days in advance for their pork and pepper Catalan sausage with black beans and piquillo peppers, "Butifarra" (the name Frank originally wanted to call his first restaurant).
25Very Merry Book Reviews by AGFG
To complete the advent countdown, we're offering the gift of continuity. Check back in our blog periodically, every month or so for book reviews that will offer great ideas for gastronomes and lovers of all things food, wine and travel – with a particular emphasis on Australia. Oftentimes we'll interview the author where they'll dish out some of the juicy details on their work in the kitchen and other tid bits of advice and hot topic ideas.
Happy Christmas gift shopping readers, eaters and cooks. Check out the new AGFG Shop for pantry items, treats, chef ranges, beverages and molecular specials.