December 2012
Longrain Modern Thai Interpretations
Among a new generation of modern Thai food cooks stands Martin Boetz of Longrain fame. It's been thirteen years since opening his first restaurant in Surry Hills and Martin's signature eggnet dish remains one of most requested menu items in both of his restaurants – Longrain Melbourne launched in 2005.
Interpretive Asian cooking and fashionable food and bevie combinations are visionary sign posts for Martin Boetz and front of house business partner, Sam Christie.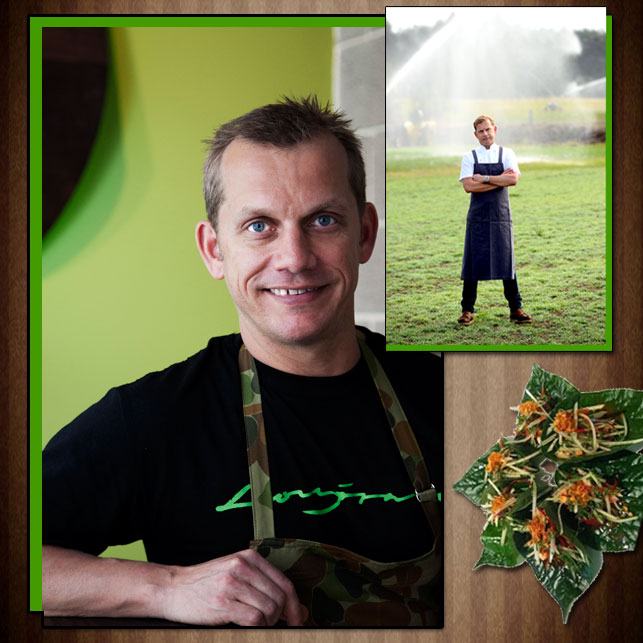 We dare food loving home cooks to bravely try cooking a characteristic Longrain combo.
To drink, Sam aptly advises entertainers to fill a jug with lots of ice and vodka, squeezed limes and mint bunches; for a more intimate version for two, we recommend this lychee caprioska recipe.
Martin Boetz is a German-born chef who knows what people love to eat at Longrain and wisely builds Thai Asian dishes around accessible Australian produce. Would you believe, his mother is the only one who doesn't understand the prominent hot food he produces – isn't that always the way? Martin devoutly loves German cuisine, however, and deliberately seeks out commonalities amongst international cuisines, noting pork hock popularity in both German and Thai culinary culture as one example.
This interview departs from cross comparison of sauerkraut and Thai napa cabbage similarities, focusing on how Martin continuously meets Thai-trend demands in Sydney and Melbourne.
AGFG: You first revealed Asian influenced chef secrets in Longrain Modern Thai Food, released in 2003. It's long been out of print and you're maturing a second book for the new generation of multicultural home cooks across Australia. Can you pinpoint key aspects of your food evolution over the years?
MARTIN: I've recently bought a farm just outside of Sydney on the Hawkesbury River and am incorporating crops on the farm that will yield produce for Longrain; right now a practice crop is planted and we're seeing beans, pumpkins and watermelons. I'm doing another book now and want to do it with meaning.
My cooking philosophy has changed since the first book in terms of health. Longrain is only organic now and I know where all my meat and seafood comes from. We're sympathetic to small producers doing a hard slog and have had many different relationships over the years. Closely considering seasonality has made the food a lot better.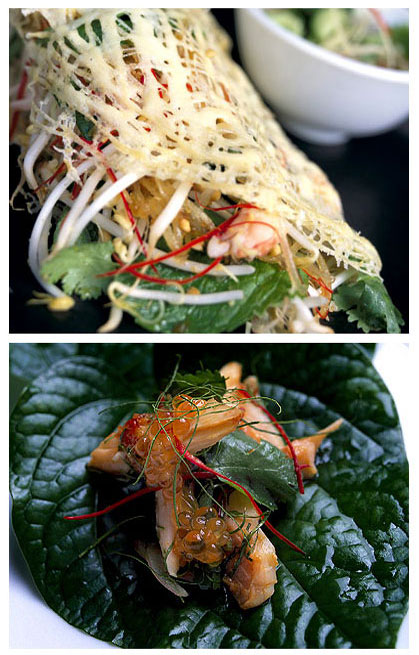 AGFG: What sets your Thai and Southern Chinese style apart from others and what are the ingredients you can't live without?
MARTIN: I travel to Thailand once a year for a few weeks of inspiration, always enjoying the simplicity and loving Thai people. After many years of being open, we finally have many Thai people working in our restaurants.
Even in Thailand I'm surprised by how sweet dishes are and everything is laced with palm sugar, but it all seems to balance out. It's a very elegant, communal eating style there… everyone having a small amount from each dish.
Thai cuisine isn't simple and doesn't work in the same way as other cooking styles. One Thai recipe takes up to 20 ingredients – it's a prep thing. My food is not necessarily fusion; I take traditional Thai recipes and fit them with Australian produce. Fish sauce, coconut cream and lime juice are essential.
My Thai cuisine builds on the vast knowledge of David Thompson and from cookbooks that I've ready. I enjoy eating all the food we put on our menu and try to create accessible dishes for everyone based on my own palate. My approach is avoiding overpowering chilli, shrimp paste, and fermented fish products.
AGFG: Every region in Thailand has a different taste, often incorporating Chinese and Indian influences. Thai cuisine often varies by region, as cooks take traditional recipes of the land and make them their own. Can you outline elements that define Martin Boetz's version?
MARTIN: I really enjoy all the herbs and the fragrances, particularly of lemongrass and holy basil, showcasing them in what I cook. Other combinations include caramelized palm sugar, fresh tumeric, pineapple, chilli and wild ginger over grilled chicken or fish. Mint, coriander, eschalots and chilli mixed through lime juice and fish sauce is another one of my favourites, allowing the sweet herbs and meat to combine with the hot chilli flavour and sourness of the lime.
Bangkok is a hub and melting pot, braised beef with hot and sour salad being a great dish that highlights the essence of that flavourful merger. Once a Chinese dish, Thai cooks have made it taste good for their palate with a very sour and hot dressing balancing out the richness of the sliced sirloin meat with what it's been braised in.
Some of my dishes were on the first order thirteen years ago and remain menu items today, mostly the sweeter dishes. After a spicy meal, the longstanding duck-egg caramel custard dessert is perfect for those willing to step outside their comfort zone.
AGFG: You retail Longrain products, from a yellow bean dressing to a three flavoured sauce combining sweet, sour and salty flavours, and… original music soundtracks. How does food and atmosphere come into play at Longrain?
MARTIN: Characteristic Thai food is served banquet style, usually 4 or 5 dishes around the main part of the meal. We try to guide people through the menu and if they choose not to follow our suggestions that's totally up to them.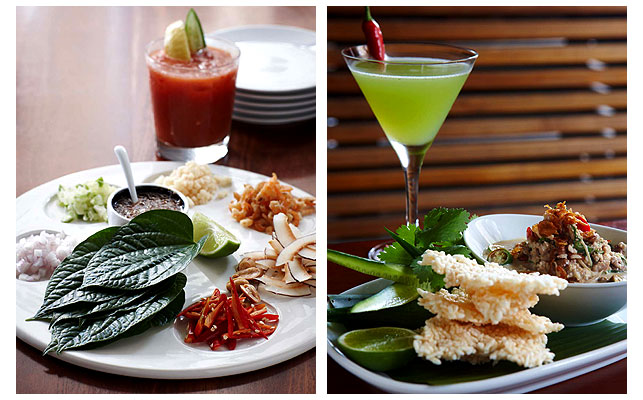 "It's best to order something sweet, salty and hot with a
stir fry, which will tie in nicely together."
For instance customers run the risk of ordering too many sweet dishes when really it's best to order something sweet, salty and hot with a stir fry, which will tie in nicely together. Looking at our eggnet and caramelized pork hock, the chilli and vinegar accompaniment is there to finish the dish and it isn't complete without it.
Our restaurants are a one stop shop - you don't have to leave - starting at the bar and moving into the restaurant. Sam controls the front end side of our business, and based on customer admiration he put together CD collaborations of the DJs and artists that have performed live at Longrain.
AGFG: How does your Thai cuisine work with Sam's wine list?
MARTIN: Australian and German Rieslings are dominant on our wine list, including quite a few German wines that go really well with my food because of their slight sweetness. There is no heavily oaked Chardonnay because they don't work. There is a lot of Pinot Noir and we don't have any heavy red wines. Beer goes really well with our snacks and meals.
AGFG: Longrain is counted amongst big name Sydney restaurants that have made it south of the border. Do you find Melbournites to be a fussy bunch when it comes to dining?
MARTIN: Crossing the border can be a bit challenging. People thought Longrain Melbourne would be short lived… but once they know you have been there for awhile they are really loyal.
Whether you're dining in Melbourne or Sydney on a regular basis or elsewhere in Australia, our AGFG Restaurant guide will assist you in finding tried-and-true Thai restaurants across the country.