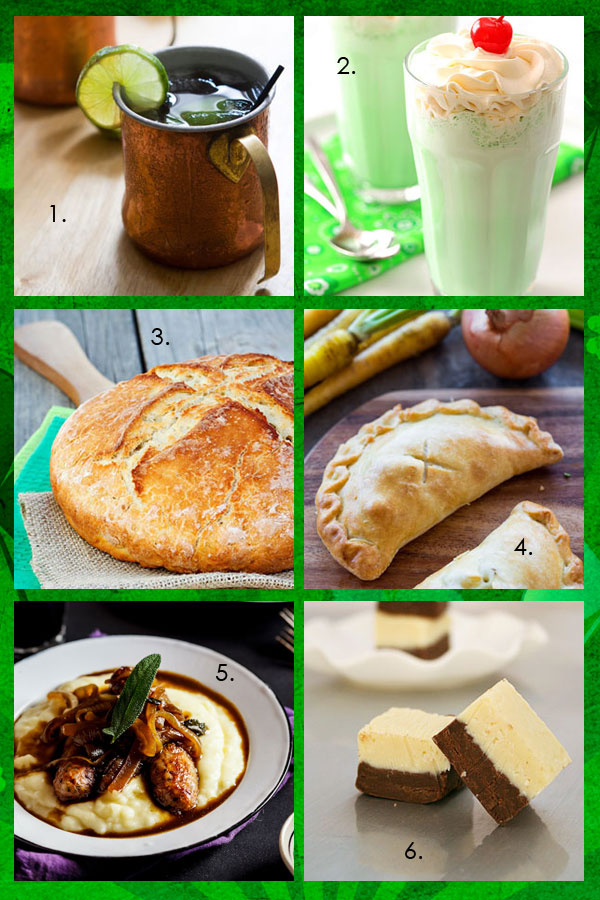 Cocktail: Irish Mule
If the day is hot, kick back and sip a cool cocktail! Let us present an Irish twist on the classic Moscow Mule for a refreshing minty drink.
Drink: Irish Milkshake
A cold and creamy treat to enjoy, try out this boozy St Patrick's Day milkshake with a generous dollop of cream on top.
Appetiser: Irish Soda Bread
There's always those first few party arrivals looking for a quick snack as they sit down. Slice up this Irish soda bread and serve it alongside all your favourite green dips for an easy starter.
Starter: Irish Pasties
Snacking just became all the easier with these walkabout Irish pasties. Wrap the bottom up in a napkin and you're good to go. Guinness in one hand, pasty in the other; what more could you want to fill you up on St Patty's Day?
Main: Sage Roasted Pork Sausages on Mash
If the hunger pains are really starting to take hold, dish yourself out a serving of pork sausages on a bed of creamy mash and feast like an Irish king!
Dessert: Two-layered Irish Fudge
Keep this addictive Irish dessert away from the kids and finish off the day the right way with a sneaky slice or two.