A Reader Review
By James Kell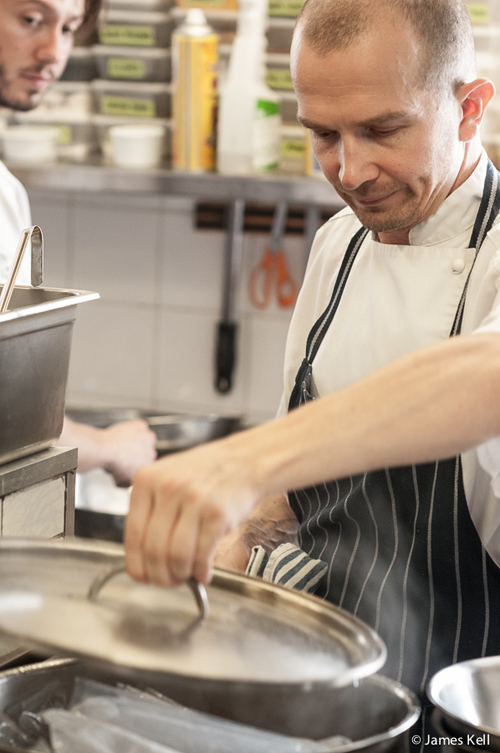 Mum recently spoke excitedly about a lunch she had had at a curious new restaurant in Sydney. It was a restaurant whose name she could not remember but whose exact address she could. Mum is like that. I googled the address and found "Cafe Paci". A week later I was there for dinner. The name 'Cafe Paci' is nicely done; chopping off the last few letters of its former life being Cafe Pacifico and similar to the name of the Finnish founder and former head chef of Marque, Pasi Petanen. True to its no-nonsense pop-up approach, the new tenants took out a one year lease, blacked-out the end of "Pacifico" in the street sign, painted upstairs muted grey and started cooking. The focus here is entirely on serving the best possible food at a great price – a bold undertaking. Yet the business model they have supports it. A "no choice" approach means they can offer a terrific degustation-length menu for $85 – well below other three hat restaurants (not that this has three, or any hats for that matter – by the time hats are awarded it will likely be long gone. Let's call this a "pre-hat" restaurant).
Pasi's menu is bold and creative yet it keeps both its feet out of the pretentious camp. You know those restaurants that get so caught up in soufflé of some obscure thing that they forget the food tastes rubbish? This place concentrates on serving food that simply tastes great. I'm understating things here. It's a bit like watching Dave Grohl perform live where every new song leaves you in a deeper sense of awe (actually the Dave Grohl call is especially relevant as the waiter, Dennis, also ex-Marque, could be Dave's stunt-double). After starting with a few killer dishes, one course came out looking like a boring old cabbage leaf. Expectations nice and low for this one. Boom, infused with mussel butter and marrow, this was the best lettuce leaf I have ever tasted. Fancy celebrating a lettuce leaf? Well I did.
The first course of dessert (yes that means we're talking plural deserts here – already onto a winner), looked like a big egg: a mousse of carrot surrounded by light yoghurt sitting on a bed of liquorice. Good? That thing was off the chart. I went back the next week for lunch and to take some photos. Lunch was $45 with one of the five courses being smoked rainbow trout. It feels almost unfair to be paying that much for such a meal. Not that I lost sleep or anything. Anyway, a great restaurant. Likely only to be open for another few months so try to get there and even if you can't this time around, follow Pasi Petanen to his next place. He's onto something.