Award winning chef, Johnny Di Francesco, celebrates pizza as the food that brings people together. Johnny's collation of tastily topped breads inside World's Best Pizza shares insights, classic recipes and much more, so that others can come together and enjoy both his mouth-watering flavour combinations and the actions of creating traditional Neapolitan pizza.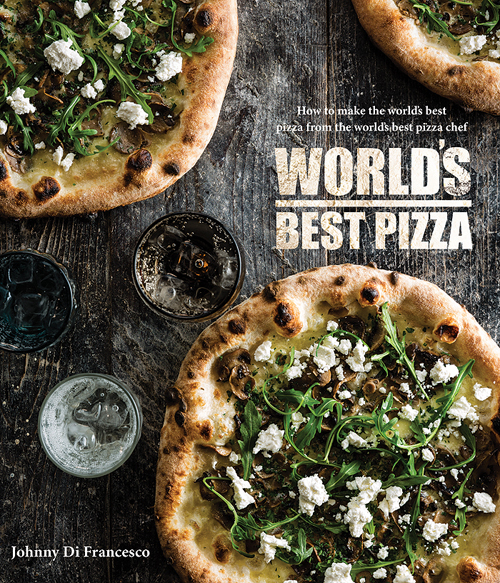 Pizza fans worldwide will delight in the Italian inspired flavours showcased in every chapter. Charcoal coloured backgrounds, rough timbers and ink splotch style bench tops make for moody photography, allowing the rich red tomato bastings and the vibrant greens of fresh leaves to pop from the page. Every flip of the heavy matte paper finds another hint towards a key ingredient; perhaps another turn will reveal a missing ingredient that will transform your pizzas.
Starting with instructions for basic dough, including a gluten free option for those with dietary restrictions, Johnny guides enthusiastic home cooks through simple starters and Pizza Montanara or Fritti (fried starters), to delicious classic pizzas and calzones. Indulging the reader, Johnny graciously includes The World's Best Pizza Margherita. The recipe for this classic favourite is the exact re-write of the one Johnny crafted when competing in the Campionato Mondiale Della Pizza – the Pizza World Championship held in Parma, Italy. It was Johnny's pizza that won the title of World's Top Margherita Pizza, and now it's in your hands.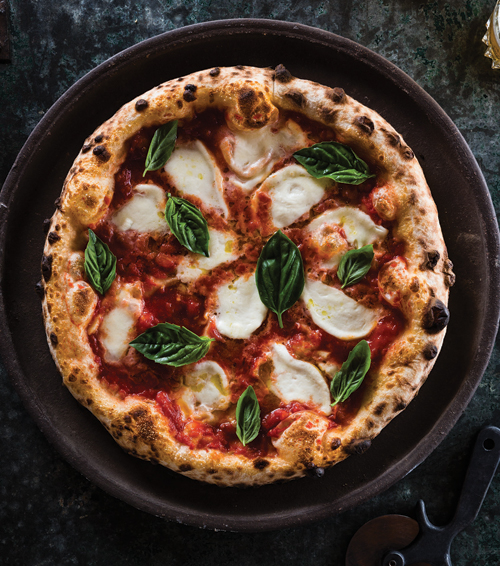 "The World's Best" Pizza Margherita.
Among the classics, there are recipes with a little more modern spruce. Think anchovies and zucchini flowers for a beautifully decorated plate and even deep fried pizzas prepared by flash frying the dough for a richer taste and a crispier crunch with every bite. Additions like the Pizza Con Vongole – clams in the shell with spicy chillies, fresh parsley and crushed San Marzano tomatoes give the home chef a choice between ten minutes of conventional oven cooking, or sliding it into a wood fired oven for a quick 90 seconds to get that smoky flavour right through the crust. To round off this great collection of recipes, Johnny has served up his inspired selection of decadent dessert pizzas. Treat the family to a sweet finish and slice up a Nutella Calzone, made using the basic pizza dough recipe found in the beginning, finished with a light dusting of icing sugar and served with vibrant strawberries.
If you find your mouth is already watering and you really just need a pizza right now, it's probably time to book a table to Johnny's restaurant, 400 Gradi in Brunswick. What you will find there is an experience involving the humbling taste of a Neapolitan pizza as close to authentic as it gets. If you are able to resist the allure long enough to create your own, simply pick up a copy of World's Best Pizza now, turn the pages for a quick idea, get in the kitchen and get started!
By Julie Johnson.
World's Best Pizza by Johnny Di Franceso published by New Holland Publishers, RRP $40.