Maggie truly comes alive in her latest book, Summer Harvest, a re-released paperback edition of her landmark book "Maggie's Harvest." Maggie's philosophy of using fresh, seasonal produce from the Barossa Valley is evident in over 100 of her signature Summer recipes with detailed descriptions of her most favoured ingredients as well as light-hearted accounts of memorable summer night meals.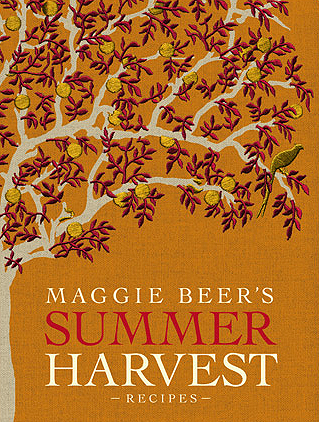 Beginning with Maggie's passion for food she remarks that food has given her so much in life – "a sense of purpose, a delicious anticipation of each new day and gifts of a much deeper kind than financial." Self-described as a country cook, Maggie's love for the home she has made in Adelaide truly shines through on each page where she welcomes all home cooks to splatter her recipe pages with passion as they cook up a storm for their families.
The contents of Summer Harvest is sectioned around ingredients, from anchovies, to capers, cherries, nectarines, rock lobsters and yabbies with a special section dedicated to the most popular event of the Summer season: Christmas. Simplicity is the key to most of Maggie's recipes, allowing natural flavours to permeate the dishes such as chicken with rosemary, pine nuts and verjuice and sweet recipes such as hazelnut cake with fresh raspberries.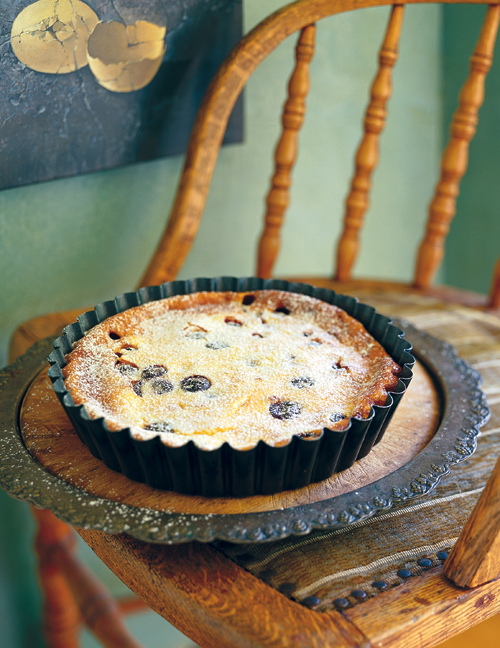 Cherry Clafoutis, p. 42&47.
As the holiday season approaches, delve into Maggie's cherry section where all your sweet tooth cravings are fulfiled. This section teaches you how to make the best decision when purchasing hand-picked cherries, as you will get what you pay for and in some instances dried cherries can be called upon if you're not quick enough during their short season. Enjoy Maggie's Cherry Clafoutis, where she takes advantage of freshly picked cherries to make a delicious tart perfect for the Christmas table. Maggie prefers to not pit cherries for this tart as the stone helps to keep the shape and flavour of the fruit, however, if this makes you nervous remove them and just be prepared that the cherries may lose their shape.
Moving from cherries to tomatoes, indulge in vine-ripened tomatoes (Maggie's preferred tomatoes which come from her garden) and reap the rewards of cooking your own tomato sauce for pasta dishes. Maggie shares her ultimate tomato sauce recipe which we have for you here; it's a delicious mix of very ripe tomatoes, carrot, celery, verjuice and basil (tomatoes companion in life).
Summer Harvest is the perfect gift for yourself or a loved one this Christmas, full of down to earth recipes that anyone can enjoy.
Extract from Maggie Beer's Summer Harvest Recipes by Maggie Beer, photography by Mark Chew, published by Lantern on 18 November 2015, RRP AU$29.99 you can purchase it here.