The Meat Lover's Meatless Cookbook: Vegetarian Recipes Carnivores Will Devour
Following the recipes in author Kim O'Donnel's "The Meat Lover's Meatless Cookbook: Vegetarian Recipes Carnivores Will Devour," there isn't much need to deviate beyond the page, nor would you really want to. Admittedly I'm a prime time candidate to love this book. Not that I'm a vegetarian per se, rather more of a flexitarian foodie with a heavy emphasis on vegetables in my diet. Though veggie lovers are not Kim O'Donnel's target; on the contrary this trained chef and long-standing food journalist is writing to satisfy those more like my sweetheart who, on the other hand, definitely falls into the category of meat lover.
At home our meal quest is to strike a balance between two preferences and it seems cooking, as in relationships, often requires compromise –in the kitchen that can be a synonym for creative license. Though if you're the type who prefers to follow the rules, Kim's cooking methods are clearly outlined, basically explaining, "Here's what you do."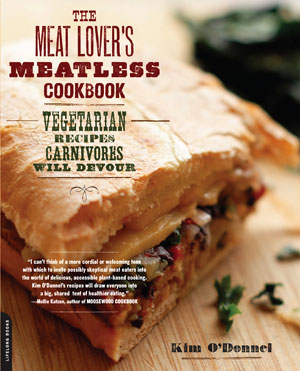 In the Foreword, Da Capo Press published Robert S. Lawrence of Johns Hopkins Center for a Livable Future, addressing the US based Meatless Monday campaign. Essentially he states that opting for a Meatless Monday aims to better our health, sustain the planet, and spread the word globally about excessive meat consumption's impact on environmental resources. Over consumption of meat is an international issue revolving around the average domestic diet. This meatless cookbook aims to circumvent the negative health consequences of meat indulgence with tasty vegetarain recipes.
Vegetarian Trends in Home Cooking
With education and deliciously satisfying alternatives, slowly but surely Western diets are shifting from the common approach of daily meat consumption. Many meat loving families have started with this small pro veg change then increased the number of vegetarian days planned per week. With Kim's recipes, meatless is scrumptious; without compromising on taste, she opts for preparation methods with lean in mind, such as the Jig Inducing Falafel Burgers which take out the deep frying bit.
The author is really thorough in her background description of recipes, so whatever you're cooking from her 52 recipe selections –one for each Monday of the year- there is a variety of options. Dishes are categorically placed into seasons, starting with spring, so this is the perfect time of year to buy the book in Australia. Considering her oftentimes anecdotal descriptions, you know what you're making, the key ingredients are clear, and even the recipe's origin is addressed. No doubt, Kim has painstakingly selected these recipes sprinkled with a healthy dose of personal preference and industry expertise.
Her dishes have handy labels that make meal planning even simpler, including GF gluten-free, KIDDO kid friendly, DO dairy optional, V vegan and XTRA leftover bonus. The Chickpea Crab Cakes are an example of how cooking can be directly influenced by a Chef's home turf as this recipe was originally a traditional Middle Eastern dish; however, family taste testing revealed this recipe's fusion food potential so Kim shifted to Maryland style spicing and behold –the flavour says it all.
Recipes for the Novice Chef that Even Carnivores Will Love
If you order "The Meat Lover's Meatless Cookbook" now and start cooking straight away, you can pretty much work your way through the book over the next year… Not that there are parameters for usage. Like any cookbook, you're free to come and go as you please, selecting recipes that appeal on the day (even if they are in the winter section). Plus there are so called "Wild Cards" decidedly perfect in any season including popular favourites like Grilled Cheese. Also included are some helpful "Kitchen Tricks for Your Sleeve" with handy hints such as how to cut a pineapple.
Depending on your experience level, there's something for everyone. For those requiring a quick and easy protein fix, there's the quinoa salad with emphasis on this great grain's nutritional properties and "it" status for modern healthy pantries. There are a number of tomato sensitivities out there –I know because I'm one of them- so Kim's included ingenious substitution options for dietary concerns such as her Corn Kernel Salad recipe where tomato can be substituted with blueberries. For the novice chef, this flavoursome alternative is just awesome.
Though mushrooms are a personal allergen for Kim, she spoke to many family members, friends and foodies to determine just the right shroomtastic recipe to include in her book. Because a vegetarian cookbook just wouldn't be right without a mushroom recipe. Her wide-ranging echelon of meals is well researched and many of her inclusions are in the vein of traditional recipe sharing, as this particular gem had to be sourced from somewhere other than Kim's culinary mind.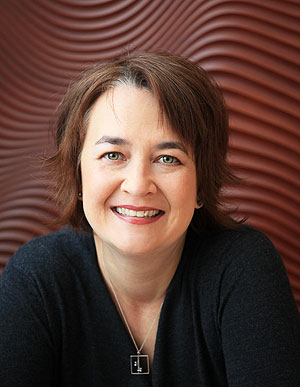 Just as her recipes are original real deals, the way she combines words is unique with descriptive titles and humorous descriptions as in "the reliable stovetop rice that even my husband can make." She includes clever fabrications of classic favourites such as the curdle free Top-Shelf Potato Salad, with fascinating facts for successful cooking such as her believe it or not insertion that it's all about "how you boil the potatoes." Kim's cookbook writing style is refreshing, for instance describing Gazpacho as "Mother Nature's version of Gatorade" and reassuring, written for a readership of less-than-gourmet-chefs. She simply breaks down the Pot Pie recipe, for instance, offering easy steps with a "go with the flow" attitude, encouraging cooks to attempt the crust, then the filling and finally the gravy.
Learning "Meatless" Meal Preparation with Humour
With Kim's recipes there is an option to make light meals and encouragement to combine recipes to ensure the plate is full. One of the biggest criticisms weary meat lovers will articulate is that their meal is not complete without a healthy dose of good ol' fashioned animal protein… That they will fell hungry. This need not be true; her Shepherds Pie example, full of lentils, is a sure fire stomach filler and the Gumbo dish, you will swear has chicken in it. Though if you're making lighter fare, such as Kale Chips or Romesco with bread and almonds, then surely you can make it meal –recipe mix-and-matching is encouraged. One of the main limitations of this cookbook, from the perspective of those who are visual learners, is that her coloured photographs are limited so your imagination will be required.
In the artistic realm of culinary lingo, she delivers with a welcome sense of humour while demystifying vegetarian cooking. Her cookbook incorporates a helpful introduction, so that you know where she's coming from and she address FAQ's from the get go. With recipes such as the simple Frittata, Three Ways or the Roasted Broccoli Pick-Up Sticks, the technique can be applied in many ways so even the beginner can become a seasoned chef in a whole range of flavourful ways. With recipes such as Spinach & Feta Crostata, she eases you in with an important side note that may hit home, "Letting cooks be cooks and not pseudo-pastry chefs." Did I hear mass sighs of relief?
No need to hesitate in taking on meatless cooking, for whatever reason, when there's always Kim's Meatless Pantry Lexicon to refer to, explaining in plain terms what she means when she says something that the beginner vegetarian cook may not understand. Overall, "The Meat Lover's Meatless Cookbook" offers a sense of calm to those leaning towards change, looking for new ways of meal planning and eating with emphasis on vegetarianism. Author Kim O'Donnel has a light hearted, honest approach for the meat alternative cooking newbie rather than preaching to a choir of the converted, though either reader will find her book a welcome garnish to their culinary repertoire, small or large as it may be.