Movember Australia
"Face grown & hand brushed," it's Movember and once again time to grow a mo for the cause. The Movember movement started 8 years ago by 30 mates in Australia and the phenomenon has grown worldwide; now 9 other countries are on board including New Zealand, USA & Canada.
Participate or Donate
Last year over 130 000 Mo Bro & Mo Sistas participated in earning 25 million dollars for men's health charities. Participants begin clean shaven on November 1st then proceed to grow a Mo until the campaign closes on 10th December, using this as an opportunity to promote the cause and acquire nominee sponsorship.
The face of men's health in terms of public awareness and charitable funding is pale in comparison to that of women's health, though the moustache symbol is becoming iconic, easily recognizable as a cause worthy of donation. This is especially the case in Australia, though fund raising endeavours are now occurring throughout November across the globe.

Sporting the Stash for Cash & the Cause
Movember 2011 is toting the line "face grown & hand brushed" and their official Australian Foundation site explains, "As a result of a lack of awareness around men's health issues in the past, many men today do not fully understand or know about the risks they face." The luxury of awareness, education and funding is being afforded to men with this effective campaign.
"The Movember Foundation is interested in raising awareness around all men's health issues but in Australia specifically focuses on prostate cancer and depression in men." It is a fact that cancer occurs more frequently in men and research shows men require resources in identifying issues, seeking treatment and looking out for one another in terms of health. The moustache symbol is a comedic spin and a humorous catalyst for behavioural change regarding serious matters. Part of the intention of this campaign is to "give men the opportunity and confidence to talk about their health."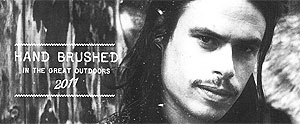 The Movember Foundation Register
The premise behind Movember is simple in that participants begin with an online registration: If you're back for 2011, you login and reactivate your account or if you're new to Movember you sign up and begin. From there participants campaign either individually or on a team, earning support through nominations and the possibility of receiving some prestige such as Man of Movember, Miss Movember or Team Mo, meaning the campaign is open for everyone to participate, including women in support of their men.
The moustache is now iconic with this international campaign aiming in large part to break down the barriers and taboos surrounding the men's health movement. Movember Australia is a distinguished foundation and the iconic moustache is held in high esteem. The international organization originated in Australia which speaks to the campaign's cleverly designed nature whereby public awareness and funding is raised for serious men's health issues addressed with a vital sense of humour –therein lies the secret of this greatly successful, ever growing campaign.
To read more about the Global Action Plan (GAP) or other information on participation and donation, check out the Movember Foundation Australiawebsite.