The Edible City, a book review, recipe and preview of the new consumer trend: growing your own fresh produce. The Edible City will be published by Lantern on August 26.
Join Indira Naidoo and follow her journey through the pages of The Edible City as she visits some of Australia's most innovative and memorable produce gardens and vegetable patches.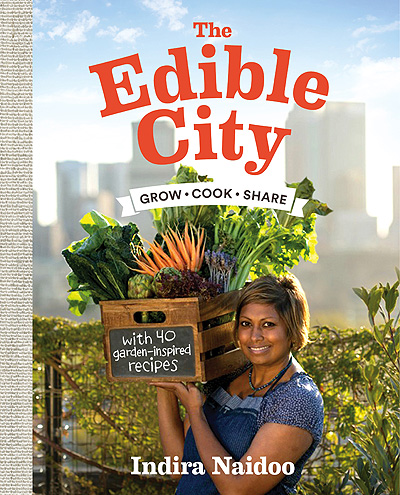 Flip through the pages and find out what inspiring movements are happening around the country with just a few small teams tending to the initiatives. An audacious garden in the sky is providing a haven and fresh sweet honey to homeless visitors, a school native bush-tucker garden is working to reconnect Indigenous kids with their cultural and traditional heritage, a rooftop worm farm is making the most of a Melbourne restaurant's food waste and a community garden is bringing neighbours together to share meals and stories in a welcoming space. These gardens bring like-minded strangers from different paths of life together to form a mutual respect for one another whilst caring and tending to the gardens and guaranteeing its ongoing success. The Edible City creates an understanding of the building of relationships and the healing of neighbourly or cultural rifts that happen slowly – like the growing of a garden.
Indira also offers up gardening wisdom and practical advice on beekeeping, worm farming, how to create compost that is safe to use on the garden and setting up your own community garden as well as featuring 40 recipes tested time and time again to ensure as much of the fresh produce harvested from these gardens can be incorporated. Each recipe and accompanying rustic styled photo offers up encouragement and simple instructions to those who may be starting out. The friendly layout is sure to help put apprehensions aside, inviting everyone to give the recipes a go.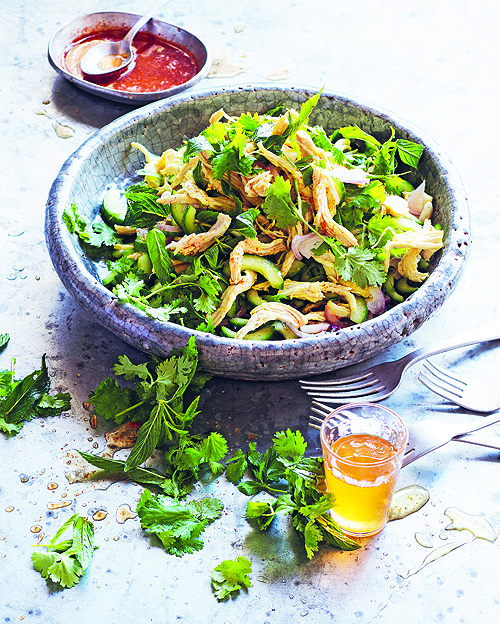 Coconut milk poached chicken salad with Wayside honey dressing, p.42-43.
In a densely populated city, the ground is already in full use; however, often rooftops are left untouched and are exposed to sun and rain, making them an unassumingly ideal place to start a garden. Fresh oxygen can now be found in the heart of big cities, you need only grow a garden in the sky. Ground community gardens also provide a vibrant patch of greenery among the grey of concrete jungles and nearby businesses can opt to fund them in initiatives, showing social responsibility and support for the local community. As Indira explains, a rooftop or block allocated garden can also become a community venture, with all nearby residents taking the stairs to the roof or down to next door and tending to the garden, and of course reaping the rewards in their own kitchens.
Hold an inner-city apartment party and impress your guests with Indira's Rosemary-infused gin fizz with borage flower ice-cubes using the rooftop herbs, serve up generous slices of kale, prosciutto and blue cheese tart and treat them to rosewater poached rhubarb with vanilla ice-cream and crushed meringue for dessert.
Indira also covers how kids can be involved in their school garden and the ongoing, lifelong benefits this entails. It is never too early to begin changing food habits and encouraging children to be interested in food, where it comes from and how to prepare it as it can leave them with a newfound appreciation for plants and the intricacies of delicate ecosystems.
Organising large groups of people in public spaces for photoshoots can pose many complications but The Edible City is successful at making it look easy and unforced, with those involved trusting Indira with their stories of trial, error, vandalism and successes to share.
Recipe from the book The Edible City by Indira Naidoo, with photography by Alan Benson, published by Lantern, RRP $45. The Edible Garden can be purchased here on August 26!
By Julie Johnson. See Julie's article on How To: Grow Your Own Fresh Produce.