Even before you delve inside, the touches of gold and the slick sophistication of the cover hint that this is going to be something special. Providing a glimpse into his renowned restaurant Nopi, Yotam Ottolonchi's latest cookbook is unlike anything he has done before.
The abstract cooking styles of Yotam's Middle Eastern background and head chef of Nopi, Ramael Scully's Asian inspired cuisine have been combined in what is an impressive collection of chef-inspired dishes. Yotam describes how the chance meeting between him and Ramael Scully, or Scully as he's referred to, has led to the creation of the innovative dishes served at Nopi most of which are now compiled in this entrancing book.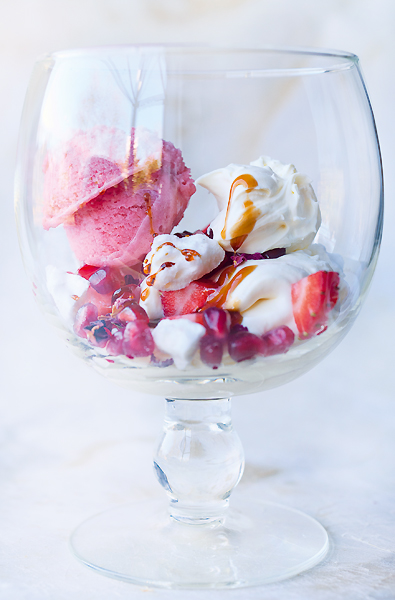 Strawberry Rose Petal Mess, p.284.
Although complex, the recipes in the cookbook have been adapted to allow novice cooks to recreate the essence of Nopi at home. Yotam's vision was to create a restaurant cookbook that showcased Nopi's dishes and made them obtainable to the home cook without losing the integrity of the dish. Over 120 sumptuous recipes are featured in the cookbook, accompanied by beautifully styled photography.
To balance out the complex, or 'epic' recipes from Nopi, Yotam has also included more simplistic dishes that aren't available at the restaurant. Restaurant favourites such as the lamb rump with vanilla braised chicory and soreel pesto can be complemented by a basic side dish such as wilted kale with fried chilli and garlic or paprika oven chips. Those wanting to attempt a particularly challenging dish should try the innovative basil spätzle in saffron broth with red mullet, clams and mussels. For a decadent dessert, flip to the 'Puddings' section of the cookbook and you will find a recipe for caramel peanut ice-cream with chocolate sauce and peanut brittle. Described as seriously sophisticated Snickers ice cream, it's the perfect balance of salty and sweet.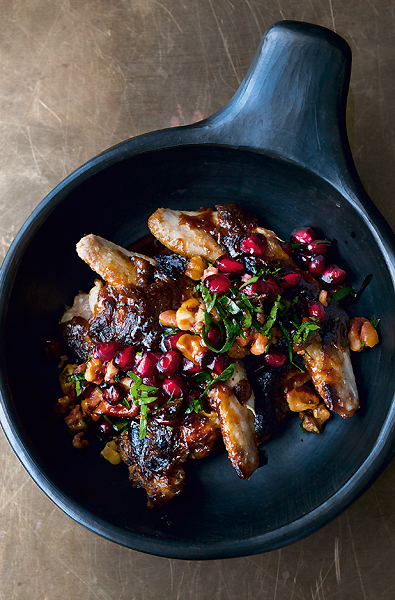 Quails with Burnt Miso Butterscotch and Pomegranate and Walnut Salsa, p. 204.
If you can't decide on what dishes will work well together, then there's no need to worry because Yotam and Scully have provided a list of meal suggestions to help readers create a dish that is perfectly balanced. There are also shortcuts available on most dishes, catering for those who want a simple alternative to some of the more complicated steps.
For those who aren't lucky enough to be able to dine at Yotam's Nopi in London, this cookbook provides the next best thing. The perfect collection to have on hand when searching for recipes to impress, inspire and to challenge your culinary expertise.
By Sarah Dionysius.
Recipes and Images Nopi by Yotam Ottolenghi and Ramael Scully ($49.95 RRP) published by Elbury Press.