Publication Date: 22 February 2012
Traditional French Fare on Your Kitchen Table
One more reason to love Manu Feildel, he's now a reliable author having released his second book, "My French Bistro" at the peak season of his popular television series, Channel 7's "My Kitchen Rules". Just a year after his first book, it reads as if the second chapter in Manu's canon of French cuisine; this time around he's dispensing specialized bistro recipes for the adventurous cook aspiring to impress. With over 22 years under his belt, "French Bistro" concentrates on the cuisine he's been working on over the past few years in particular.
If he's captured your curiosity, check out Manu Feildel's Chef Profile for more biographical information.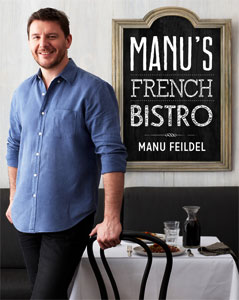 In the pages of "My French Bistro" you'll find direct notes in the recipe preclude, kindly written by Manu to dissuade home cooks from taking the easy route, or opting for tempting substitutions when trying their hand at one of his dishes. The impetus for perfecting one of his recipes is quite simply the outcome: Your dish's destiny is at stake. Will it become "during the week" fare or part of a spectacular Saturday night feast by host extraordinaire (namely, you!).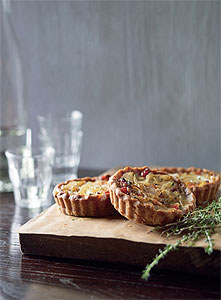 While his first book, "Manu's French Kitchen", is attributed to his mum's food, French recipes from his head and his heart (that he now shares at home with his own son, Jonti), his second is dedicated to his professional chef career. His single mum instilled in Manu a passion for weekend entertaining, and his father gave him his first job in a French Atlantic coast restaurant from where his passion for cooking evolved - we find that professional acumen in "French Bistro".
Over a decade later, that very passion guided Manu to Australia –where he now calls home- and he honed his classic French bistro recipes in with a unique twist on old favourites that's all his own.
Impressing Your Friends on Saturday Night
What could be better on the weekend than impressing your friends and family with contemporary bistro food in your relaxing home? With one hundred dishes, including coq au vin and perfect soufflés (there are five sweet & savoury recipes to choose from), cooking with a traditional French fare theme is made easy with Manu's approach in "French Bistro".
As Manu says, cookbooks don't come with an accent. Even if you miss that French flare in his delivery within the text, the desirous result of his dedicated editorial team is clearly written recipes, including a section on French basics (with pastry, stocks, mayonnaise & jus), and a helpful glossary of terms.
Good News Bistro Bible for the Adventurous Cook
Not for the faint of heart, rather the adventurous cook, "Manu's French Bistro" is for those ready and willing to take on French cooking in oftentimes new and sometimes challenging ways. Being referred to as "the new bistro bible", you'll find this cookbook is simply divided into entrees, mains, and desserts, then cross-referenced with four seasonal menu outlines to assist you in meal planning depending on the time of year.
"The photography is just beautiful in here… It just screams yum, every page that you look at. You just want to cook from it and that's what I want from a book really," Manu Feildel proudly explains.
More good news, the rustic photography by Sydney based Chris Chen flawlessly complements Manu's recipes giving you an apt and artistic visual assist. With "Manu's French Bistro", you're well equipped to build your meal around roast duck with spiced honey glaze or any other main that you choose to serve your lucky guests.