A Colourful Compilation of Mediterranean.
"The way they rather roughly drop a plate down in front of you at a tapas bar. They know it's good; they don't need to make a fuss about," ~Rick Stein.
A fan of the Spanish understatement, 'Rick Stein's Spain' is a colourful celebration of the best the Mediterranean has on offer; scenic beauty, moving music and food festivities that most of us only dream about. Stein takes this one step further than the average cookbook, vividly describing his adventures in a charmingly picturesque manner which allows the reader to feel they were a part of his culinary journey.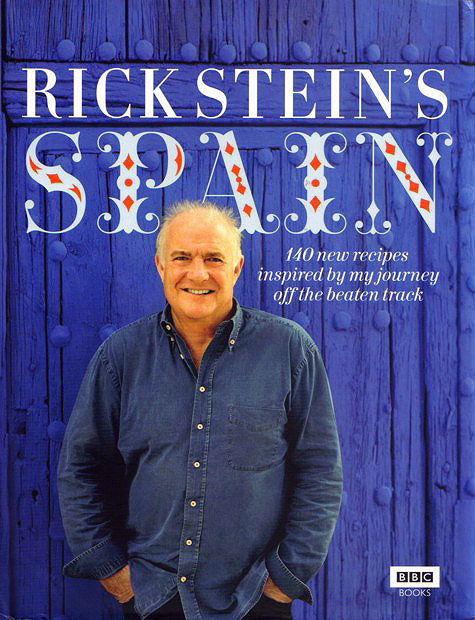 Beginning the adventure in Galicia with an abundance of seafood, Stein's 'Spain' is a selection of over 120 mouth-watering Mediterranean meals, with Stein delving off the beaten track in a bid to capture the essence of Spain. Local fisheries, market vegetables and specialty delicatessens are well known to Stein, whose holiday trips as a young boy had left a fondness for the Spanish spice of life.
"In the Basque country I love the scent of charcoal on the rib of beef chops they grill rare for you… Food for me is a memory of happy times in Spain tied in with thoughts of musty old cathedrals, vast horizons and fishing boats somewhere in the Mediterranean unloading wooden boxes of dark red prawns, a scent of fish scales, black tobacco and diesel in the air."
Heavily influenced by the lingering heat, maritime roots and laid-back culture, Spanish cuisine consists of fresh ingredients, complex flavours and of course, the necessity of seafood. These are the predominant staple items of Stein's Spanish recipes, ranging from hot, hearty stews to summertime gazpacho and exotic flavoured rice.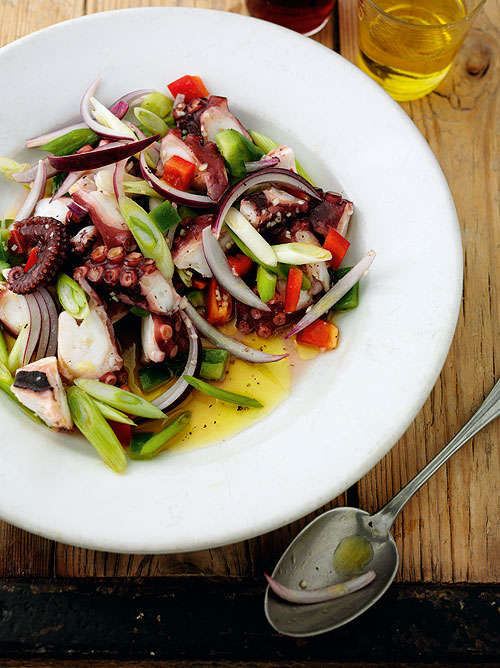 Octopus Salad with Spring Onions and Peppers.
Assisted with a personal introduction of where and why these recipes ended up as one of Rick's selections is as entertaining as it is interesting and reads as more of a Spanish guide than a recipe book.
Complete with a Spanish cheese board selection history at the back to explain the essentials, 'Spain' also includes 'The Spanish Larder,' an index of culinary terms in both English and Spanish to give the reader extra information on the specialty produce of Spain and the regions from which it came. From almonds to turrón, you can be guaranteed to pick up an essential foodie term to practice your newly found language on.
An array of stunning glossy photographs complements Stein's adaptation of traditional recipes, along with creative illustrations that make the book a perfect gift. Accompanying the book, Rick has also filmed a television series, including cooking up fifteen of the included recipes made across the beaten track of Spain. Recipes are simple and easy to follow and when combined with Stein's wit and passion for food, this book stands as one that will be well used within any household. Muchas Gracias Rick!
By Brittany George.