The Best Things in Life are Free
Because the best things in life are free, we couldn't say no to a copy of Frommer's first edition of Melbourne Free & Dirt Cheap. This company is a household name associated with global travel literature and previously synonymous with higher end travel option listings – until now.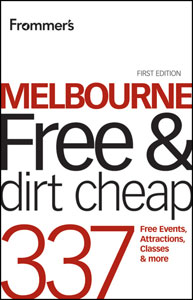 About the Author
Lee Mylne is a well travelled Australian journalist with more then 50 stamps from different countries on her passport. Mylne lived in Melbourne in the early 80's, departed and then couldn't live without it; she moved back in 2004. In her writing portfolio we can find Australia for Dummies as a co-author, as well as Portable Australia's Great Barrier Reef and many more. Melbourne Free & Dirt Cheap is her current masterpiece.
About the Guide
You can see from the introduction of this book that Melbourne Free & Dirt Cheap is written by someone who truly loves this city. Melbourne is the Australian city known for culture, fashion, events, good food, lifestyle, music, markets, art and all that incredible flair of sophistication and charm that no other city in the whole continent is able to replicate. Melbourne is a unique city unto itself with unmatchable cultural character, so it's no surprise that this destination has been selected to be the point-of-departure for what is potentially a new book series.
With 337 different types of Melbourne based info ranging from free events, attractions, accommodations, restaurants and much more, this guide is a handy back pocket option for classic type who prefer the old way of doing things to technological communications. Perfect for the kind of traveler who wants to touch their guide, curse it's first coffee stain, then cherish the inevitable dog eared look it acquires with maturity each and every memorable day it spends off the shelf and in the day pack.
This guide is unique in that emphasizes that the best things in life don't have to be expensive; on the contrary, many of the gems in a world renowned city like Melbourne are free, or very, very, dare they say 'dirt' cheap. Make no mistake about the quality of Melbourne Free & Dirt Cheap, full of useful information that will give your city sojourn a special flavour while keeping those dollars in your savings account – at least for a little while longer.
Only-in-Melbourne Expertise
This guide gives the reader a comprehensive listing of the best things to do for free or very cheap in the city of Melbourne. In the book you will find a list of the 'Best Free Only-in-Melbourne Experiences' as well as best cheap sleeps & eats, ways to explore Melbourne, local living, dirt-cheap shopping, and cheap entertainment & nightlife.
There is also a list off all the events happening in Melbourne, listed by month in 2011 – so pick up your copy ASAP. As we all know, Melbourne is 'The City' when it comes to events, so don't miss out, most certainly now that there's this new user friendly resource at your finger tips.
If by chance you feel overwhelmed by the large variety of information that Melbourne Free & Dirt Cheap is giving you, you can slide directly through to the 'Free & Dirt-Cheap Days' chapter which will give you a few suggestions on itineraries that you can try out of ideas or organizational skill in that day. Different maps of the city and Melbourne's useful information and numbers are also available so that you will never feel lost.
Although this is a beautiful travel guide for those traveling to Melbourne, it can also be a very handy guide for those living there; it's common to travel around the world without really knowing your own city and there's simply no need to fall into that trap. Melbourne Free & Dirt Cheap offers great opportunities for Melbournians out there – anything special planned this weekend? If the answer is no, may not be a bad idea to pick this one up.
This light hearted book is a widespread resource and a must-have for the old school approach to travel referencing, a benefit for those heading to Melbourne and those already there ripe and ready for some inspiring new ideas.
Written by AGFG contributing writer Birgit Kunzli