The Highlights of a Women's Adventure on Maria Island
By Julie Fison
Maria Island, off Tasmania's east coast, is just 20 km from end to end – a jewel of pristine white beaches and rugged dolerite columns. The tiny island has been home to Aboriginal people, whalers, convicts, entrepreneurs and farmers over the years. This week it's playing host to my book group – nine friends here to complete the award-winning guided walk, which combines unbelievable scenery with the best of Tasmania's food and wine.
~ Check out Winsor Dobbin's A Taste of the Tamarfor hints on the best places to wine, dine and stay in Tasmania.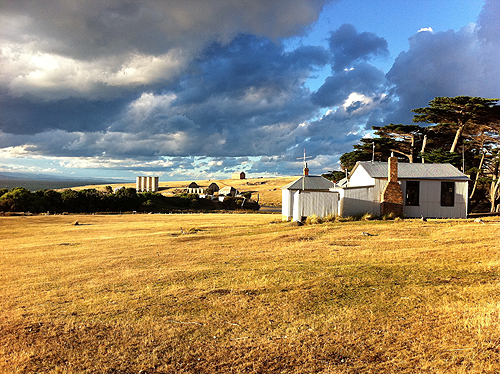 We're looking for a change of pace and scenery, a few days off the grid, and I can feel the transformation taking place as soon as our boat pulls up in shelter of Shoal Bay. The conversation, that has been dominated by kids' assignments, sporting events and family dramas, changes. Liberated from the yoke of our regular routines, we turn into a bunch of friends on a girls-on adventure, which, as a mother of boys, is quite a change for me.
Now we are free to tackle important subjects like which Sex in the City character we identify with. I'm all the way with S.J.P. Maybe it's because I used to be a reporter, but I think it's more about the hair. Mine has turned into a highlighted frizz ball five seconds after I arrived.
There are other weighty topics to discuss as we settle down to dinner in our secluded bush camp. Over a meal of goat's cheese bruschetta, scallop risotto and summer pudding (whipped up by our clever guides), we pontificate over which movie star should play us in a biopic of our lives. I admit that the chances of any of our lives being the subject of a biopic are extremely remote, (at best) but it's a subject that provokes lively debate. Just what our guides make of this highly implausible nonsense is anyone's guess. They are too polite to say.
In our defence, I would note that we are minor celebrities in the book club world, having taken out second place in Brisbane's Best Book Club competition (2004). It's a badge we wear discreetly, but proudly. And although we gather regularly to talk about books, there are no novels discussed on this trip. Maria Island, itself, is the story, and walking its coastal paths is like ambling along Australia's timeline.
Dutchman, Abel Tasman first set eyes on the island in 1642, naming it after the wife of Anthony Van Diemen, the Governor General of the Dutch East India Company. A hundred and fifty years later, French and English explorers noticed the large populations of seals and whales. Whalers and sealers soon followed.
By 1825 convicts had been transported here. The convict settlement was closed down permanently in 1850, and Maria Island was opened up to farmers. Several intrepid families took up the challenge. Flamboyant entrepreneur, Diego Bernacchi also spotted an opportunity to turn the windswept island into an Australian Riviera, however the Depression proved too much for business, and the company went under. Maria was abandoned and eventually turned into a National Park in 1971.
Since then the island's isolation has worked in favour of the wildlife, giving it a reputation as a modern-day Noah's Ark. Several threatened species, including Cape Barren geese, Tasmanian native hens, Forester kangaroos and Flinders Island wombats have been successfully imported. We come across a whole field of wombats on a grassy hill, so cute, you could put one in your backpack, if they didn't have terrible tempers and very sharp nails.
The highlight for me is the climb to the top of the dolerite columns of Bishop and Clerk. It's a majestic peak that rises 630 metres above the old convict town of Darlington. The trek starts off pleasantly enough; up a grassy slope that affords views over fossil-strewn cliffs, but turns into a gruelling trudge up a scree field. Then there's a final scramble over the summit's boulders. Finally the view – the Freycinet Peninsular, Wineglass Bay and the Hazards stretching out on the far side of the bay.
Sadly that's all a fading memory. Now, it's business as usual. School has resumed and I'm elbow deep in lunch boxes, assignments and commitments, dreaming of another book club sojourn. New Zealand is looking good for our next destination. But I'm not too fussy. As long as someone else is cooking dinner and making my bed, I don't mind where we walk. A beautiful view and matching wines are just a bonus; it's the company that makes any trip unforgettable.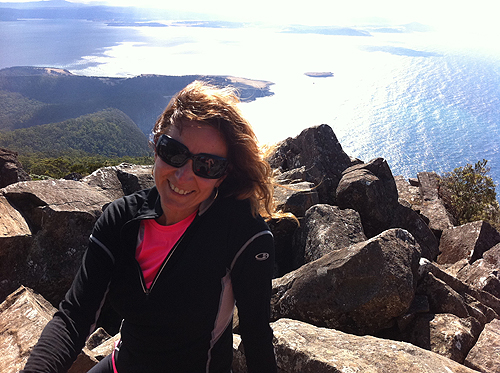 Julie Fison is a blogger, presenter and author of fiction for children and young adults. See her work at www.juliefison.wordpress.com Photo Credits: Julie Fison.