The wine, food and accommodation route of Tasmania
By Winsor Dobbin
Tasmania's cool-climate wines are all the rage right now, with demand for the fresh, lively flavours of the Apple Isle often exceeding supply.
The longest-established wine touring route in the state, The Tamar Valley Wine Route, is this year celebrating its 21st birthday and at several of the cellar doors visitors are able to taste and buy wines made in such tiny quantities they seldom make it to the mainland.
The Tamar Valley, and the adjacent grape-growing areas of Pipers River and Relbia, are based in a fertile region where grapes were first grown in the 1800s.
Today, northern Tasmania is becoming increasingly well known around the world for its sparkling wines, aromatic whites and stellar pinot noirs.
Just a short drive from Launceston Airport, the Josef Chromy cellar door recently launched a new up-market restaurant that overlooks the vines and a picturesque lake. Velo Wines, meanwhile, has opened a new architect-designed café and tasting facility that has quickly become a favourite with both locals and visitors.
The major appeal of the Tamar Valley Wine Route is the fact that many of the wineries are family-owned, so you will usually be served at cellar door by someone intimately involved with the wines.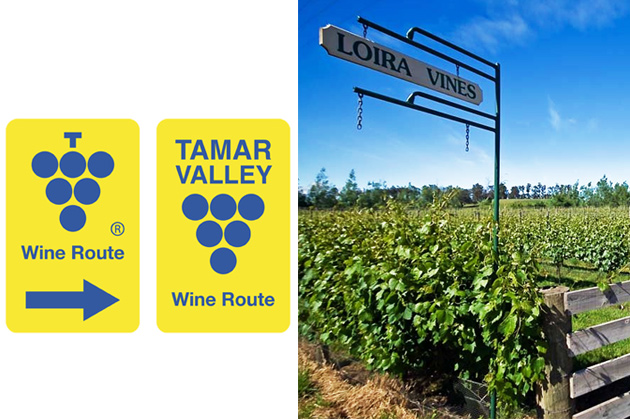 The region that encircles the state's second city of Launceston remains small, friendly and largely undeveloped in terms of mass tourism.
Some cellar doors are only open at weekends, or during the warmer months, so it pays to check before setting off on a day of exploration. Others, including Grey Sands, Clover Hill, Waterton and Humbug Reach, require a prior appointment.
Visitors can follow around 170 kilometres of trails marked by yellow and blue "Wine Route" road signage and the route was named one of the best 10 in the world by the UK's Essential Travel magazine last year.
There are over 30 boutique producers, some of whose wines you can taste and purchase at the award-winning Harvest Producers Market held every Saturday morning in Launceston, or at specialist retailers like The Pinot Shop and Davies Grand Central.
Best cellar doors:
Josef Chromy was named cellar door of the year at the 2012 Tamar Valley Wine Route awards. Here you'll find an excellent range of wines at several price points, a tasting facility with knowledgeable staff andlovely vineyard and lake views, as well as a top-notch restaurant specialising in local produce.
Tamar Ridge Kayena Vineyard, now owned by Brown Brothers, has a tasting facility overlooking the vinesin the West Tamar and offers a large range of wines that can be sampled, along with back vintages. Cheese and other regional produce is available for sale.
Pipers Brook Vineyardallows visitors to take a self-guided drive through the vines and offers tastings of Pipers Brook, Ninth Island and Kreglinger sparkling wines, as well as serving lunches, coffees and cakes in the Winery Cafe.
Lovers of sparkling wines will head straight for the Jansz Wine Room, an impressively modern edifice at Pipers Brook that is open seven days a week that also contains an interpretive centre and serves cheese platters and coffees.
Holm Oak offers a rustic tasting experience surrounded by vines and visitors can poke their heads into the on-site winery, where Tim and Bec Duffy also produce artisan ciders under the Small Players label.Wines here are grown, made and bottled on the farm.
Bay of Fires Wines produces still wines under the Bay of Fires label and Australia's most exclusive sparkling wines under the House of Arras label.Sample tasting plates, tea and coffee.
Also try: Leaning Church, Marion's Vineyard, Dalrymple Estate, Sinapius, Delamere, Three Wishes, Iron Pot Bay, Goaty Hill, Moores Hill, Stoney Rise, Winter Brook, Ninth Island, Native Point, Providence, Sharmans and Bass Fine Wine (an urban winery housed in a Launceston industrial complex).
Where to eat:
Koukla's at Gravelly Beach has been a local favourite for eight years.Chef Cathy McCarthy, a third generationGreek cook, also uses Italian, Spanish and Moroccan flavours in her dishes and her menu changes weekly depending on what seasonal produce is available locally.
The Cove Restaurant and Bar at Peppers York Cove specialises in local produce. Talented chef Jason Smith previously worked at the now closed Daniel Alps at Strathlynn. His menu ranges from traditional fish and chips to dishes like slow-roasted beef cheeks and honey and aniseed pork belly. Two dozen local wines are available by the glass.
The House cafe/restaurant at the Elmslie cellar door serves light lunches matched to the estate wines in an extension to a delightful 1900s federation homestead. There are wide verandas with water views.
Velo Wines at Legana, just 10 minutes from Launceston, is owned by former Tour de France cyclist Micheal Wilson and his wife Mary, who recently opened a new cafe/cellar door complex open seven days a week.
UtSi Cafe at Perth, near to both Relbia and Evandale, is a former church, surrounded by a kitchen garden where mother and son team Colette Barnes and Julian Davies specialise in fresh, organic, local and ethically-raised food.
Also try: Launceston is just a few minutes' drive from most of the wineries and is home to outstanding restaurants in Stillwater, Black Cow Bistro, Novaro's, Pierre's, Salt@Seaport, Me Wah, the Terrace at Country Club Tasmania and Mud. For simpler fare try The Jailhouse Grill, Burger Got Soul, the Dickens Cider House or the Pizza Pub.
Where to stay:
Peppers York Cove at George Town is a modern luxury resort offering hotel rooms and one-, two-and three-bedroom apartments overlooking the Tamar River. There is a heated pool and spa and an on-site gym, as well as a good restaurant.
The River House is a luxury, boutique B&B in two hectares of bush overlooking the Tamar River at Dilston. Visitors can choose between traditional B&B service or self-catering.
The Hatherley-Birrell Collection has a selection of four different styles of luxury apartments in Launceston. All are beautifully decorated and offer the most upmarket accommodation in town. The two apartments at Hatherley House have access to beautiful gardens.
Launceston has several good hotels at various price points. Among the best arethe affordable Mercure Hotel, the waterfront Peppers Seaport, Balmoral on York, Country Club Tasmania, The Sebel and the Hotel Charles. The luxury apartments at TwoFourTwo and affordable Hillview House bed and breakfast are also very good.
Festivale, a three-day celebration of local wine, food, beer, ciders and culture is held in Launceston's City Park each February.
The James Boag Centre for beer lovers in downtown Launceston has regular brewery tours and tastings while the Yondover Farm House cheesery at Lilydale features wine and cheese tastings and cheese platters seven days a week and the Lilydale Larder offers a one-stop shop for local gourmet goodies, including wines and produce.
For more details visit www.tamarvalleywineroute.com.au.