By Leigh O'Connor.
Mention Indian food and immediately everyone's favourite curry – Butter Chicken – springs to mind. This luscious dish is beautifully balanced with a refreshing raita and buttery rice, stained golden by the earthy flavour of turmeric.
There is so much more to Indian fare than this one curry and as Independence Day approaches on August 15, it's time to explore the flavours of the sub-continent in more depth. From seafood to lamb and poultry, combined with exotic spices and aromatic herbs, these recipes add zing to meals that will have the senses salivating and tastebuds tingling.
Here's a look at our six classic Indian dishes to tempt any appetite.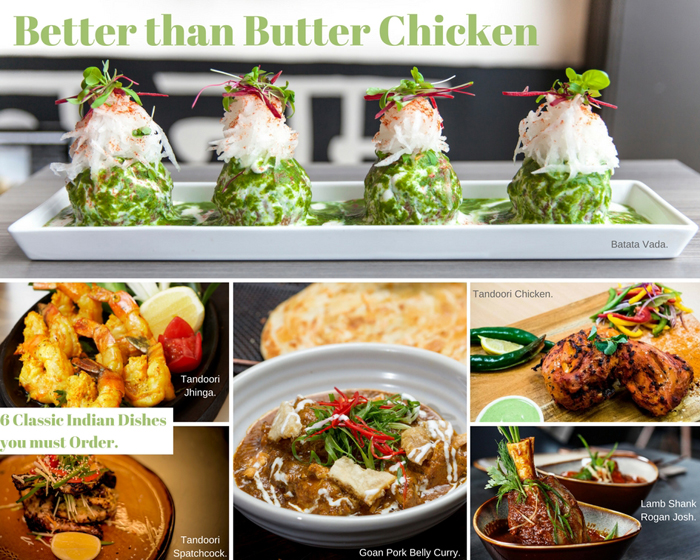 From Babu Ji restaurant in the Melbourne foodie hub of St Kilda, comes this recipe for vegetarian street food, originally hailing from Mumbai. Batata Vada literally means potato and lentil fritters, where the mashed mixture is combined with spices and coated in chickpea flour, then deep-fried.
Served piping hot with yoghurt and pineapple sauce, topped with radish, beetroot julienne and micro herbs, this is a visual feast on the plate and is sure to disappear as quickly as it hits the table. A great start to an Indian adventure, or an anytime snack with punch, try these fritters at home and watch the reaction from family and guests alike.
Roti Boti Indian Restaurant in Hampton delivers classic flavours from the East coast of India in this delicious seafood recipe. King prawns are marinated in a mixture of yoghurt and spices, then skewered and grilled until golden brown, sprinkled with chaat masala and lemon juice and finished with fresh coriander.
The bite of red chilli teamed with turmeric, ginger, garlic and lemon is a perfect marriage of flavours to complement the prawns. This dish can be served as an entrée, or main with rice and naan bread and watch the look of rapture on faces around the table as they tuck into a seafood sensation.
Award-winning Terrey Hills restaurant Urban Tadka shares this recipe for spatchcock chicken, marinated in yoghurt and gorgeous Indian spices and oven roasted to perfection. Originating in the Punjab region, this dish is usually cooked in a clay tandoor but has evolved to a point where it can be roasted in any home oven with the same resulting flavours.
The distinctive fiery colour of this curry comes from the saffron and chilli powder used in the marinade, while yoghurt helps cut through the spice and add a creamy element to the taste. This family-friendly dish will result in empty plates and cries of 'more please.'
Enjoy chunks of melt-in-the-mouth tender pork belly in a rich curry sauce, topped with crunchy pork scratchings, with this offering from Sydney restaurant Indu Dining. This curry gets its depth of flavour from Xacuti spice paste - a traditional favourite in Goa, created from a mixture of roasted spices and coconut, which release a sweet aroma while cooking.
Teamed with sides such as rice, naan, chapati and pappadums, it is a great dinner party dish to place in the centre of the table and let guests tuck into a bowl of steaming deliciousness, with a crunch to munch on, on top.
One of the most famous dishes in Indian cuisine and seen in every good restaurant, tandoori chicken was reputedly eaten by Jackie Kennedy on a flight from Rome to Bombay in 1962. This version comes from Western Australia's The Kauphy Place restaurant in Willetton and its moderate heat makes it ideal for all the family.
Tender and tasty, serve garnished with sliced onions and lime wedges, with basmati rice and a cucumber salad as a week night staple and watch the chicken legs vanish in a haze of happiness and satiated tummies.
Indulgent, but easy, this hearty lamb shank curry from Spiced by Billus restaurant in Barangaroo, is packed with flavour and cooked nice and slow. Rogan Josh is an aromatic dish from the Kashmir region of India and the name means meat cooked in clarified butter at intense heat, usually with several spices.
The result is lamb so tender it falls off the bone and accompanied with rice and bread, this dish will turn into a favourite Winter dinner winner.
For more Indian inspirations, check out our recipe section here.