By David Ellis from Vintnews.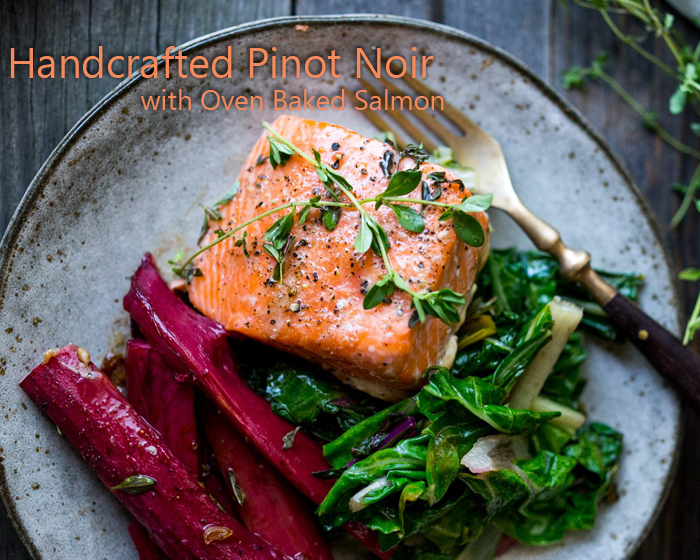 Try Sylvia's salmon with rhubarb and chard over at her website, Feasting at Home.
Jonathon Hambrook is a pretty harsh taskmaster when it comes to the Pinot Noir vines on his Stockman's Ridge vineyard at Orange in the high, cool climate Central West of NSW.
But being that harsh taskmaster has paid off, with vines planted closer together (around just half the norm in distance between each vine), pruning reducing each vine to just one cordon (the arm of the vine extending away from the trunk), and each of those cordons being kept to eight spurs from which fruit will grow.
"This means that in a good year we're only asking each vine to produce eight excellent bunches of fruit after its 50% thinning rate, and in a bad year we can drop that crop further to ensure the vine produces just four really good bunches.
"So, it means that essentially, we value quality over quantity, with each vine having to do less, and putting all its energy into the fruit and not the vine itself," says Jonathon.
Jonathon took inspiration for this from many vineyard visits to France, particularly the Bordeaux and Burgundy regions, where he saw the advantage of such vineyard management. And, as Pinot Noir is one of the better candidates for high density planting, it's all come together very well on his Stockman's Ridge.
A now-available 2015 Stockman's Ridge Handcrafted Pinot Noir has lovely forest floor and berry aromas plus hints of peppery sweet spice, and on the palate blackberries and plums that coat the mouth beautifully.
Pay $30 and pair perfectly with oven-baked salmon fillets.
One to note: tucked away on a quiet street in suburban Dover Gardens in Adelaide is historic Patritti winery and cellar door, the last of what were once many such family-owned suburban wineries in the city.
Established in 1926 they've just released a very more-ish 2014 Shiraz made at Dover Gardens from fruit hand-picked off Patritti's Lot Three Elliott Road vineyard at Blewitt Springs in McLaren Vale. With typical McLaren Vale Shiraz black fruits and dark chocolate notes, this one's backed-up with blue fruits and savoury elements that make it quintessentially Blewitt Springs.
At a recommended $35 it's a great match with a Winter's beefy stew or with roast beef and a pepper sauce.
WINESPEAK: ZESTY – a wine with noticeable acidity and citrus notes.