Get Out of Town this Easter
Amidst the cooler autumn months, we can't help but anticipate the onset of winter and the snow season – but we're not quite there yet. Nevertheless, with Easter right around the corner (if bookings aren't already made) our minds are swimming with ideas for an ultimate autumn escape. Now is an opportune time to think strategically and warm up for the ski and snowboard season via alternative sports in the same areas you'll be seeking out snowfields a few months from now.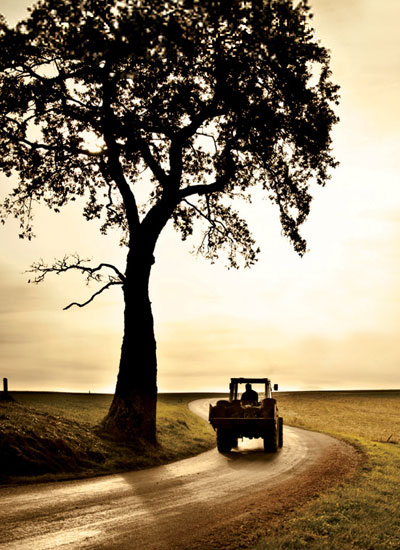 While we'll soon be downhill skiing and boarding in the popular peaks of New South Wales, Victoria and Tasmania, it's the state of Victoria that really stands out in their marketing of exclusive cross country ski terrain. For the outdoor enthusiast, XC trails in the off-season translates to gentle (though still sometimes tough) area that's clearly defined for a scenic bush walk or even a guided hiking tour. Another possibility amongst devotees is cycling these hilly areas, though it is not always ideal for beginners.
Familiarize yourself with escape destinations in our Victoria Accommodation, Restaurants & Travel Directory. When travelling east of Melbourne, you'll find areas that are so close to the city, yet so different.
Peaks and Valleys of Gippsland - Mount St Gwinear
In the winter, just over two hours east of Melbourne, you'll discover Mt St Gwinear in Gippsland, a natural area where families ride toboggans, build snowmen, and enjoy 20 kms of XC trails. Often referred to as "the Natural Mountain", it's located in the north-east of Baw Baw National Park. This time of year the mountain provides ample atmosphere for a good ol' bush walk and whilst sussing out the scenic routes of Gippsland country in autumn, you'll be pleased to discover it has much to offer as a wine and dine destination.
You'll find a plethora of travel highlights in our Gippsland Guide, including award winning restaurants in Traralgon and Warragul, south of Mt St Gwinear.

Yarra Walks Display Regrowth and Offer Rejuvenation - Lake Mountain Alpine Resort
Outdoor travellers know Lake Mountain as one of Melbourne's closest and most affordable alpine retreats, functioning as a rocky playground all year round. Aim for the quaint township of Marysville then enjoy the 30 minute drive to the top of the mountain where 30km of walking trails await you amongst the plateau and summit. Small groups may be able to organise guided walks through Lake Mountain Alpine Resort, and mountain biking as well as road cycling options are also out there. Because of the 2009 Black Saturday bushfires, you'll find the mountain vegetation in its re-growth phase.
Our Yarra Valley Guide includes picturesque pit stop suggestions amongst the various valley routes to and from Lake Mountain.
A Range of Options in the Yarra - Mount Donna Buang
When in the heart of the Yarra Valley, you may want wish to approach a new ascent on the slopes of Mt Donna Buang, sitting in the Yarra Ranges National Park. Here you'll find a popular raised Skywalk and well documented road cyclist climb from Warburton to the summit.

Destination Victoria High Country - Mount Stirling & Mount Buffalo
Your autumn escape is the perfect opportunity to familiarize yourself with future snowy terrain, getting to know the Victorian Alps area in advance. Downhill skiers and boarders are well aware of Victoria High Country because it brings us some of the best snowfields Australia has to offer, including Falls Creek, Buller and Hotham. But Victoria also boasts cross country skiing resorts that minus the adrenaline factor may be lesser known. Mt Stirling is one such mountain, offering crisp fresh air in the autumn on an extensive trail system sans snow. You can escape dusty and dry valley heat here and even participate in specialized orienteering or team building programs.
Extreme adventure also awaits you at Mount Buffalo, one of the oldest national parks in Australia, where there are sheer cliffs for rock climbing, excellent mountain biking tracks and a road cycle challenge to the top of the mountain. For those who walk on the gentle side, Mount Buffalo serene bush walks on an autumn morning are will reveal some amazing rock formations.
Heading back down the mountain, our Victoria High Country Guide will give you many ideas that will top off your autumn escape along the way.