Unleash your inner cowboy with flannelette, boots, beers and bulls
Often associated with rugged country boys, dusty plains and a horse or two, Australia is home to all things outback. So what better way to experience it than by attending an Aussie rodeo?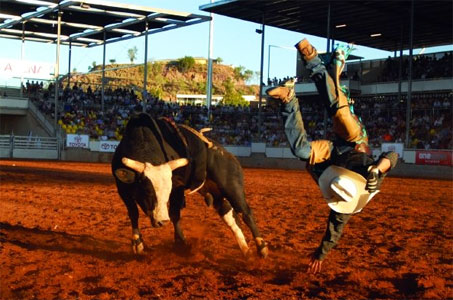 Where is Australia's biggest rodeo?
Queensland's Mount Isa is otherwise known as the 'rodeo capital of Australia' and every August is home to the Xstrata Mount Isa Rotary Rodeo. The biggest and richest rodeo in the Southern Hemisphere, this rodeo attracts more than 26,000 visitors, to watch the biggest names in the rodeo world compete for a prize pool of $200,000. Saddle bronc riding, steer wrestling and ladies barrel racing are just some of what the rodeo has to offer but rest assured, the Mount Isa Rotary Rodeo is not all flannelette and spurs, with a Mardi Gras parade, show rides and live entertainment all adding to the rodeo festivities.
The Isa Rodeo has been the proud winner of more than 10 tourism awards and comes complete with true outback heat, with temperatures reaching the high 30's. Winter is a little kinder to rodeo visitors, however, with temperatures in the mid 20's. Winter nights in Mount Isa can bring a chill, so ensure warm clothes are packed incase a change is needed. With an average of only 50 wet days a year, the likelihood of raining on your rodeo is minimal. An exciting adventure of man meets beast, the Mount Isa rodeo is an exciting event for all so.
However, the classic Aussie rodeo is not just limited to Mount Isa. Queensland holds the biggest Australian rodeos, with New South Wales and Victoria running a variety of rodeo and country events.
Read more on Rodeos in Queensland.