Supersized Aussie icons
A big ambiguous, but a variety of miscellaneous 'big things' are famous in Australia, and with over 150 around the country, it is highly likely you'll run into one on your travels. With everything from big fruit to big boxing crocodiles, Australia's 'big things' have become something of a cult phenomenon, sometimes acting as a loose map for road trippers. Many of these oversized sculptures are considered a type of folk art usually built to promote a product or particular thing that the town is well known for, with some becoming heritage listed. The very first 'big thing' was a banana, unveiled in 1964 as part of Coffs Harbour's banana farm. It stands over 5 metres high and 11 metres long.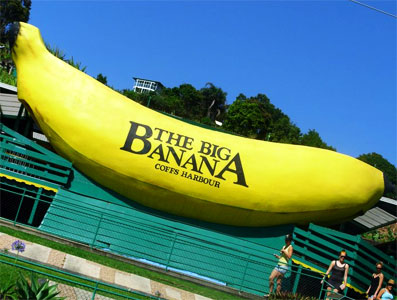 Where are Australia's 'big things'?
When visiting Australia's 'big things', you are more likely to come across a wealth of them if you travel around New South Wales and Queensland. In order to best experience these giant sculptures, try locating the ones known to be most iconic to the Australian way of life. To name a few, South Australia is home to the Big Yabby, the Big Kangaroo and the Big Galah, with Tasmania sporting the Big Wickets and Big Platypus. New South Wales is home to big beer cans, prawns and wine casks and Queensland the proud owner of the Big Cane Toad, Big Rum Bottle and the Big Pie. Well worth a stopover, not to mention a souvenir or two, Australia's 'Big Things' are usually located in small, local towns, perfect to experience the Australian way of life.
Find out where the big things are in Queensland.