May 16 at Central Park Salt Village Kingscliff.
Be dazzled by the evening stars at this year's Aria's Long Table Dinner at Salt Village, a perfectly delicious prelude to Taste of Kingscliff and Tweet Coast later this year (July 10 -19).
Set on Salt Village's pristine coastal location, guests will come together and dine on a 70m long table under a blanket of Kingscliff stars where wine, food and stories will be shared. A French inspired three-course menu will complement the Moulin Rouge theme of the evening along with handpicked boutique wines.
Guest will be first met with a handmade selection of breads from Kingscliff Bakery Co before canapés presented by TAFE North Kingscliff will come in the form of goat's cheese profiteroles, spanner crab and sweet basil salad as well as a traditional chicken liver parfait paired with caramelised pears and toasted brioche.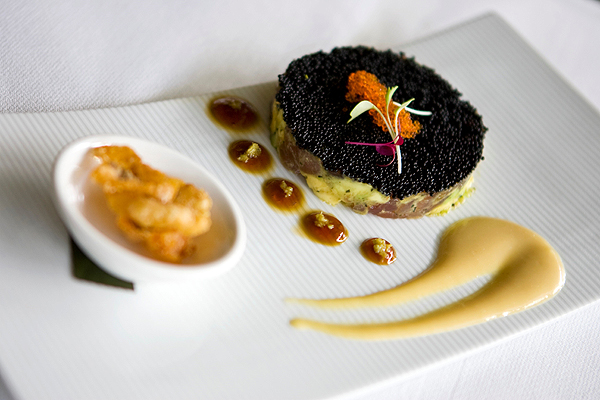 Tian of Tuna - Steven Snow, Fins Restaurant.
One of the most anticipated dishes of the evening will be from Steven Snow's restaurant Fins: layered yellow fin tuna sashimi with avocado, tobiko caviar, shiso cress, fish chips and mayo, while Craig Scott from Tumby Sauce will equally impress with his use of dragon fruit in his dish of Kale, Spanish onion Bhajis with dragon fruit and lime aioli.
For more tempting menu items, check out the online event menu here.
With a night of culinary adventure comes a 10 day food festival, where TASTE of Kingscliff and Tweed Coast will host a number of unique food experiences along the picturesque Tweed Coast. For tickets to Aria's Long Table Dinner see here and for more information about TASTE check out the event program here.