By Leigh O'Connor
"I hope the recipes in this book inspire you to cook for the people in your kingdom and give you that wonderful glow of achievement that comes from pushing yourself a little and sharing something you've made yourself with those you love the most." ~ Annie Smithers.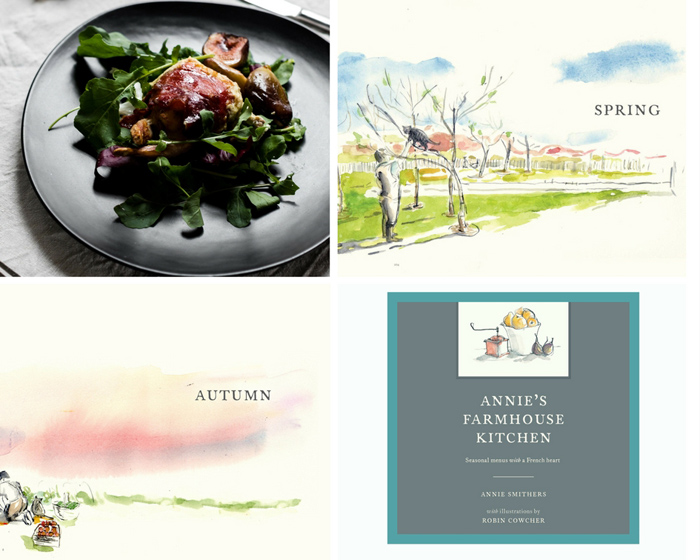 There is a reason French cooking is the way it is – the importance of the village oven, the magic slow braising that happens on the stove and the nurturing of seasonal produce that is simple, easy and a delight to the palate.
In this beautifully crafted and illustrated cookbook, Annie Smithers shares four complete menus for each season, based on weekly three or four course offerings at her unashamedly French restaurant, du Fermier, in country Victoria.
Growing up in the 1970s on small acreage, Annie fondly remembers luxurious dinner parties thrown by her parents, and it is these memories that significantly crafted her view on cooking and lifestyle choices.
While many thought she would opt for a restaurant with all the 'bells and whistles,' Annie chose to put her culinary skills on show at a tiny country cottage which offers a menu du jour, largely put together from her own garden.
This is where the inspiration for 'Annie's Farmhouse Kitchen' comes from as each menu represents what is available in her farmyard garden at that time, what the weather is like and what mood takes her fancy that week. Her French farmhouse style creates vast possibilities and choices, but is also comforting and familiar.
While each recipe in the book can be created as a stand-alone dish, Annie's aim is to give home cooks the confidence to deliver a multi-course menu, similar to what graces the table at her One Hat restaurant.
Annie spins the stories of all four seasons through recipes and illustration – each season has its own charm and its own pace.
When Autumn leaves are turning red as well as children's noses and the nights become longer and colder, Annie turns to warm, comforting food to tempt the palate. Stuffed quail wrapped in prosciutto with baked figs kicks off the tastebuds, followed by navarin of lamb and roasted quince, before a sweet ending of spiced quince cake and whipped ricotta.
Annie's farm quietens and settles down during Winter months, but when it is cold and wet, black magic happens – truffles are born. Relying on her friend's dog to ferret out the delicacy in the woods around their homes, Annie turns the black gold into seasonal recipes such as double baked truffle and gruyere soufflé.
Paired with roast duck, Brussel sprouts and parsnips, it is ideal Winter fodder to not only warm the stomach but also the soul. French dessert Paris Brest is the show stopper, but not nearly as hard to cook as many imagine and an ideal end to a cosy, evening meal.
By the time Summer rolls around, Annie's farm cats become languid with the heat, lazing about doing little or nothing at all. This inspires her menu of classic salads and light flavours, dishes that can be grazed on over a long, hot afternoon.
Beginning with the classic French slice Pissaladiere, with caramelised onions, anchovies and olives on a pastry base, Summer fare includes salad nicoise with escalope of ocean trout, lamb rump with rocket and minted yoghurt and vacherin (meringue), cream and berries.
As well as each individual recipe, Annie has included preparation plans (mise en Place), timelines for the dishes and an explanation of the cooking techniques used. She warns that not all recipes work the first time for everyone and good cooking takes practice and a lot of patience. With this book in hand, the way to great food is certainly paved a little easier.
This is an edited extract from Annie's Farmhouse Kitchen by Annie Smithers with illustrations by Robin Cowcherpublished by Hardie Grant Books RRP $40 and is available in stores nationally. Food Photographer for Geelong Advertiser: © Tara Pearce. Note, recipe image not from the book.