Photography and words by Ling Qian.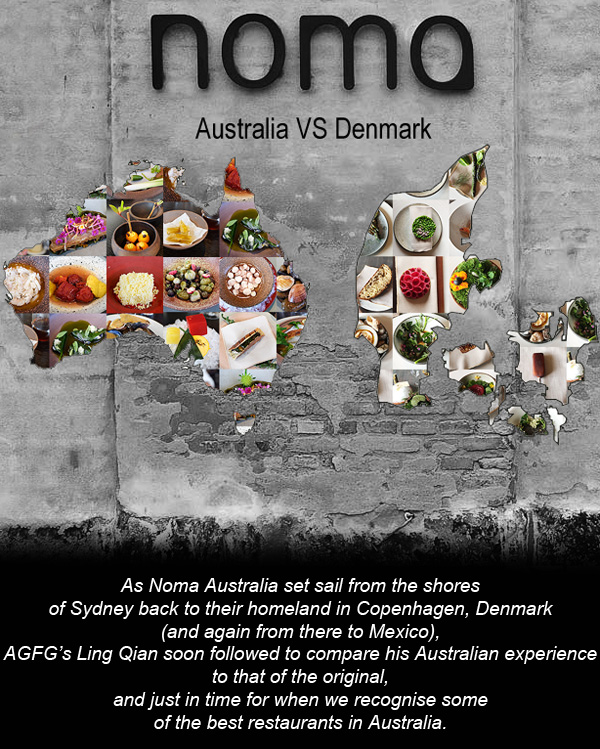 Forget the potency of three Michelin stars, the numerous number one positions on the San Pellegrino's top 100 list and forget all the other awards Noma has received in their lifetime, as awards can sometimes pigeon-hole a restaurant and the diner into a position where the experience isn't experienced. Instead, I implore you to dine there without any preconceived notions and expectations of what Noma should be like, because, I assure you it is much better this way. However, there will always be those that are inclined to read reviews (much like right now), follow awards and check out the critics, and even if you do, you still won't be disappointed.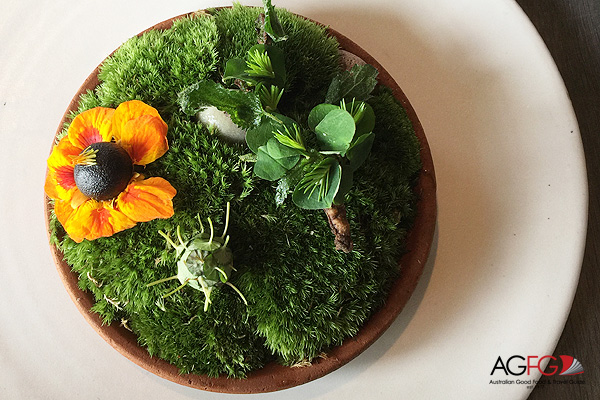 Course 2: Vegetable platter, flat bread and ant paste, pickled quail egg and a black currant berry.
If there was ever a restaurant that has reached culinary nirvana, Noma has. I don't mean to say that Noma is perfect, certainly no restaurant is, but Noma has something that you don't see very often. It is hard to describe exactly what it is, other than to say that there is almost a spiritual flow when one enters the restaurant. Everyone knows exactly what they are doing and where they need to be, it's very much like watching a dance, where Chefs and waiters all work together in synergy and harmony to give the diner the ultimate gastronomic experience.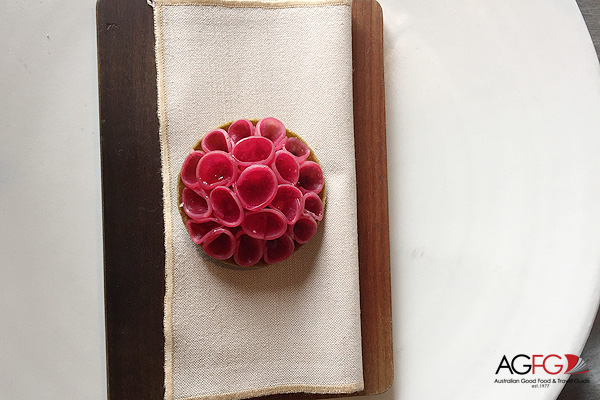 Course 3: Radish pie.
From the moment my foot crossed the threshold, I knew I was in for a dining experience like no other and certainly different from the one in Australia, not better, not worse, just different. Different like how a new place makes you feel, nervous but whole, excited but cautious. The first impression of a restaurant can make or break your experience and it's deflating to see restaurants get this wrong, time and time again; but at Noma it was delightful to see it done right – with no need for a second chance! I was immediately greeted by half of the staff with smiles and waves welcoming me into Noma like I was some long lost cousin they hadn't seen in decades. After the initial greeting I was ushered to my seat and promptly served with a glass of NV Rose de Saignee Christophe Mignon Festigny – Champagne before the courses began.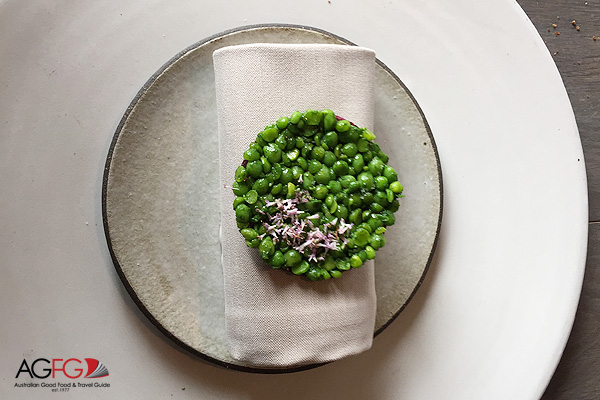 Course 9: Crisp of wild roses and Danish peas.
I'm not going to bore you with a laborious, painstakingly written description of every single dish that was served, I would rather try and explain the overall taste and feel of Noma. There are a few phrases that come to mind during my dining experience: sustainable, no wastage, foraging, bloody tasty and every now and then, huh? Not being a native to the Scandinavian region, there were plenty of interesting ingredients that I had not heard of and I'm quite certain the local populace would be scratching their heads too when dining at Noma. However, I think that's exactly what Chef and Owner, René Redzepi was aiming for; to awe and perhaps shock people's tastebuds.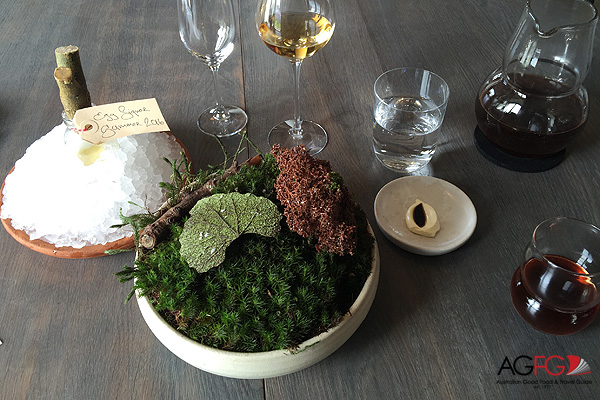 Course 15: Moss cooked in chocolate, a leaf of honey and water mint egg liqueur.
I'll highlight a few of the dishes that did this, such as the sweet lobster with lavender and rose oil as well as the moss cooked in chocolate. Other dishes like the steamed King crab in egg yolk have such an intense and powerful flavour that it was hard to stop myself from licking the bowl clean! In particular, the cooked, white asparagus with barley and caviar as well as the grilled baby cucumber with Summer herbs and cream, truly tasted like a lush green forest with everything that nature has to offer. Simply put, paying homage to Mother Nature is what René does best.
All I can say is, do yourself a favour and try out René Redzepi's new restaurant once it opens.