Easter Long Weekend, March 24 - 28 2016.
What a start to the Easter long weekend! Bluesfest kicks off in style as Fantastic Negrito (Xavier Dphrepaulezz) takes the Mojo stage. Self-taught at the age of 20, Dphrepaulezz welcomed the crowd with the enveloping sounds of classic American blues and those compelled in the stadium watched as he was born-again. For all those that missed him, he'll be at the Delta Stage on Saturday @ 4pm, Sunday @ 9pm and Monday @ 7:30pm.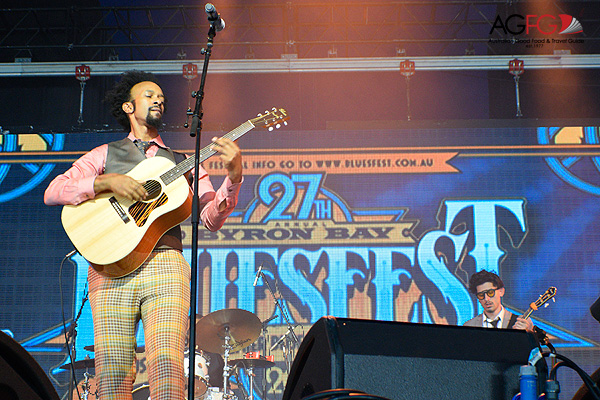 Fantastic Negrito on the Mojo Stage.
Be immersed in culture at Boomerang, its own festival in the field between crossroads and jambalaya – be sure to stay and watch the indigenous dancers from not only Australia but also Fiji. Talks about culture and country can be found at multiple times during the day as well as Te Kopere Healing workshops – we'll be checking this out on Good Friday @ 1:15pm, however it runs each day @ 1:15pm and 5:30pm, check the Boomerang programme for more information.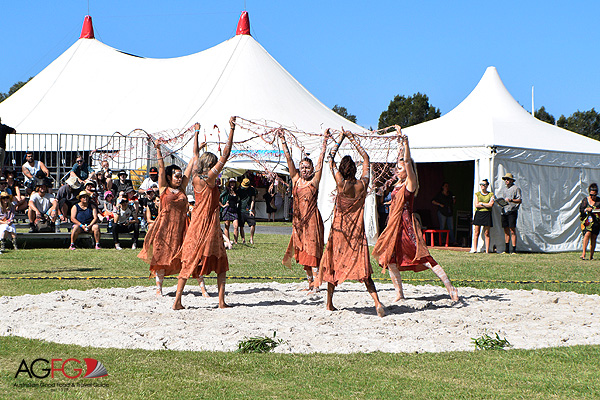 Boomerang - Jannawi Dancers, Aboriginal NSW.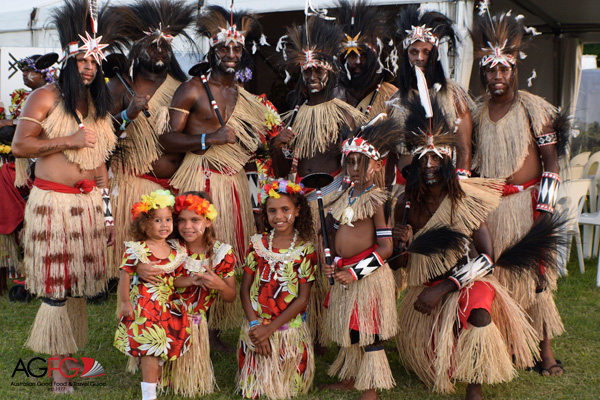 Boomerang - Malu Kiai Mura Buai Dance Troupe from Boigu Island, located in the top western part of the Torres Strait.
You can be forgiven for thinking that Bluesfest is just about blues and rock n' roll, but soul can be found on every corner in the form of food! Peter Noble, Bluesfest Director, said that Bluesfest has some of the best festival food on offer – and we can't deny the truth of his words; from healthy and raw, to deep fried and delicious, we're going to take you on a play by play of our first day eating our way through Bluesfest.
We met up with Lois from Ginger Necktar, a Bluesfest stallholder for over 10 years with a love and passion for healthy food, ginger infused drinks (by own design) and samples of fresh local produce all hand made in Byron Bay. We delved into a delicious original Byron Bay Ginger Necktar drink as well as a Ginger & Cranberry variety, while chowing down on a raw Pad Thai made from fresh vegetables with zucchini noodles tossed in a vibrant Thai sauce and topped with bean sprouts, fresh herbs, black sesame seeds and peanuts. For all those that are health conscious or want to get their festival energy from something raw and healthy that's not loaded with sugar, the Ginger Necktar stand is where you need to be.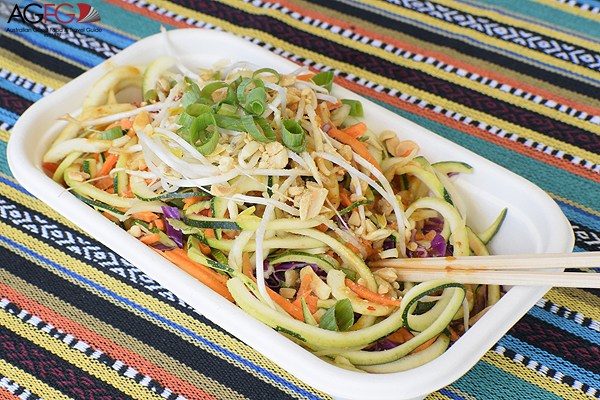 If you're inclined for something a little saucier, then head over to Club Med, Mediterranean Cuisine where they're serving up a feast of cous cous, Moroccan chicken tagine and Mediterranean meatballs served with a freshly toasted gourmet focaccia that falls apart in your mouth. These flavours have been trialled and tested through the ages and you wouldn't want to miss out! Pair it with a refreshing yum yum juice slushie of apple, lime, rose water and fresh mint and you're afternoon hunger pains will be quashed. P.S. Be careful of the chilli red sauce - it's fiery!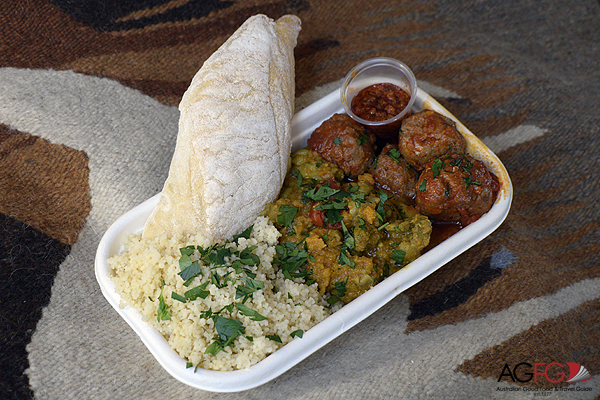 Roaming around the numerous stalls, we met up with Robert over at That Arancini Guy. It's Robert's first time bringing his labour of love out to the festival scene, and we were glad he did! Serving four different types of arancini: mushroom and truffle oil, pumpkin and mozzarella, spinach and mozzarella, and ragu, these morsels of happiness will keep even the fussiest eater satisfied.
Next we find ourselves swathed in love from a family affair over at Little Brazil with Rick and his wife Thais bringing you traditional Brazilian fare (with a hint of music)! Enjoy 100% natural charcoal chicken and beef, paired with house-made black beans, rice, haloumi and salad while sipping on a freshly cracked coconut or house specialty – limonada, made from Rancho organic limes. If you want to take a bit of Brazil home with you, Rick's main business is importing Tropicana Hammocks made in small villages of Fortaleza – Brazil, there's nothing quite like them on the market – check them out here.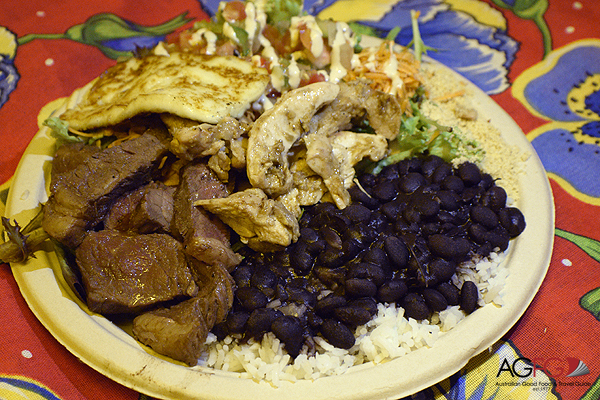 For a quick little snack, be sure to pick yourself up a potato spiral over at Potato Head – cooked in 100% rice bran oil, served with sea salt and lashings of sauces it's the perfect 3 pm hangry cure.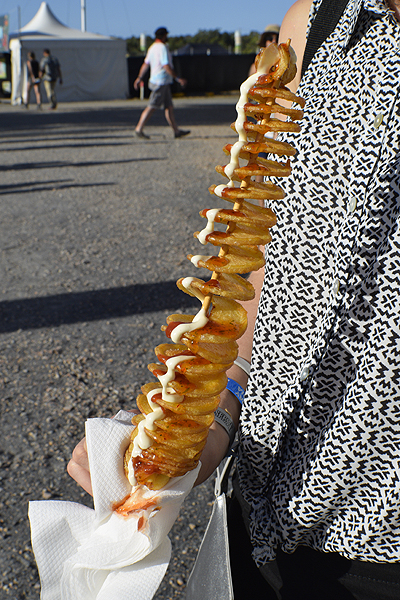 Noodle lovers rejoice! Delve into South East Asian Hawker style noodles over at Owen's Noodles, they come with plenty of options, choose your noodle, your meat (or vegetarian) and one of the seven sauces available and you're ready to be in a noodle coma. Here we have hokkien noodles, carrots, zucchini, water chestnuts, cabbage, celery, cashews, capsicum, fried shallots, bean sprouts and spring onions as a vegetarian option, we're going to put a Japanese miso sauce on top, we also highly recommend the Thai lemongrass option.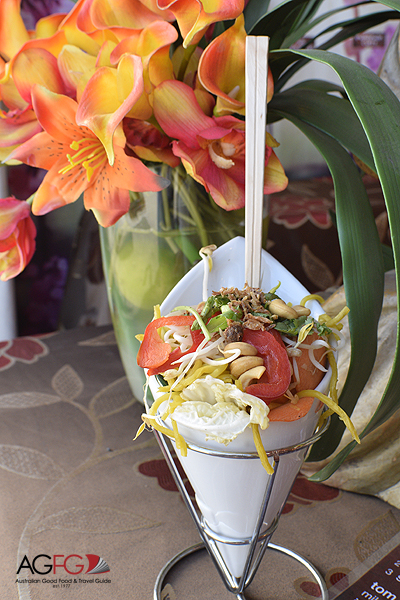 For an evening sweet fix, we ended up over with Anna at Petite Waffles, just in front of the crossroads stage. Petite Waffles have been serving hungry, sweet focused crowds for six years at Bluesfest with many more years to come. Anna said that she loves the festival because of the age span of people and it also allows her to be a bit more creative with her creations. Her love for Belgian waffles is clear – be sure to check out her stall and watch as these creations are hand made in front of you. We enjoyed the waffle clam (right): ice-cream sandwiched in two waffles with a smear of Nutella and the waffle works (left): ice-cream, luscious berries, whipped cream and your favourite syrup with pieces of fresh, warm waffle.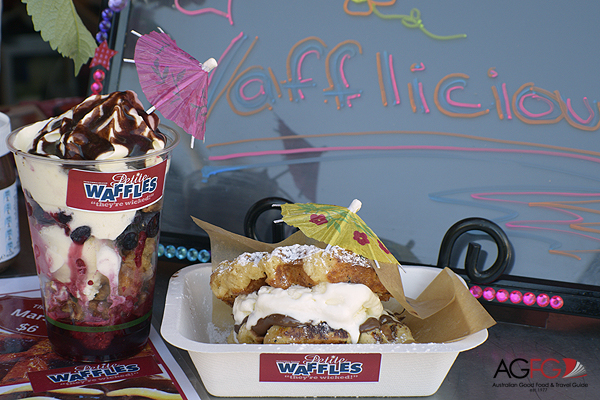 If you're feeling a little under weather or just need a place to chill out, then Hari Har Chai is the escape you need. They've been in the chai creation business for over 20 years and have been welcoming Bluesfest crowds into their sanctum for the last 7 – if you're not at Bluesfest, don't worry they distribute internationally and there's plenty of flavours!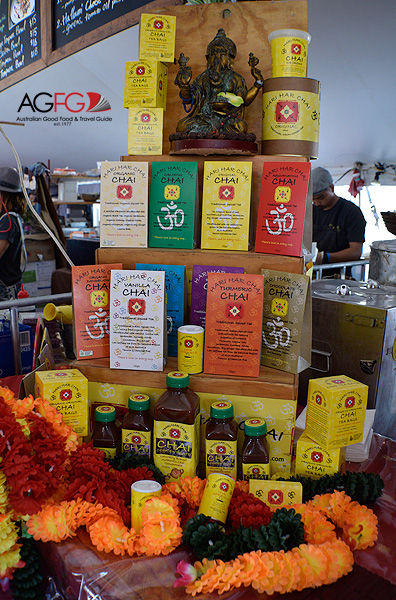 No fuss and bigger-than-life burgers can be found at food truck Nothin' Fancy.This is their first Bluesfest (they're near the mojo stage) so give them a massively warm welcome and delve into a beef burger with salad and BBQ sauce or the lamb burger with salad and minted yoghurt, just look for the ladies having coffee on a the side of a retro red truck (oh and they do organic coffee!)
Just a few doors up from Nothin' Fancy, The German Sausage stall is supplying some deliciously naughty loaded fries: beer battered fries topped with cheese sauce, topped with bacon, topped with cheese sauce again – this will be your hangover cure.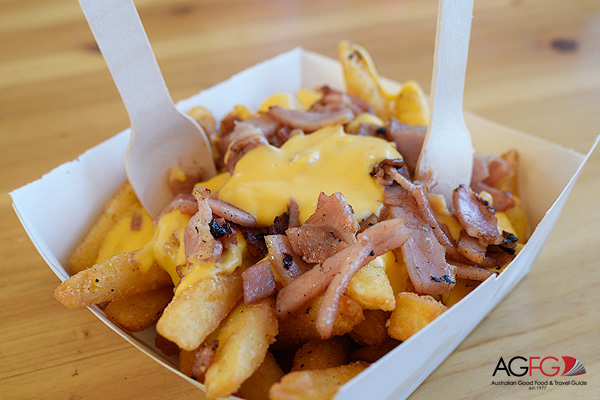 What time is it? Paella Time! Serving out of paella pan's with a metre diameter, there's plenty of room for decoration! We were just in time for this creation of a prawn and chorizo paella – so colourful and so delicious! Paella Time are in their fourth year of attending Bluesfest, they also do corporate, private and wedding catering out of Byron Bay.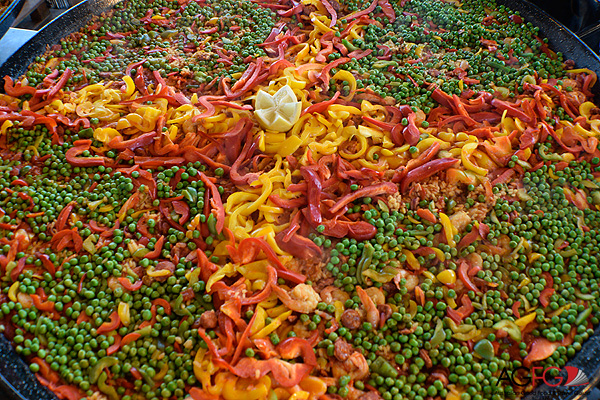 Quirky and displaying to-purchase homewares from Nitsua, Gourmet Goons in the crossroads dining tent is serving some deliciously different dishes to the Bluesfest crowd. We'll start with the drinks on offer, Davidson Plum, acai, chai seed, strawberry, watermelon and Bilpin apple juice as well as an apple and mint iced t made from river mint, guarana, yerba mate and Bilpin apple juice. These drinks pair perfectly well with their chicken wings with awesome sauce (we think it's lemon, honey and soy) as well as their ingenious drunken nachos: kangaroo, mushroom and eggplant in their secret sauce on top of crunchy sweet potato crisps with fresh chilli, shallots, coriander and finger lime aioli.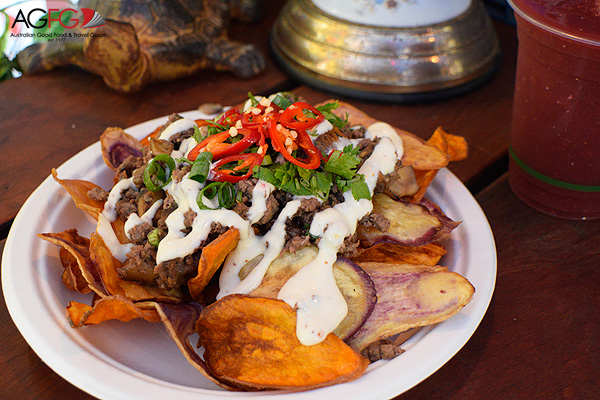 If you're looking for your local, regular Mexican, head over to Guzman Y Gomez, brought to by Mexican Taqueria in Byron Bay, tuck into their nachos and burritos for some seriously good dinner.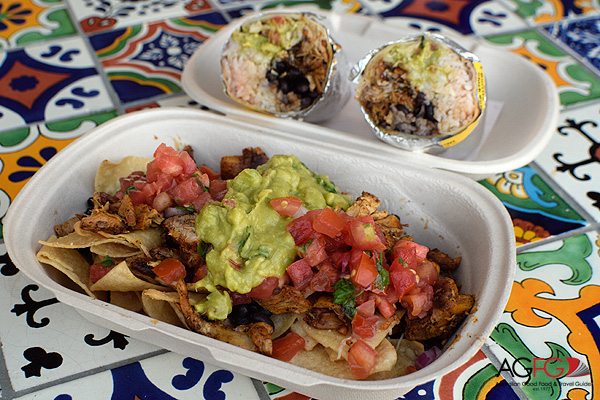 Three generations of Hungarian tradition is what you'll find over at the Langos Hut – this is festival food at its very best, deliciously fluffy, tasty, snapfried bread with your favourite toppings. If you've never tried Langos before, it's something you must do before you leave Bluesfest. We have two varieties here (they do many more, plus a few sweet ones), firstly the sour cream, garlic and cheese Langos which runs out the door and secondly the Extra-Mex: a Mexican take on a Hungarian classic with beef chilli con carne, sour cream, cheese and jalapenos.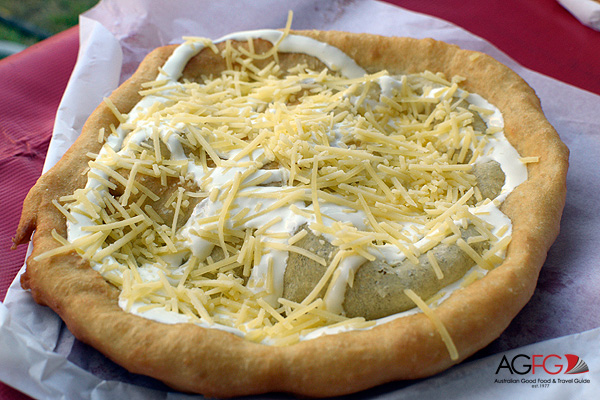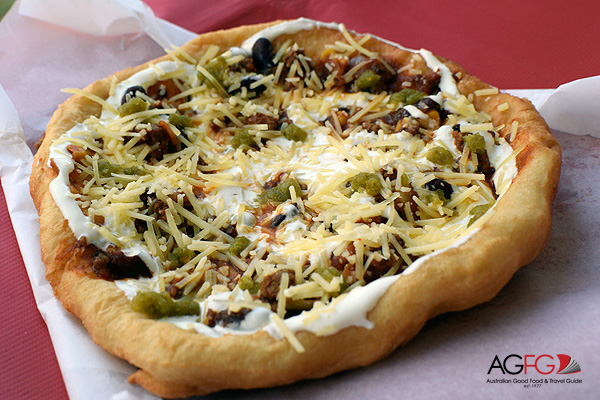 For street food style Japanese all the way from Mooloolaba check out The Rice Bowl in the crossroads dining tent. We devoured a teriyaki chicken rice bowl with avocado, spring onion and Japanese mayo- the flavours were perfectly balanced and the chicken just melted in your mouth.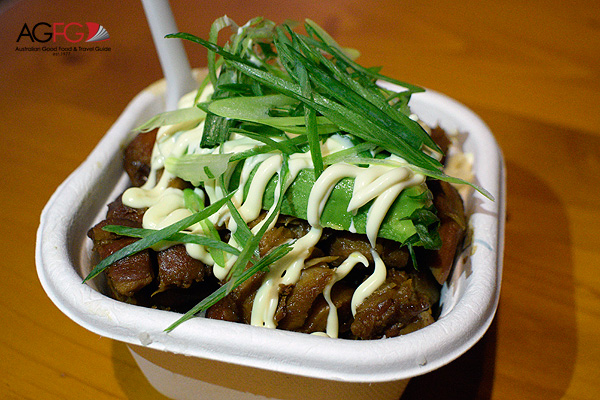 Soulful salads are what you'll find at Claude's Food by the mojo stage. Why not mix all the varieties together like we did, then top it with some freshly made Haloumi. Enjoy Mediterranean chickpea and rainbow slaw with lemon, marinated beetroot and capsicum salad with tahini dressing and toasted seeds as well as the tandoori roast pumpkin and brown rice salad with garlic yoghurt. Certainly a healthy alternative if you've found yourself eating too much pizza (we can't blame you for this though!)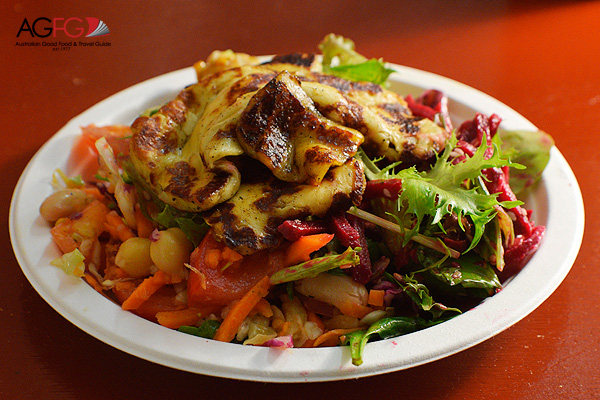 If South American tradition, culture and food is close to your heart, then jump over to Cajun Kitchen where they're serving authentic gumbo, jambalaya and po' boys. We couldn't go past the jambalaya – chicken and chorizo Cajun stew, slow cooked with vegetables and Cajun seasoning in a rich tomato base. It's the perfect dish to enjoy in the doom and gloom weather Bluesfest is enjoying this Easter Sunday.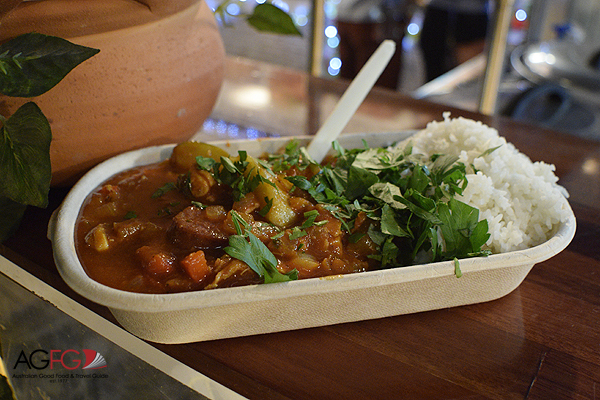 When on the run between stages, it's often best to find food that's easy to hold and quick, but filling to eat. That's exactly what you'll find at Yum Cha, where Marie is serving sticky BBQ pork buns as well as custard buns, vege gyoza, vege buns, vege dim sims, pork gyoza, golden mushrooms, pork dim sims, fish cakes, prawn dumplings and seafood triangles. We were able to get a photo of all of them together, before we devoured the sticky BBQ pork bun.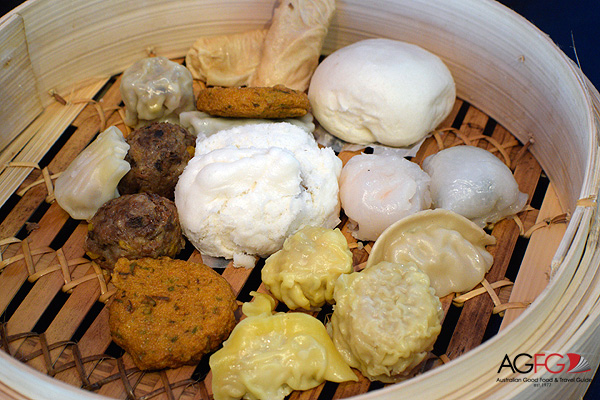 We capped off our Bluesfest foodie experience with one of the most popular on-the-go treats, Byron Bay Organic Doughnuts. We couldn't go past the chocolate filled doughnut, which was absolutely worth the wait in the massive line-up, we suggest going their early to beat the after-dinner sweet fix crowd.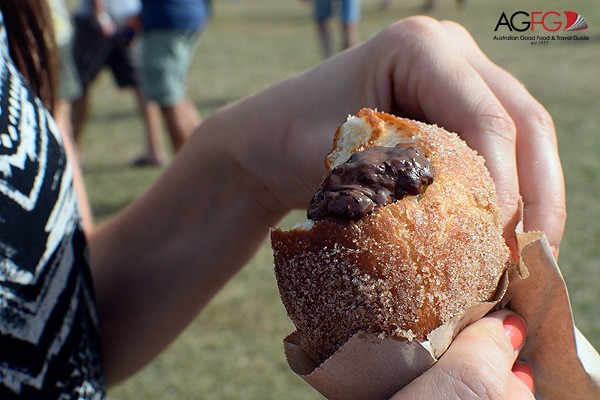 Our foodie experience at Bluesfest was truly amazing, we couldn't fault any dish that we tried and implore future festival goers to experience not only the music but the diverse food on offer.
Words by Karissa Straughen, photography by AGFG and experiences by the AGFG Foodies.