By Freya Ensbey.
The sudden death of Irish born Chef Darren Simpson in June 2017, shook the hospitality industry. After a stint in a rehabilitation clinic for alcoholism, Simpson ended up in hospital where he suffered from a heart attack due to related illnesses.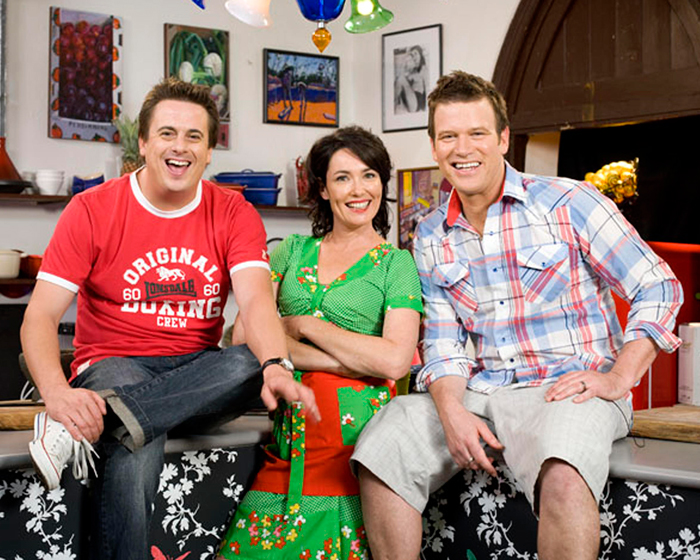 In this undated photo released by Foxtel, Darren Simpson, left, poses with his co-hosts and fellow Chefs Anna Gare and Ben O'Donoghue during a promotion for their cooking show "The Best in Australia." (Foxtel via AP).

Born in Northern Ireland, Simpson was named UK's Young Chef of the Year at the tender age of 21, making him the youngest Chef to have ever won the coveted award. His career took off from there, seeing him make the move to Australia in 1999 to head the kitchen at Aqua Luna Bar and Restaurant in Circular Quay, before his charismatic personality was noticed by television networks, snatching him up to feature on shows like Sunrise, My Restaurant Rules, Ready Steady Cook and to host Lifestyle FOOD'S The Best in Australia with cook Anna Gare and Ben O'Donoghue.
Leaving behind two beautiful teenage sons and a loving family, Simpson's passing also left many in the industry, who loved and admired him, speechless and shocked, including friend of over 22 years, Ben O'Donoghue.
We sat down with O'Donoghue to chat about his late friend, the memories they shared in and out of the kitchen and the mental health issues he has witnessed within the industry.

FE: Can you recall the first-time meeting Darren Simpson in London back in your 20s?
BO: I was about 25. He was the Sous Chef at The River Café. I always remember because he's Irish and I'm half Irish and we used to just wind each other up because he was a Protestant and my family are staunch Republicans, so we used to have a bit of banter.
FE: Many knew him for his wide grin and belly laugh, what qualities do you recall most about him?
BO: I always remember him as a perfectionist in terms of work. Outside of work he was a bit of a crazy man. When I got to London I made friends with him and he introduced me to a lot of new friends and we just had a good laugh. He lived in this little place in Notting Hill.
FE: With many awards under his belt and a celebrity Chef status here in Australia, Darren was respected amongst the best. Who was the Darren you knew outside of the kitchen, what was he like as a person and a friend?
BO: He was a very charismatic person outside of the kitchen. He had a great sense of humour, he was thoughtful and just really fun to be around. He was the same in the kitchen too. He was a little bit dogmatic and a real traditionalist. He had standards inside of the kitchen and outside of the kitchen.
FE: Darren celebrated many career highlights, a stable of cookbooks and much success as a professional, it seemed a glamorous life from the outside, what do you think was the trigger for Darren's alcoholism?
BO: He never spoke to me about ever having a drinking problem or any kind of vice. I think at times friends were aware there was an issue. Personally, I don't think it's industry related, I think it's a human issue. I certainly think he was insecure as a person, what led to that I don't know, whether it was a deeper seeded issue like a family thing or whatever it was, but I think that played a lot with it.
He needed people's admiration. I always remember the feud he had with Jamie Oliver and that was born out of his own jealousy. That to me displayed a deep sense of insecurity, because he was a fantastic Chef. That to me was what I noticed, a deep sense of insecurity that led to him using alcohol as a crutch. He hid it quite well. In our industry we all like to go out and have a bit of a good time and blow off some of the steam, but some people know when to stop and some people don't and it just appeared to be that he was one of those.
FE: It seems to be a rather widespread issue amongst the hospitality industry with many Chefs struggling with depression and substance abuse, what do you think needs to be done to support those in need? Does more care need to be taken from the early stages of apprenticeships and the grooming of young Chefs to be able to speak openly about these issues?
BO: I know lots of people who have drug and alcohol issues who aren't Chefs. I think we need to identify our mental health issues, I don't think there's a lot more stress placed on people now, it's actually probably getting a little easier.
For me it's a mental health issue and public awareness of knowing what the signs are when people are suffering from mental health. The, R U OK? campaigns, and similar platforms are fantastic. It's also an individual's responsibility to be able to say "I need help."
Maybe there aren't enough mentoring figures in our industry where people feel like they can say, hey Chef, I'm having an issue and have been made to feel a little inadequate. I know for a fact that Darren would have never have said that, because I've known him for 25 years and he would never admit weakness and that, I think, was his biggest issue.
FE: If you could describe your good mate in three words, what would they be?
BO: A cheeky, pain in the arse! (with laughs).
R U OK? If you or anyone you know is suffering from a substance addiction contact Lifeline to receive help on 13 11 14.