By Freya Ensbey.
There are great pairings throughout history which were undoubtedly made for each other. Romeo and Juliet, basil and tomato and of course, in our opinion, possibly the greatest pairing of all time, cheese and wine.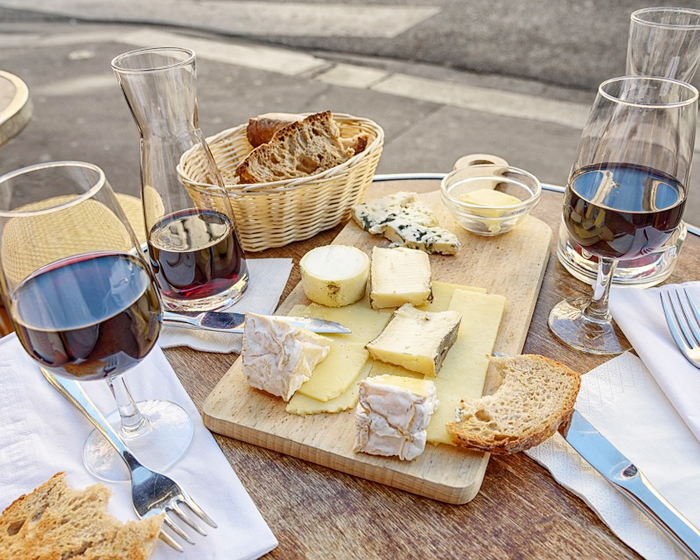 Although most naturally enjoy their glass of wine with a side of cheese and crackers, many are yet to master the talent of perfectly pairing a wine with its ideal cheese partner. Whether you begin with your preferred cheese first or your favourite bottle of wine, choosing the accompanying other is easy if you follow these tried and tested ground rules.
When pairing a wine and cheese, a golden rule to follow is, if it grows together, it goes together. If you can find a locally made wine and a locally made cheese then chances are the two are likely to go together, given the proximity of ingredients thriving in similar seasonality, which has gone into them.
If matching a cheese for red wine, a safe bet is to opt for something with equal intensity. Stronger intensity wines like Merlot, Shiraz and Cabernet Sauvignon will pair back well with a harder cheese like cheddar, Gouda, aged cow cheeses and Edam.
Softer and more subtle drops will go well with softer cheese. Think Riesling, Champagne and Chardonnay for soft cheese like brie, camembert and blue varieties.
It is recommended to serve cheese on an empty stomach, either as a starter before a main meal or as an early afternoon delight to stimulate the appetite. It is best to serve the cheese with only dry crackers or bread, this will eliminate the overcrowding of flavours and make sure each mouthful of cheese is enjoyed in all its simplicity.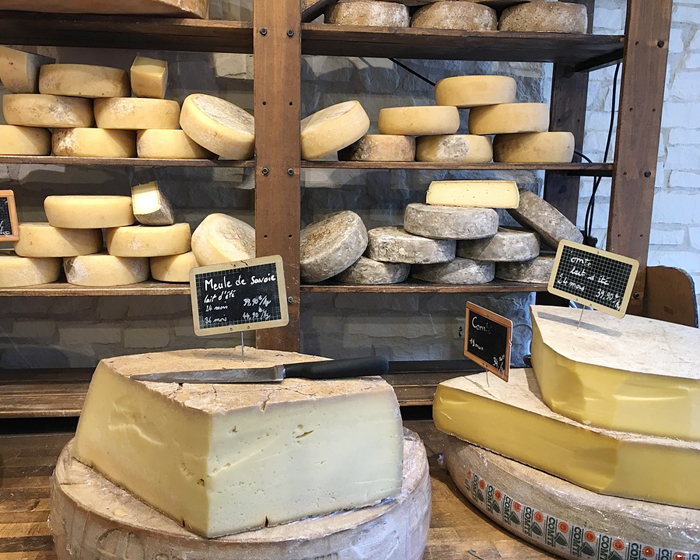 Once you have chosen your cheese and wine match made in heaven, take the cheese out of the fridge so it can reach room temperature half an hour before you are going to serve it. Begin by taking a small amount of cheese in the mouth, take a sip of wine, take a bite of cheese and then take another sip of wine. This will enhance the taste of both on the palate, complementing the corresponding flavours and making sure one element is not overpowered by the next.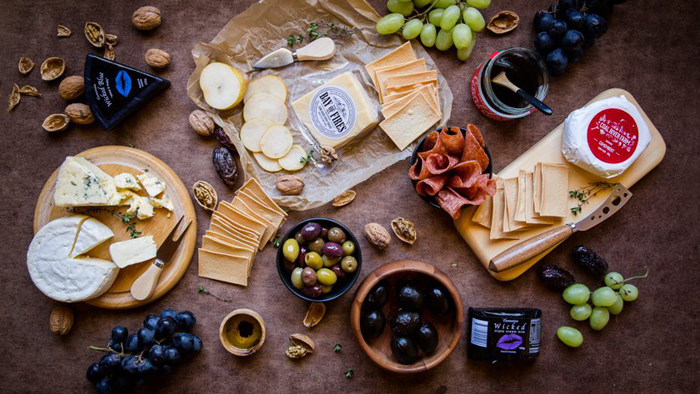 Selections from Tasmanian Gourmet Online.
To make things easier for you we have picked our top pairings to serve up at your next cheesy wine down. Opt for a hamper delivered to your very own front door by Tasmanian Gourmet Online, with the Tasmanian Cheese Selection hamper, which offers a selection of both soft and hard cheese like a Coal River Farm Triple Cream Brie, Wicked Cheese Camembert, Bay of Fires Semi Hard, Classic Crackers South Cape and Island Berries Quince Paste. This will pair nicely with a bottle of Sparkling Chardonnay from Garbin Estate which has been bottled using methode traditionelle, and hosts lots of bubbles with a hint of sweetness.
For a smooth and subtle red, opt for the 2016 di Lusso Estate Cabernet Sauvignon, with tasting notes of blackcurrant, dark cherry and sweet vanilla oak, this will hum harmoniously with the mild smokiness of Ashgrove Smoked Cheddar from Ashgrove Tasmanian Farm online.
For added inspiration, why not take a visit to one of the wineries around your area to sample what your region has to offer during wine harvest season and hand select your favourite bottle from the cellar door.