Italy is a country many of us crave to visit, yet usually have little time to explore its entirety of abundance as we travel through Europe. A couple who has spent more time throughout the region than most is husband and wife team Katie and Giancarlo Caldesi.
Spending most of their lives eating their way around Italy and being emerged in the culture of the place, the pair collectively have created a strong stable of cookbooks together including titles like Venice, Rome, Sicily, The Gentle Art Of Preserving and The Amalfi Coast; A Collection of Italian Recipes.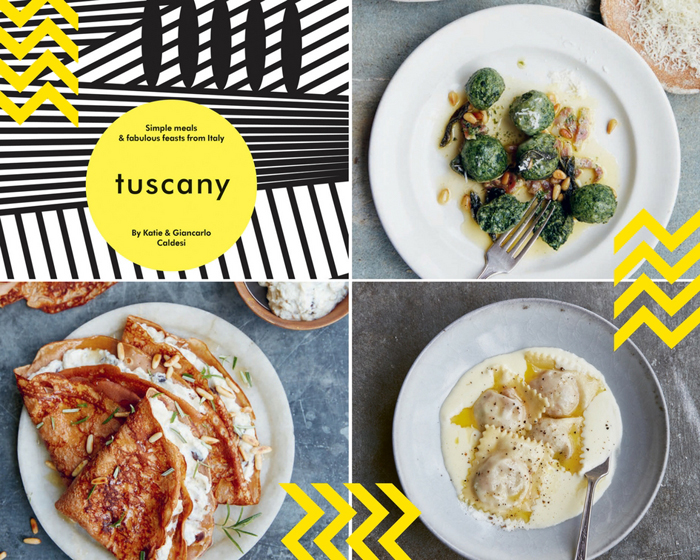 In their latest cookbook, Tuscany: Simple Meals and Fabulous Feasts from Italy, the Caldesi's focus their attention to the area of Tuscany as they reveal dishes from Giancarlo's upbringing, with recipes passed down and taught from his mother, Marietta, his respected Chef colleagues which he learnt from and home cooks who still use traditional techniques in their kitchens.
For most Tuscans, organic, seasonal and fresh food is of optimum importance to them, with a deep connection to the production of food, and how closely a cuisine is tied to the agriculture of the area. Many Tuscan families have an Orto, which is an area specifically for growing their own food, allowing them to eat what is in season and what grows best for each climate.
As the paddock to plate movement is still taking off in Australia, the Tuscans have been doing it for centuries. It is a common occurrence for restaurants to offer zero kilometre cooking with only locally sourced produce used throughout their menu in Tuscany.
One Italian dish which is undoubtedly known and enjoyed worldwide is the silky smooth persona of gnocchi. For an unusual twist on the favourite, these kale and ricotta gnocchi in sage and bacon butter are flavoured from the start with salty bacon, sage and peppery kale. In Florence, the name of this gnocchi literally means 'nude' gnocchi as they are like the spinach and ricotta stuffing that you find in ravioli only without their pasta clothes. Served as a smaller entrée or a heartier main dish, these green morsels are perfectly filling to create, even as a mid-week dinner.
Ask any Italian and they will agree, that there is something truly sexy about ravioli. This recipe of ravioli filled with tomato and bread stuffing in a warm mozzarella cream was one of Daniele Sera's signature dishes that he makes at the hotel Castello di Casole in central Tuscany. He has taken a typically Tuscan recipe for a tomato, basil and bread soup called pappa al pomodoro and made it into a filling for fresh pasta. These tangy, tomato-filled parcels are served in a warm bath of melted mozzarella and cream: aka dairy heaven in a sauce, resulting in a combination of flavours that complement each other beautifully.
Necci (chestnut pancakes) are traditionally made in the North of Tuscany where chestnut trees proliferate, during the seasons where wheat flour was sparse, chestnuts were dried and ground to use instead. For a stunning dessert to finish on, whip up these chestnut pancakes filled with ricotta and lemon, which are gluten free and naturally low in sugar. For an everyday recipe, you could leave out the chestnuts, raisins and rum and experiment with different additions like sliced bananas and freshly chopped strawberries.
So, whether you are looking to travel abroad to Tuscany yourself or have always had a romance with the idea of the region, pick up a copy of Tuscany and you will be sure not to be able to put it down.

This is an edited extract from Tuscany by Katie & Giancarlo Caldesi published by Hardie Grant Books $49.99 and is available in stores nationally.