By Annabel Rainsford.
With a steadfast loyal community of regular visitors, Alimentari's humble beginnings as an upmarket delicatessen quickly transformed into an all-in-one dining and smallgoods destination in the bustling heart of Fitzroy. Expanding once again, find Alimentari in your hands in paper and text form, perhaps as you stand at the helm of a home kitchen ready to re-create the café's sumptuous signature delights for your family and friends.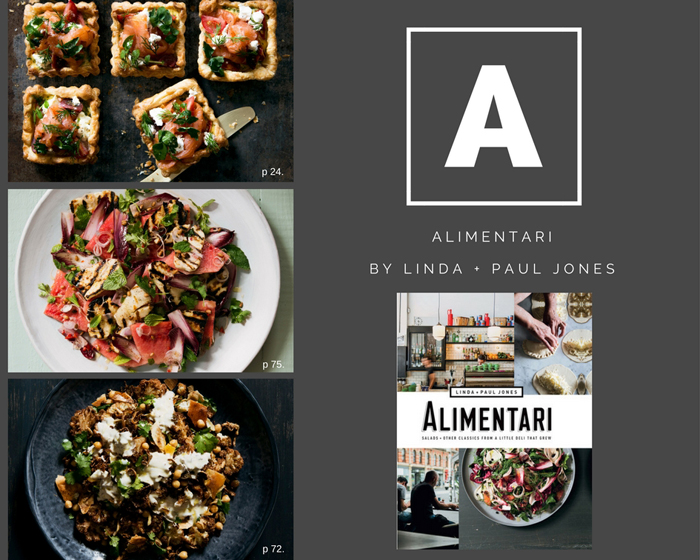 Not just a cookbook, but a detailing of the hard work, dedication and passion of Dolores and Linda, two friends-come-sisters in business and in life, feel the warmth and love ooze out of this cookbook in an ode to the legacy of Dolores, sadly passed from cancer in 2010 and whose presence is still felt in the café today.
Beginning with breakfasts and traversing through the day to encompass lunch, afternoon snacks and dessert, each dish says a little more about the origins of Alimentari and how it has progressed over time. Through a rustic display of colours and a zesty vibe, find flavours crossing borders and oceans, with touches of the Mediterranean, rich and heavy European style dishes and light Summer salads to enjoy with a classic Aussie barbeque that are sure to be loved and devoured by the whole family.
Sharing in serves of delectable tastes and textures, Alimentari inspires readers to try mouth-watering cooking at home, not in any attempt to reinvent the wheel, but to celebrate and enjoy more aspects of the classic flavours and tastes already known to us. Perhaps try the likes of smoked salmon, Persian feta, dill and cherry tomato tarts, just as the café itself makes. Taking hints from Rose Bakery in Paris, Alimentari recreates these tarts from scratch, doing well to resemble the original Parisienne creation in their trendy, 1950s deli style establishment. While the café sends out streams of these freshly made pastries into the hands of eager diners on the daily, you too can experience the joys of these breakfast snacks just the way you like them; hot or cold, smoked salmon or trout and even mushroom or zucchini for fillings.
Brighten up lunchtimes with a watermelon and halloumi salad, radiating vibrant colours that do well to complement Summertime dining with pine nuts, sumac and fresh mint. As suggested by the Alimentari team, throw this together for barbeques, or at a time when it can be gobbled up straight away so as not to let the halloumi sit and go rubbery when cold or the mint lose it's refreshing tang.
While most dishes are designed for daytime, others transpose into the evenings to satisfy a crowd gathering around the dinner table. Think lemon and garlic chicken wings, whole snapper with fennel, olives and chilli and slow-cooked lamb shoulder with Skordalia and coriander yoghurt naan. Pair any of these meaty mains with a hearty salad suited to dusk dining like cauliflower and chickpea salad with almonds, fried onion and sultanas. Savour Lebanese style flavours which could just as easily be rolled into a thick wrap as it is eaten in salad form.
Translating to mean good food and camaraderie, Alimentari continues its namesake legacy through the charming pages of this heartfelt cookbook and café biography. To see for yourself simply purchase a copy from Hardie Grant Books.
This is an edited extract from Alimentari by Linda & Paul Jones, published by Hardie Grant Books RRP $39.95 and is available in stores nationally.