Ancient grains are making a comeback, after the education on how nutritious and cost effective they can be when unprocessed, making them a staple source of nutrients for those living with specific dietary requirements such as vegans and vegetarians. They also offer a great range of alternatives for those suffering with a gluten intolerance or coeliac disease.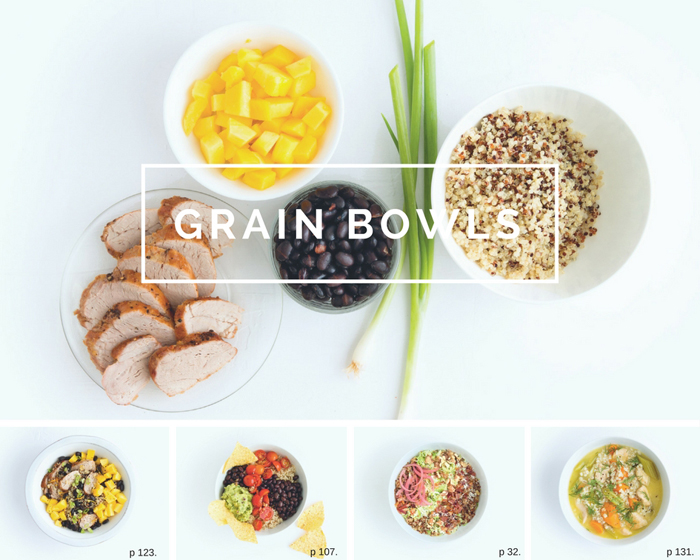 Anna Shillinglaw Hampton, well known editorial food stylist and recipe developer, explains her philosophy behind the book, that there is a grain for every occasion. She highlights this through lighter salads perfect for lunches, filling vegetarian and vegan recipes as well as heartier bowls with seafood and meats. From her summery chickpea salad to a fresh and vibrant tuna and sushi bowl, this book is packed full of helpful cooking hints and tips, and gives refreshing takes on one bowl wonders.
Try Anna's Cuban pork and mango salad which is as simple in preparation time as it is in ingredients. A fresh and zesty dish that is completely satisfying with the refreshing flavours of mango, it is perfect to bring to a lunchtime barbeque.
If you love Mexican then you will love this black bean and guacamole bowl. Taking a simple 15 minutes to make and packed full of fibre and protein, it is perfect for the vegetarians and a meal that the kids will enjoy getting their hands dirty whilst devouring it.
Anna's Brussel sprouts and bacon bowl is a great recipe to sneak in extra vegetables into your day without compromising on taste. This salad packs a punch of flavour with Parmesan cheese and pickled onion and has the perfect added texture with toasted walnuts.
For the nights you need a comforting bowl of hot soup, the chicken stew with dill is the recipe for you. A nourishing and deliciously filling dish that could be made in advance and frozen if needed to be used with convenience on nights that cooking is out of the question.
This book contains recipes that you will only need five pieces of equipment for, a saucepan, fry pan, bowl, wooden spoon and knife. With easy to prepare recipes for the time poor and minimal mess, they are the perfect dishes to whip up mid-week or to enjoy cooking together with the family. Nourish your body and rediscover the humble grain again with this collection of healthy meals that are far from boring.
Recipes and images from Grain Bowls by Anna Shillinglaw Hampton, published by Hardie Grant Books.