Australia has come a long way from the suburban 'Tex-Mex' cantina, as discerning diners realise there is more to Mexican cuisine than nachos, smothered in melted cheese and sour cream.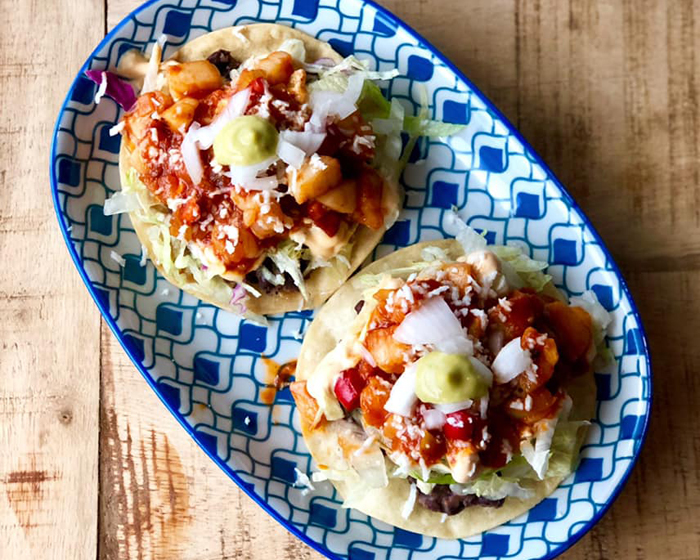 Spicy seafood tacos at Blue Agave Mexican Cantina, NSW.
Spoilt for choice, our foodie scene embraces influences from all corners of the globe and restaurants are riding the wave of street food options – the basis of Mexico's culinary culture.
These days Mexican eateries feature a greater range of mouth-watering fare, such as fresh corn, empanadas, salads, seafood ceviche and much more. Of course, there are tacos, but the fillings have gone from minced meat to pork belly and soft-shell crab – and nachos now come with any topping you desire.
So, what's all the cactus you say? Let's salsa around the country and find out what we're taco-ing about!
Eat Mexican in Vincentia and Gregory Hills:
Offering a more formal alternative to Mexican street food, 3Gringos Restaurant on Burton Street Mall in Vincentia has been a family-friendly venue for more than a decade. Maintaining a suave look with earthy tones, designer lampshades and tables neatly set for upmarket dining, while retaining warmth with rich, burgundy timbers; Mod Oz influences fuse with tantalising Mexican flavours to fill a creative menu.
Pick up a chicken quesadilla with spinach, cheese and mango salsa; or wrap your hands around fish tacos, with cucumber, chorizo, pico de gallo, aioli and lime with a side of mildly spiced rice. Those with larger appetites may opt to share a sizzling platter of beef fajitas, accompanied by rice, lettuce, beans, cheese, guacamole, salsa and wraps; while churros with chocolate and dulce de leche sauce tempt to finish.
Round up your amigos and salsa on over to Blue Agave Mexican Cantina on Rodeo Road in Gregory Hills. Find a mix of cool elements inside from rustic timbers to sleek black touches and a bar lit from underneath in a royal blue hue, together creating a vibrant vibe that attracts lively crowds of all ages to feast, celebrate a special occasion or devour delicious bites with a Tequila Sunrise cocktail in hand.
Crispy halloumi served with cucumber salsa, avocado dressing, lettuce and mayan sauce is a great way to start your Mexican fiesta; before a pork burrito bowl of Mexican rice, black beans, cheese, lettuce, pico de gallo and salsa, served with guacamole and sour cream. Those who like to get their hands dirty may opt for finger-lickin' BBQ ribs with chipotle sauce, chips, corn and hot buffalo wings.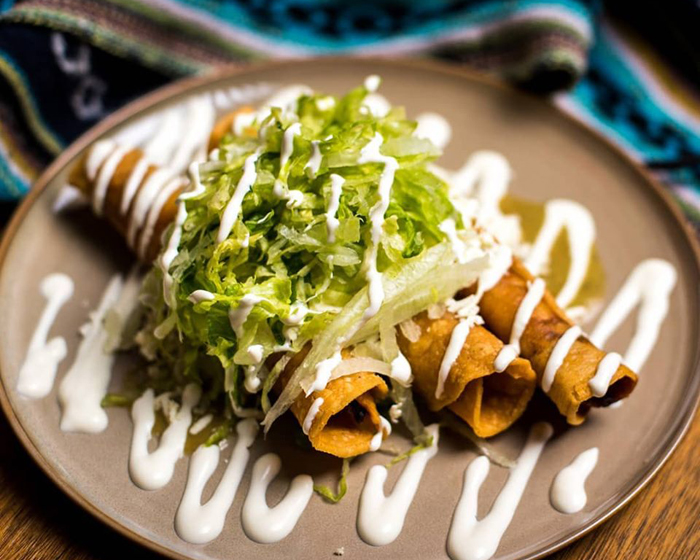 Taco Dorados at Benzina Cantina, VIC.
Mexican Fare in Preston, Hawthorn, Brunswick and Melbourne CBD:
Preston locals say hola to tacos and tequila at Benzina Cantina on High Street. This fun and funky Mexican bar and restaurant is built entirely from shipping containers and boasts great alfresco dining areas, as well as a rooftop hangout for an after-work cerveza. Relax in surrounds of polished timber and glowing pendent lights while sharing a starter of cactus strips, lime, tomato, onion, feta and coriander.
Sip on a mezcal margarita with orange and lemon juice, agave and a chilli salt rim, while contemplating tacos de barbacoa – lamb off the bone, slow-cooked in beer and served on an open tortilla with lettuce, drunken red salsa, onion and coriander. For a sweet finish, grab some churros dusted in cinnamon sugar and served with warm, dark chocolate and chilli dipping sauce.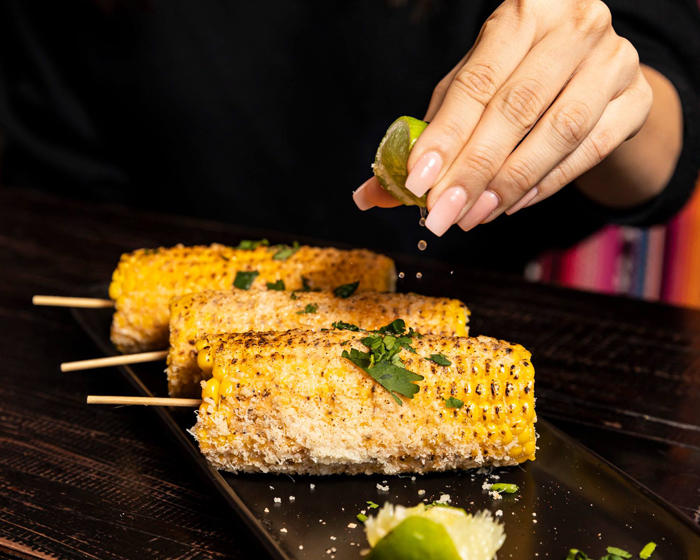 Chipotle mayo, lime and Mexican Parmesan roasted corn at Touche Hombre, VIC.
Mexican Talavera pottery and artwork add an authentic, vibrant vibe to Touche Hombre on Lonsdale Street in Melbourne's CBD. Oozing trendy inner-city style with a mix of high benches and reclaimed timber tables, Touche's menu overflows with street food dishes like baked cauliflower, Mexican cheese, paprika, guacamole and corn chips.
For tacos with a twist, pick up a couple filled with twice-cooked octopus, lemon, oregano, garlic, sweet corn, jalapeno salsa and chipotle mayo on blue corn tortillas; or share a plate of fatty lamb ribs with smoked chilli, agave and lemon, plus a side of Mexican rice, salsa roja, corn and peas. Peanut butter parfait, candy cashews and salted caramel may hit the spot for a sweet ending.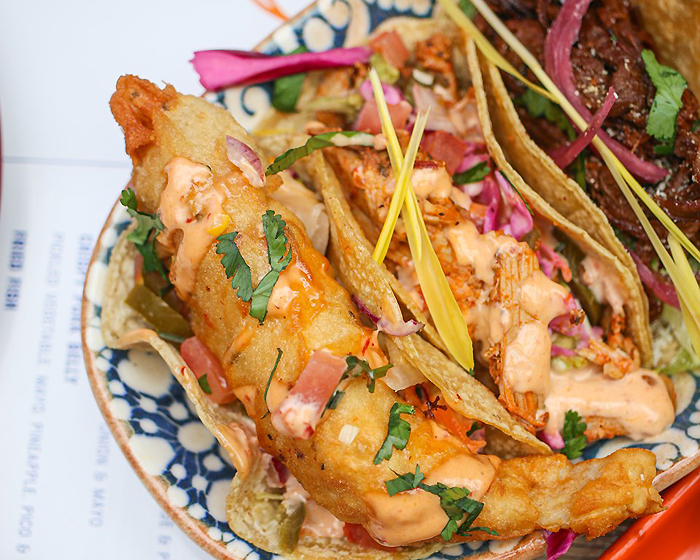 Crispy fish tacos at La Cabra, VIC.
With a name meaning 'the goat' in Spanish, say hola to mouth-watering delicious Mexican fare and cerveza at La Cabra on Camberwell Road in Hawthorn. This trendy restaurant also goes by the motto of 'greatest of all time', dishing up their own twist on Mexican classics along with cheeky cocktails, in surrounds of neon signage, painted brick walls and sombreros, ideal for ambient dining.
Grab a confit pork belly corn dog with hot sauce, or buffalo chicken wings and queso to begin; before tackling a taco stuffed with chipotle chicken, guacamole, pickled cabbage and corn salsa, or fish, papaya slaw and jalapenos. Those looking to share with amigos may opt for the chicken feed me platter, with pickled vegetables, slaw, tortillas, salsa, housemade hot sauce and fries.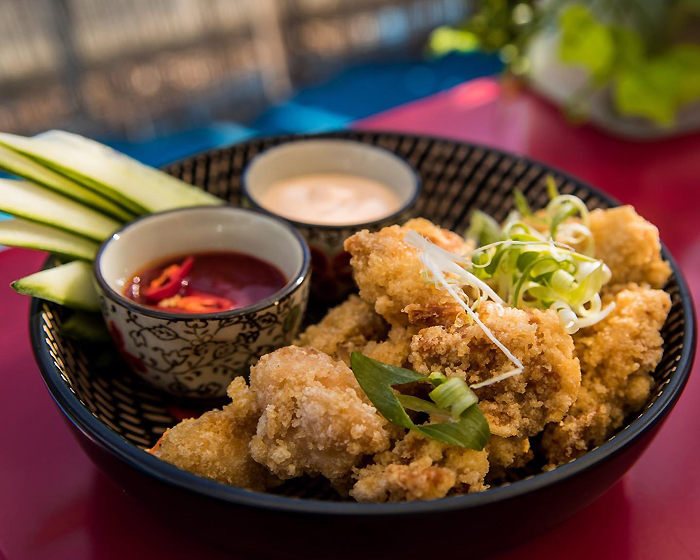 Kim Jong Yum chicken bites with spicy Korean sauce and a nutty satay sauce at Basco, VIC.
Mixing fresh Asian flavours and spices with burritos and nachos, well-travelled tacos and share plates tempt amigos to arriba into Basco on Sydney Road in Hawthorn. Modern industrial fittings, rustic brickwork, colourful parasols attached to the ceiling and hipster portraits of artists such as Frida Kahlo await diners at this Mexican eatery, ideal for lingering over an icy cold margarita.
Snacky Chan housemade tortilla chips with zesty guac and kaffir lime salsa is a great way to kick start your party; while Shanghai tender lamb ribs with Cointreau orange liqueur, maple and Chinese black vinegar BBQ sauce make for finger-lickin' good times. Taco lovers can catch a flying duck, with 4-hour roast duck, hoisin, slaw, sriracha mayo, cucumber, shallots and fresh herbs.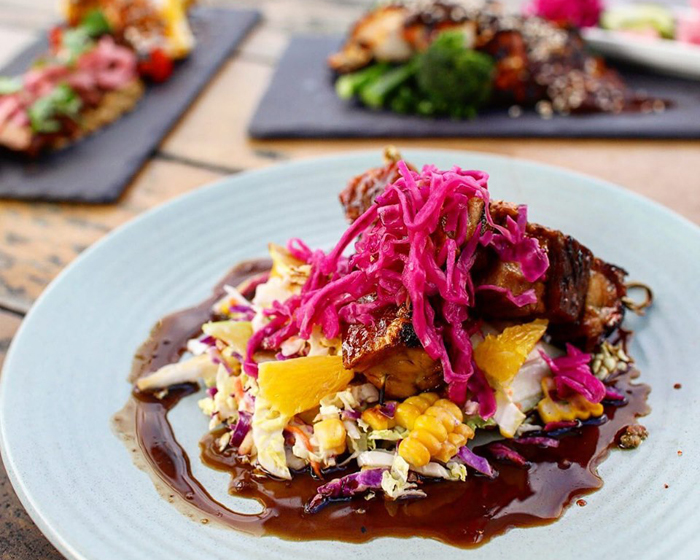 Pork belly skewers, slow roasted on a green apple coleslaw and herb salad with jalapeno cream and citrus at Juan Fifty, QLD.
Alexandra Headland, Townsville, Cannon Park and Redcliffe Mexican Restaurants:
Serving Townsville with Tex-Mex fare for nearly 30 years, Cactus Jack's Bar & Grill on Palmer Street is a local favourite for mouth-watering Mexican fare. With venues also in Cannon Park and Redcliffe, diners are transported to a world of wagon wheels, spurs, cacti and brass lanterns, while eyeing a menu boasting dishes from both sides of the border.
Dip a fork into scooped-out crispy oven-baked potato skins, filled with cheese, spring onion, chilli beef, beans or bacon; before achiote shredded chicken quesadillas, smoked paprika, tomato salsa and cheese. Don't leave without trying house specialty smoky chipotle prawn chimichangas, fried until crispy and served with guacamole, sour cream, ranchero salsa, rice and salad.
Cheeky colours both on the plate and walls await at Juan Fifty Kitchen and Bar on Alexandra Parade at Alexandra Headland. Splashes of green, yellow, pink and blue blend with tiled floors and shelves groaning with hot sauces and spirits at this trendy Mexican cantina, where soaking up the sun alfresco while enjoying a lychee mojito is the preferred way to chill out.
Early risers can chow down on huevos rancheros – fried eggs, toasted housemade tortilla, vine tomato salsa, Juan's bean stew, feta and chorizo; while those taco-ing in later in the day opt to share a marenda platter of battered cod fingers, coconut battered prawns, modern Mexican guacamole, spinach chimichanga and buffalo chicken chimichanga.
Go Loco for Mexican Food in Victor Harbor:
A hotspot to see and be seen in Victor Harbor, Loco Mexican radiates warm and lively colours as diners gorge on a fiesta of flavours. Located on the upstairs level of Harbor Mall, inside projects an energetic ambience with a wallpaper backdrop of orange and red apartment buildings, burnt orange tables and a window giving a sneak peek into kitchen creations.
Grab an icy cold Corona or frozen margarita and tuck into spicy buffalo chicken wings, with celery and blue cheese dipping sauce; followed by lip smackin' braised pork ribs, pickled radish slaw, mojo, lime and pomegranate. Vegetarians are taken care of with the likes of roasted cauliflower burritos, Mexican rice, salsa, queso, drunken beans, salsa verde, chilli relish, salad and sour cream.
For more Mexican restaurants near you, click here.