By Freya Ensbey.
This Easter long weekend, why not work up an appetite doing the annual Easter egg hunt and reward the family by taking them out for a meal to celebrate, making the most of the time with your visitors instead of slaving away in the kitchen.
If entertainment is what you're after, we have that covered too, with the best Easter activities for the kids to take part in and for those who have left their Easter shopping until the last minute (guilty as charged), we have some last minute pressie ideas to pop in your basket while you are there.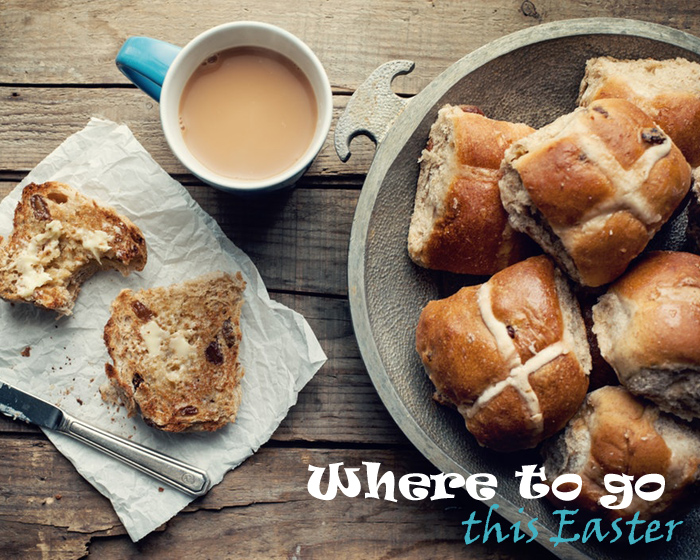 Bracegirdle's knows chocolate and they know it well. Perfecting their chocolate recipes down to a fine art, Bracegirdle's offers visitors an insight into their world of sweet decadence with lush desserts, flowing fondues to share, freshly made cakes and flavoured ice cream laced with liquid Belgium chocolate. While you are there, why not take advantage of a little extra Easter shopping and pick up some treats to give as gifts from boutique hand crafted chocolates to pre-wrapped gift baskets.
Brasserie L'Entrecote | NSW
Hop on down the Pacific Highway at Pymble and into Brasserie L'Entrecote to experience a three course Easter lunch feast this Easter Sunday. Dine in this Parisian styled restaurant amongst a modern fit out whilst a professional team creates a menu designed to excite, offering dishes like grilled salmon, leek fondue, scallop and lemon sauce and duck confit pissaladiere with provencal herbs, finishing with of course a chocolate themed dessert of moelleux au chocolat, crème anglaise and crushed meringue.
Soiree | NSW
For a decadent Easter that will keep the kids entertained for hours, book your place at Soiree for their Easter High Tea. The chocoholic children in the family will marvel as they experience their very own 'petit indulgence,' admiring an array of Chef's creations like the dark chocolate tartlets, handcrafted bunnies and delicately painted eggs, experiencing a more refined Easter experience that will leave lasting memories for years to come.
Altair Restaurant | VIC
Why not welcome in Easter the traditional way and begin with a seafood feast on Good Friday at Altair Restaurant residing along Yarra Street in Warrandyte. Enjoy their seafood and crab banquet dinner from 6.30 pm for just $110 with drinks, as you relax in a stylish interior of charcoal furniture styled in earthy tones, green cushions and hanging pendent lighting, which creates a relaxed and moody atmosphere to enjoy fresh locally sourced seafood created into visually stunning dishes.
Waves | QLD
Located in the heart of Surfers Paradise, find Waves Buffet Restaurant underneath the Watermark Hotel and Spa. Known by locals and tourist alike for their gourmet boutique style buffet which offers international flavours from around the globe, Waves offers something for everyone. This year, Waves has taken on the Easter spirit and created an Easter buffet dinner for $72 per person each night of the long weekend from Friday through to Monday. To celebrate Easter Sunday, a buffet Easter themed lunch for $65 per person is available, with chocolate egg decorating activities for the kids to enjoy. During Easter lunch, Waves is giving one lucky family a chance to win a one-night stay, complete with a full buffet breakfast.
Mayfield Chocolates Pacific Fair | Spring Hill | Edward Street | QLD
Find those in the know at Mayfield Chocolates, located in the Gold Coast's popular shopping precinct of Pacific Fair. Apart from Good Friday, Mayfield Chocolates is open throughout the Easter long weekend and will trade until late night on Thursday, March 29, allowing shoppers plenty of time to get their last-minute gifts. All of Mayfield's Easter chocolates are crafted from premium ingredients, giving a superior quality and taste to most store-bought varieties. The Easter gift box selections are a popular choice for those wanting a quick selection, whilst the personalised custom eggs, available in milk, dark or white chocolate are the ideal gift to impress that special someone. Also find Mayfield Chocolates along Wickham Terrace in Spring Hill and Edward Street in Brisbane City.
Bacchus | QLD
Named after the Roman God of Wine, Bacchus brings a place of indulgence to Brisbane's Southbank. This Chef-hatted restaurant offers a lush space of grandeur for gourmands to delight in culinary excellence, premium matched wines and quality service by a staff of well educated professionals. This year, join Bacchus for a seven course Easter Degustation, inspired by the history of the traditional Easter 'egg'. Enjoy the likes of dishes such as duck with sous vide egg, braised leg, parsnip foam and black garlic, right through to an inventive dessert of the egg with passionfruit, camel curd and smoked chocolate. Spaces are limited, so be sure to reserve your place.
For more bunny approved munch spots, bury your way around our Easter What's On Guide and find what is happening in your warren.