During the last decade, Middle Eastern fare has become a global sensation with its fresh, wholesome, healthy and aromatic flavours skyrocketing in popularity – none more so than in Australia.
Considered the new Asian by many foodies, Middle Eastern cuisine is far more than kebabs, hummus and tabbouleh… it transcends borders, taking inspiration from countries like Egypt, Morocco, Lebanon, Turkey and Iran. Long considered the cradle of civilisation, playing a vital role in promoting trade and linking the East with the West, the Middle East has been the birthplace of major religions and ancient cultures.
Tourists from all over the world visit the region each year, marvelling at the architecture, culture and history; as well as smoking a hookah, watching belly dancing and dining at restaurants, serving the best flavours of a diverse cuisine influenced by the Mediterranean climate.
Australia abounds in restaurants plating up smart and sassy Middle Eastern dishes to tempt all palates. We've put together a list of some of the best for you to embark on a culinary adventure that will send tastebuds into overdrive and whet your appetite for more than just a pide!
Victoria: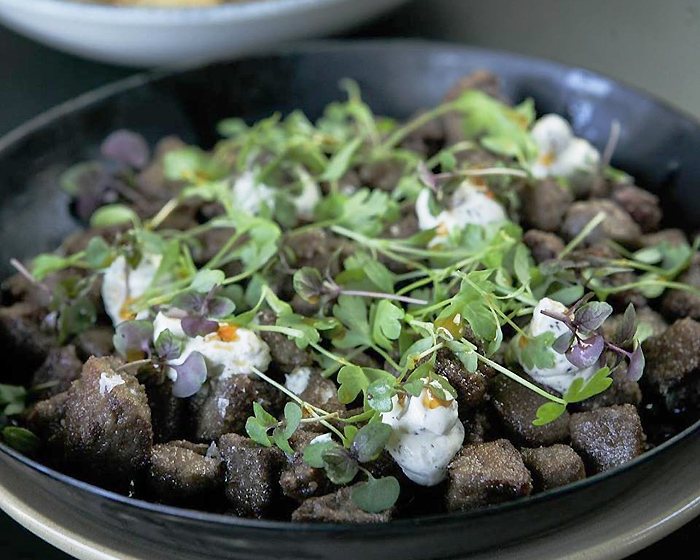 Adopting a philosophy of fine food without fuss, Yagiz on Toorak Road in South Yarra serves up a tantalising fusion of Turkish fare. This restaurant has a contemporary fitout of distressed brick and authentic Turkish accents, dominated by a painting of Mr Yagiz (the Chef's grandfather) on the wall, setting a casually elegant ambiance to enjoy a menu split between a la carte and six-course feed me options.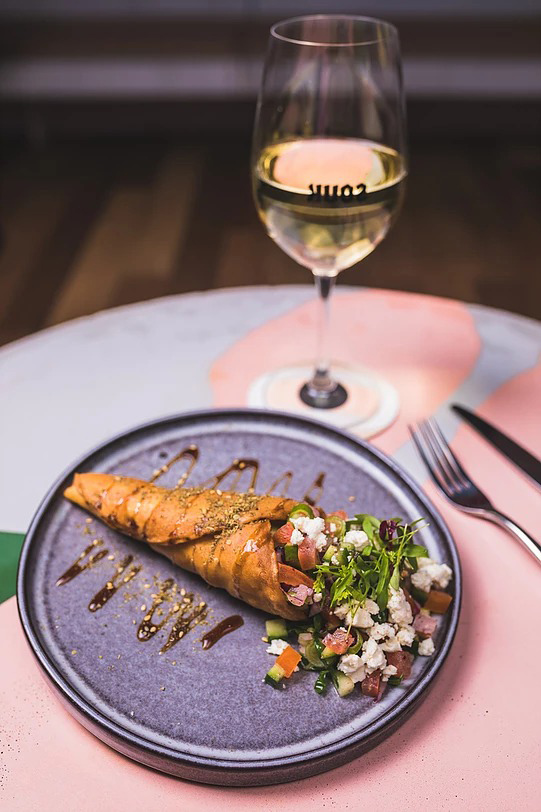 Middle Eastern flavour meets Melbourne laneway chic at Souk on Bligh Place. Guests are treated to an Arabian experience once through the doors of this restaurant, with neon colours and wall art setting the vibe for a memorable evening, whether gathering for a drink in the downstairs bar or dining upstairs. Souk's logo and décor embrace the concept of writing backwards, with mirrors and reflections offering a further glimpse of Arabic style. Banquet and meze menus offer dishes such as crispy wisps of calamari with a zesty zhoug dressing, topped with a pomegranate and shallot salad; or smoky grilled quail, fragrant parsley and freekeh salad, salted grapes, smoked almonds and a rose scented grape and quince molasses glaze. Finish on a sweet note, with whipped Turkish coffee and Nutella ganache.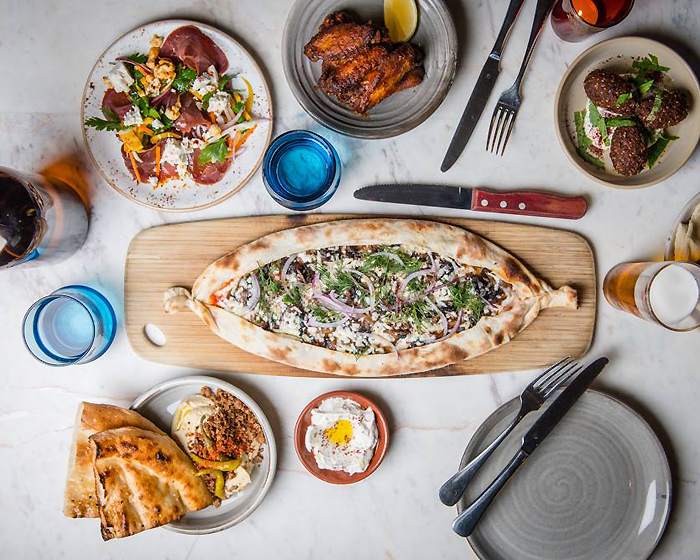 Boasting two floors of relaxation with spectacular views over Port Phillip Bay, Mr Lawrence on Beach Street in Port Melbourne is a great spot for a long lunch, cosy dinner or lively function. Sit back, relax and enjoy the laid-back ambiance, while taking a culinary journey through a vibrant menu inspired and influenced by the cuisine of the Middle East, North Africa and the Mediterranean. Don't go past a Turkish pizza with smoked trout, peppers, caramelised onion, harissa and dill; followed by Tamariya-Iranian date balls, rolled in toasted sesame and coconut.
New South Wales: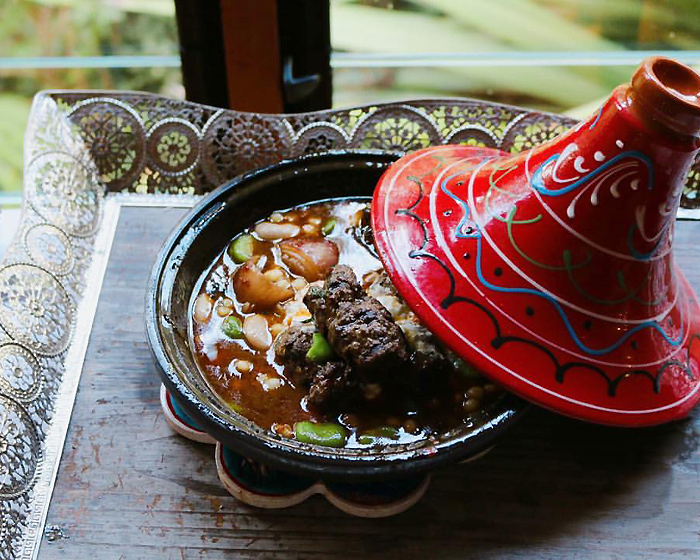 A contemporary fusion of Moroccan, Middle Eastern and French cuisine is the name of the game at Meze Me Grove in Annangrove. This spacious restaurant, bar and function venue nestles among the serene Regal Gardens, with an elongated view out to lush greenery and elegant dining atmosphere ideal for families, or to celebrate a special occasion.
Early risers can enjoy spicy lamb mince with pine nuts, hummus, rocket and pita bread; or sweet couscous, warm cardamom milk, mixed nuts, Turkish delight, dried fruit and rhubarb compote. Those dining later may opt for meze plates such as crispy pork belly, pickled quince, green apple, red cabbage salad and jus; or a Moroccan spiced vegetable tagine, lentils, preserved lemon, sultanas and tahini sauce.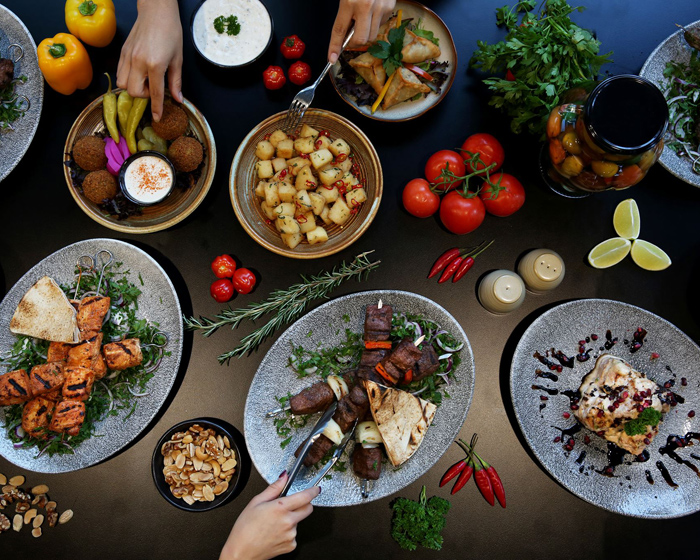 Adopting both the name and vibrant culture of an area in Lebanon, Zahli on Elizabeth Street in Surry Hills radiates the rich tradition and custom of meze with urban Sydneysiders. In a bright, sleek setting of a matte themed interior, a white marble bar and intricately patterned tiles, guests are transported around the globe to discover a modern menu breathing new life to authentic Lebanese cooking.
Expect temptations such as crispy fried diced potato, tossed with fresh coriander, garlic, lemon and chilli; alongside pan-fried Lebanese sausages tossed in fresh lemon juice, or char-grilled tender lamb, marinated in mixed spices and served with chilli bread.
Queensland: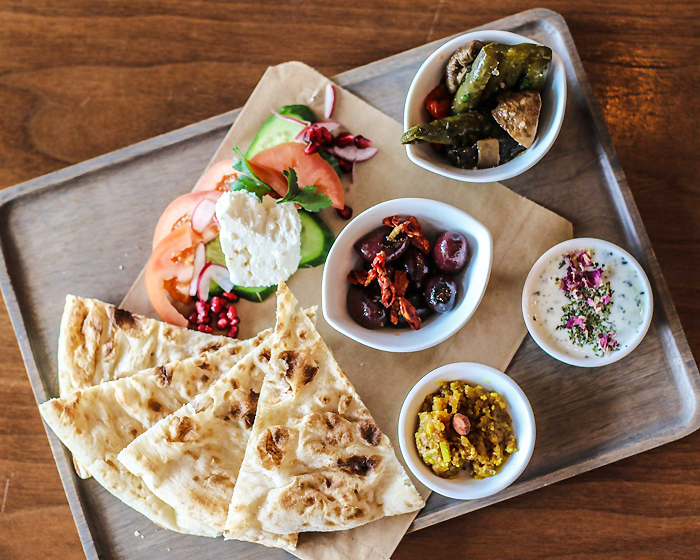 Munch on delectable morsels from breakfast through to dinner, at The Little Persian Café on Racecourse Road in Hamilton. Beside an open kitchen with hanging plants and drop-down bulbs, guests happily chill out in colourful surrounds, as an espresso machine sits in contrast to a shining, golden Persian teapot – a celebration of modern café meets traditional Middle Eastern tea house.
Western Australia:
Weary shoppers are lured into The Nile Grill & Kebabs inside Eaton Fair Shopping Centre on Recreation Drive, by a warm and welcoming vibe, promising nourishment and relaxation. Take a seat among Egyptian style artwork and surrounded by soft red and orange hues, as mouth-watering smells waft in the air from a menu of traditionally inspired dishes, created from inherited family recipes and spiced sauces made in house. Pick up a crispy, grilled housemade marinated steak gozleme, with onion, tomato and capsicum, or wrap your hands around a Nile chicken burger with salad, grilled pumpkin and caramelised onion.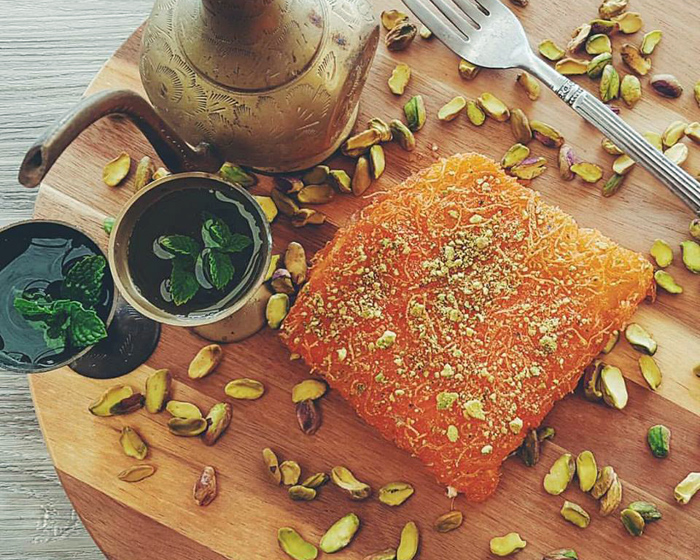 Reflecting the fresh, lavish tastes of Palestine and Jordan, Meast food truck delivers authentic Middle Eastern fare to the streets of Perth. A dynamic green exterior with grape leaves and earthy tones, makes Meast easily recognisable at various venues around the city, as aromatic spices float in the air, enticing passing diners to stop for a snack.
Now your tastebuds are awakened by the thought of spicy flavours and meze bites to share, click here to find a Middle Eastern restaurant near you.