By Leigh O'Connor.
Father's Day will always have special meaning for inspirational Sunshine Coast Chef Matt Golinksi. Eight years ago, he lost his wife Rachael and three daughters – Starlia, Willow and Sage – in a house fire, which also saw him receive burns to 40% of his body.
It's been a long road to recovery, but now this Executive Chef from View by Matt Golinski restaurant in Noosa, is smiling again with fiancée Erin and daughter Aluna by his side.
"Father's Day has been an emotional time of year for me for the past eight years, but in the two years that Aluna has been in my life she's brought me so much happiness, it feels like every day is Father's Day and I make sure I don't take a second of it for granted," Matt says.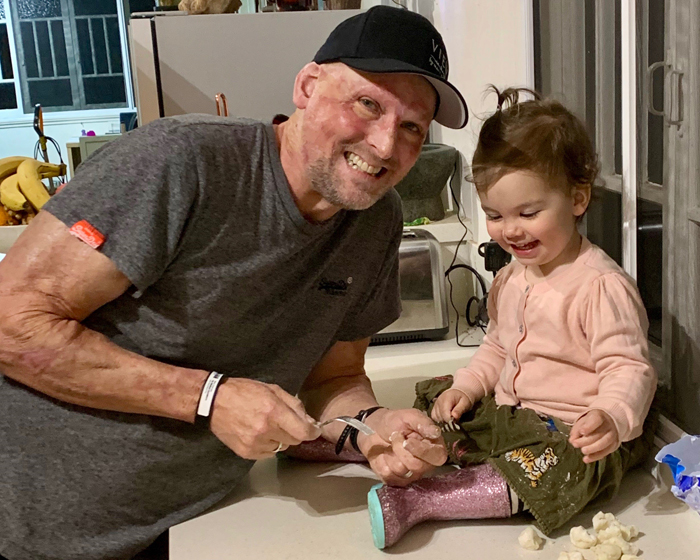 Matt and his daughter Aluna making gnocchi.
It's easy to forget that all those sports stars, actors and of course Chefs that we look up to, are indeed husbands and fathers endeavouring to have a normal family life with their partners and children. For this Father's Day on Sunday, September 1, we asked five of our favourite Chefs who are also fathers, to dish up a recipe and Father's Day memory.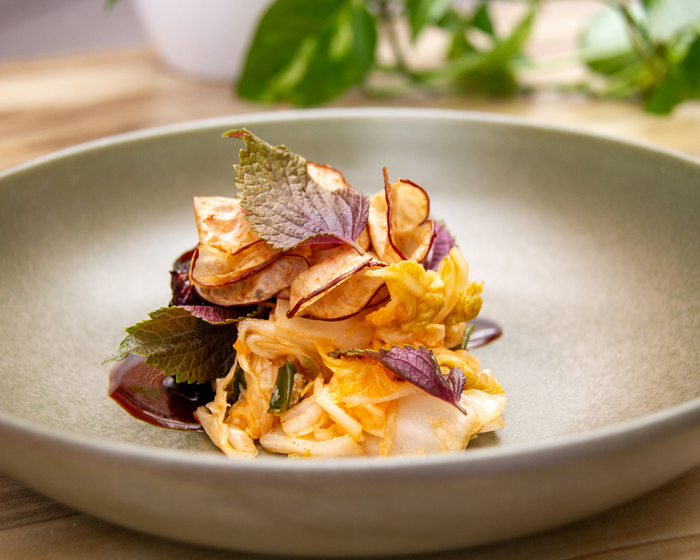 All Dads love roast pork, right? Matt's recipe for tamarind braised pork belly with kimchi, Nashi crisps and perilla is sure to impress the family. Just be aware the kimchi needs to be made at least three days prior to your meal, so it has time to ferment and provide the perfect base for the braised pork belly.
Hogget Kitchen in Warragul was born out of conversations over shared food, between friends and winemakers Bill Downie and Pat Sullivan, along with Chef Trevor Perkins. These three families have been preparing and sharing long lunches together for many years, planning the future of food and wine for the Baw Baw region.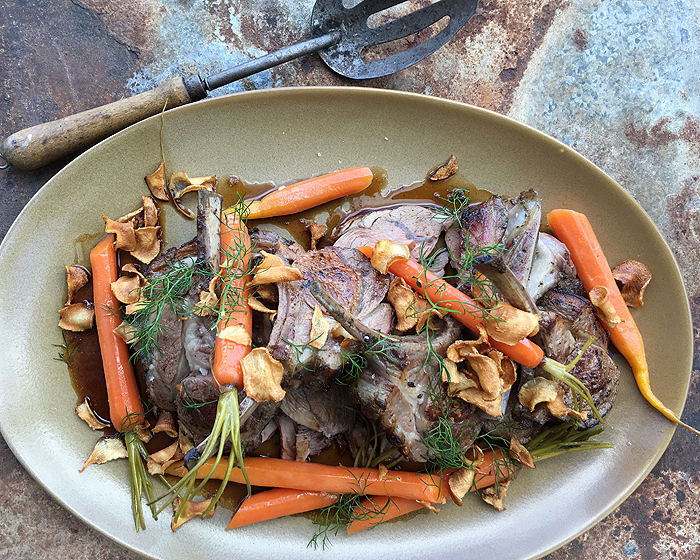 Trevor has a simple philosophy about food, believing that ingredients should be allowed to speak for themselves and creates all his dishes with that in mind, including this recipe for Hogget Kitchen lamb with grilled Summer vegetables.
Tender pink lamb cutlets and neck slices are char-grilled after being marinated in mountain pepper, lemon myrtle, garlic and honey; served with grilled vegetables and topped with crispy fried Jerusalem artichoke chips.
Trevor is looking forward to spending Father's Day with his two sons Ethan and Joel, as well as his own Dad (and the boys' grandad) Graham, for their annual lunch together.
"Every year is memorable until the next one," he says.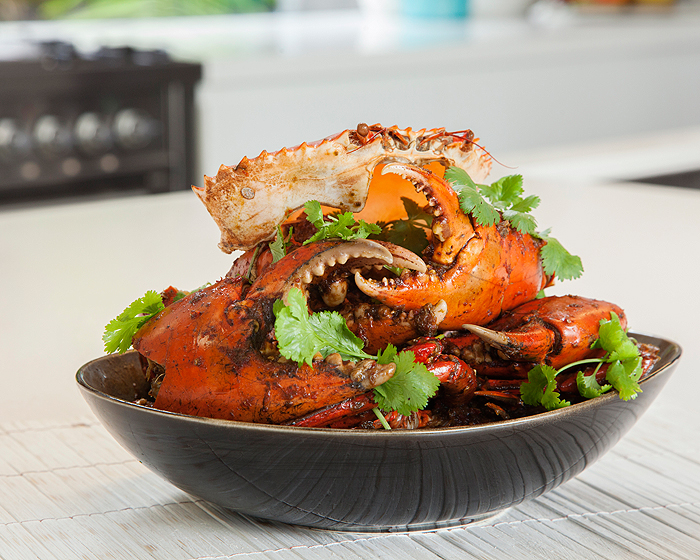 This recipe for steamed mud crabs with ginger, chilli and shallot sauce is very much like Peter Kuruvita – a little bit of flavour from around the world. The Noosa Beach House Chef created the crab dish after a visit to Singapore in the 90s, when he was disappointed with the local delicacy of chilli crab; on returning home he went into the kitchen and just reached for ingredients in the pantry and wrote down the measurements as he went.
"I blended it and just put it into a pot with a cleaned mud crab. The result blew everyone away, the recipe has never changed and is now a favourite at Noosa Beach House. Enjoy the beautiful flavours and don't restrict yourself to crab – try prawns, chicken, tofu or vegetables. Healthy, tasty and rich," Peter explains.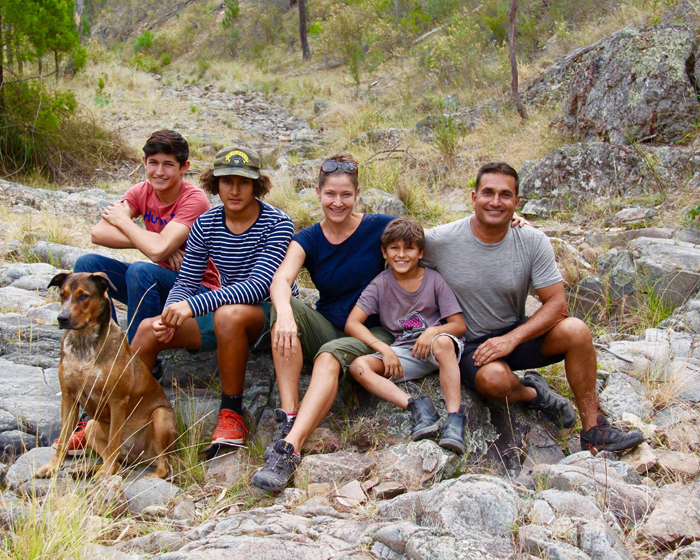 Peter Kuruvita and his family.
Father to his own three sons – Jai, Marley and Taj – Peter recalls past Father's Days with his Sri Lankan father Wickremapala and Austrian-born mother Lily.
"The one thing I remember about Father's Day with my Dad was he always said: 'there shouldn't be a special day for fathers, you should honour them every day.' That didn't stop him enjoying the fact we would always gather for lunch on Father's Day with him though."
The more memorable feasts are held around the family table, where guests are free to sit back, immersed completely in both the cuisine and setting. That's the ethos behind Randwick restaurant Clove Lane, the brainchild of Chef patron and father of four, Emile Avramides – who along with Head Chef Michael Tran, invites diners to take a seat at the family table to enjoy the very best of local produce.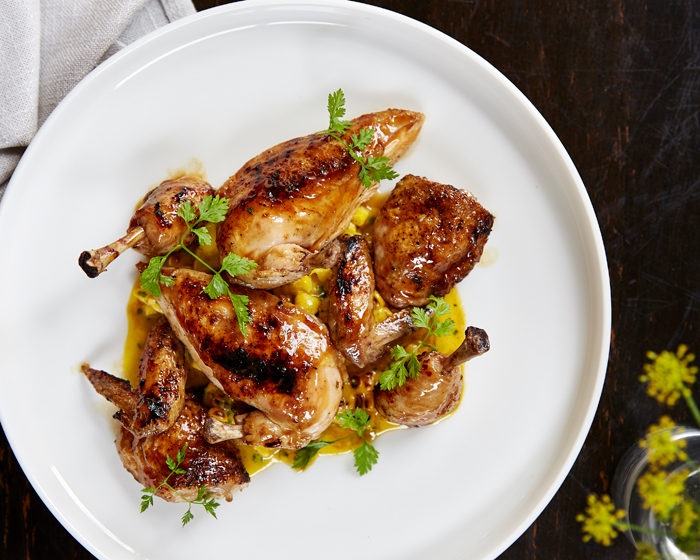 Roast Spatchcock with sweetcorn and honey cumin glaze is a dish that embodies the family spirit as an alternative to a traditional Sunday roast, with a touch of Middle Eastern spice, a smooth sweet corn puree and scattering of chopped chives. The honey cumin glaze adds a glossy shine and taste to the roasted chicken, making this a plate Dad will salivate over.
"My most memorable Father's Day…? Well, surely it will be this year as I am flying to San Francisco the following day to eat and stage at The French Laundry!" Emile says.
After winning season four of My Kitchen Rules, Dan and Steph Mulheron followed their dreams and aspirations to create a warm urban-style eatery, where people leave happy and satisfied with friends and family – the result is EAT at Dan & Steph's in Hervey Bay. Chilled out surrounds of ambient glowing bulbs, exposed brick, splashes of green and a stunning alfresco area overlooking the water, attract both locals and visitors alike.
Dan's recipe for lamb and peas is an ideal Father's Day treat, using French trimmed lamb racks coated with a crust made from garlic, pistachios, mint, olive oil and lemon, then roasted in the oven. A gentleman's relish and salsa verde are foils for the tender pink lamb cutlets, blanched fresh peas and asparagus.
The Mulherons now have a vivacious four-year-old daughter Emmy, so Father's Day this year will be as busy as ever:
"Every Father's Day is so special, but my first I'll never forget! Spending the day with my two girls is all I need," Dan says.
Happy Father's Day to all the Dads out there… we hope it's a memorable one with plenty of good food and wine.