In preparation for India's Independence Day, we spoke with chef hat awarded restaurant TONKA, a modern Indian restaurant just off of Flinders Lane in Melbourne's iconic Duckboard Place. The vibrancy of Indian cuisine is truly celebrated at this establishment and being CODA's proud sister, Melburnians seek out this eatery weekly.
Pursuing his paternal Indian heritage after CODA's Modern Asian/ French – Vietnamese inception, is TONKA's Executive Chef, Adam D'Sylva joined by Head Chef Ved Navghare and a team of Tandoor-trained experts, who recreate Indian classics into works of art.
AGFG:
Are there any specific regional signature dishes you focus on?
Adam:
TONKA's menu features Southern Indian cuisine more broadly, rather than focussing on a specific region. I look to my paternal heritage for inspiration and then focus on how to modernise traditional Indian dishes.
TONKA's Smoked Corn Fed Chicken in a betel leaf with garlic, chutney, pomelo and sweet papaya pickle.
AGFG:
Any particular meats you use that are seen as going outside "the norm?"
Adam:
We use a range of proteins not normally seen in Indian cooking. TONKA's tandoor features ocean trout and corn fed chicken and the menu incorporates incredible Australian produce like quail, beef, duck and barramundi. TONKA's menu enhances these ingredients with Indian techniques and flavours and pushes the boundaries of people's expectations of Indian cuisine.
AGFG:
Does TONKA focus on using authentic, family recipes?
Adam:
Absolutely. My Head Chef, Ved Navghare grew up in Mumbai, we regularly spent time with our tandoor chefs swapping family recipes. These feature heavily on our menu.
TONKA isn't the only Indian restaurant you need to know about, we have 12 more that we believe you must seek out as soon as you can. If our suggestions aren't within easy travel distance, we have more recommendations near you here.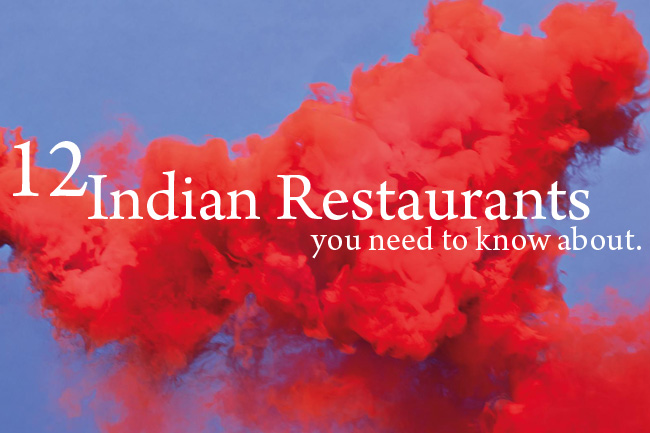 Image: TONKA Restaurant.
VIC:
Located in The George Building, Babu Ji restaurant offers a place for the locals of St Kilda to share time together, laugh loudly and indulge in sumptuous Indian cuisine without holding back.
For a fusion feast in Port Melbourne, be sure to experience a diversity of food and flavour at Aagaman Indian Nepalese Restaurant located on bustling Bay Street.
The heart of Chinatown in Melbourne might seem an unusual place to find an Indian restaurant, but the award-winning Gaylord has been here so long (since 1985, in fact) that it's practically an institution.
Escape the dreary office environment by enjoying a colourful Indian feast at Delhi Rocks in the heart of Melbourne city. Established in 2005, this popular King Street eatery may be non-descript, however TV screens showing live sport and Bollywood movies as well as warm service inject vibrancy and a consistently lively atmosphere.
QLD:
Just a short distance off the Bruce Hwy into North Lakes is where one may find a sumptuous world of Indian dining at Junoon The Indian Flame restaurant. Dropping all aesthetic clichés of a traditional Indian restaurant, diners are cocooned in a sleek and moody setting with circular wooden tables, leather bound high back chairs and soft down lights that merge to create an ambient experience.
Those thirsting for an exciting culinary adventure need only take to Colour Me Flavour, an Indian inspired, modern fusion restaurant in Brisbane's Woolloongabba.
WA:
For tantalising Indian cuisine with a surprising twist, find Anghiti Heathridge restaurant on Caridean Street in Perth.
NSW:
Created out of love and longing for tantalising Indian cuisine, share in mouth-watering dishes at Chatkazz restaurant, just off the Western Motorway in Harris Park.
Among antique furnishings and old world grandeur, The Spice Room emanates a distinctive charm, serving Sydney diners an authentic Indian culinary experience in the heart of Circular Quay.
Discover the many flavours of authentic Indian cuisine in Sydney at Nithik's Kitchen, a refreshing addition to the Rozelle dining scene.
Situated in the heart of Sydney, restaurant Masala Bowl serves mouth-watering Indian cuisine from their welcoming venue on Pitt Street.
Exuding the rich essence of Indian dining, Delhi By The Way charms locals of Potts Point and invites visitors to experience distinctive dishes in a stylish venue on Kellet Street.