By Leigh O'Connor.
Californian Zinfandel has often had a bad rap from the abundant jugs of cheap pink and white 'Zin' on the shelves of many grocery store chains, snapped up by desperate housewives.
Believe me when I tell you this Croad Vineyards' Silver Fern Zinfandel from Paso Robles is nothing like that. Earlier this year, I had the opportunity to visit Kiwi, Martin Croad and wife Patti at their vineyard, Spanish mission-style tasting room and inn, to taste it for myself.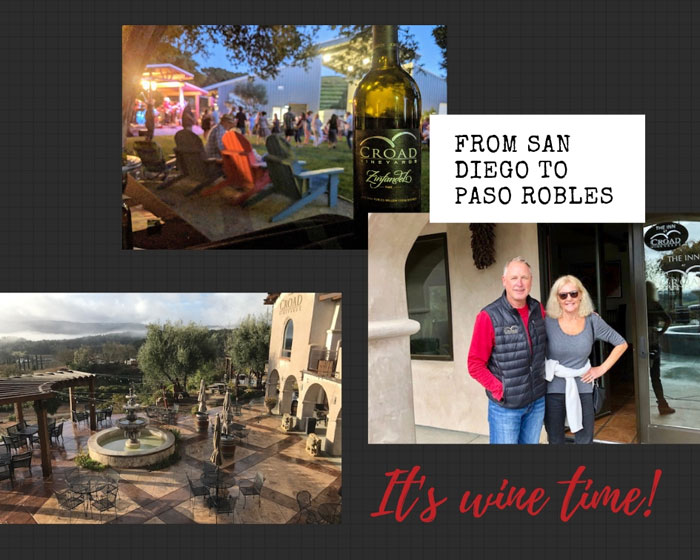 Croad Vineyard, Martin Croad and Leigh O'Connor.
Martin embraces his New Zealand heritage in every bottle of wine he produces, naming each drop with a Maori moniker such as Haka, Taranaki and Karaka. Fifteen years ago, the Croads purchased a distressed vineyard with two rustic motorhomes as accommodation… the rest as we say is history.
These days the property houses fountains, courtyards, the inn, ranch house and the couple's own home on the hill, overlooking the vineyards from their infinity pool. It is hard not to be impressed with what has been achieved and that's without considering the wine!
We drove from San Diego to Paso Robles for a family getaway – at least a five-hour drive depending on LA freeway traffic – and on arrival were greeted at the inviting tasting room by a crackling fire (it was Winter in California) and resident cat Brix.
The first wine on that night's tasting menu was 2012 'Haka Pure' War Dance, made from 60% Mourvedre, 20% Grenache and 20% Syrah grapes, all grown on the estate. An incredibly earthy wine, it had notes of woody sage that transitioned into a rich blackberry that lingered on the palate.
After tastings of 2012 Grenache and a 2011 GSM blend Karakia, it was time to put the Zin to the test - the first glass we tried was a 2012 Estate Reserve Label that had been aged in neutral oak for three years. It was smooth, assertive with bright layers of blackberry, sweet vanilla and bold cherry.
My favourite came next… 2012 Zinfandel Silver Fern, aged in 50% new French oak and 50% new Hungarian oak. This premium estate drop had a solid backbone that amplified its fruit characteristics and elongated the finish, while very cohesive across the palate.
It was simply delicious and wiped away all my nightmares of cheap and sweet white Zin that most women in California drink in copious amounts.
"White Zinfandel is a beginners' white," Martin explains. "It is one of the biggest sellers in the US, but it is not the people who drink wine seriously who will buy it. It is a low-end drop, bottled and in the stores within six months.
"It is produced for the masses who want an inexpensive wine, stemming from the 70s when housewives were doing most of the shopping; they weren't going to buy Cabernet, or even whiskey or gin, but they would buy white Zin."
Several of Martin's wines are blends, which he says can be dialled in exactly how he wants them to taste:
"The first part of wine making is technical, the second is being creative. The only problem with blending is that is hard to recreate the same blend every year, as the grapes can taste quite different. I was in France last year and they have so many restrictions for blending.
"We are like the wild west over here, we can grow whatever we want and blend however we want."
Martin dry farms his vineyards and hasn't watered for more than eight years, including during a four-year drought period; starving the fruit leads to more intense flavour.
"The latest controversy in our hood was when an application was made to legally grow a three-acre marijuana block between our vineyard and a neighbour. All the residents in the area were not impressed as the farm was going to use about 356,000 gallons of water a year, the application was withdrawn," he quips.
After a production winery tour and private barrel sampling of several wines still ageing – including one of the best rosés I have ever tasted – it was time to relax with a bottle of choice in the luxury of the inn, where four ensuited bedrooms with balcony views of the vines awaited.
Waking up the next morning to mist and an incredible sunrise through the cascading fountain brought images of Tuscany to mind, it is not hard to see why Martin and Patti enjoy their lifestyle so much.
Bringing a bottle of 2012 Zinfandel back to AGFG was a given… I wanted everyone to taste test and put forward their opinions – read on to see what they said:
"Delicious! If Christmas was a red wine, this is what it would taste like." – Hannah.
"Smooth, full bodied with rich blackberry flavours – delicious. It reminds me of picking blackberries off the bridge as a kid." – Kerrie.
"A wonderfully dense wine with lingering black fruit characteristics. I welcome the opportunity to thoroughly appreciating this wine by the crack and bubble of an open fire." – Jeremy.
"Technically, it's an exceptionally well-balanced wine, it has aspects of blackberry and finishes on the palate with a subtle hint of nature's wild honey; I'm not sure, maybe it's the surrounding vineyards' environment coming through. Personally, it evokes an emotion of warmth and comfort, enjoyed with one's special someone." – Shawn.