By Leigh O'Connor.
Deep down Perth Chef Caleb Azuka is still an African child, who remembers smelling the aromas of his Mama's chicken cooking from far away.
While he now calls Western Australia home with his wife Angelina and three children, Caleb has travelled the globe plying his trade, making him the ideal person the share his story on International Chef Day - Tuesday, October 20.
Having always dreamed of putting his name to a venue, Caleb has closed his Subiaco restaurant The Corner Italian to open
Caleb Restaurant & Bar
in a beautiful heritage building on Railway Road. A simple warm décor, modern and antique at the same time, evokes a European kind of vibe; while the sky view rooftop bar is the ideal spot for after-work drinks and live music by a range of DJs.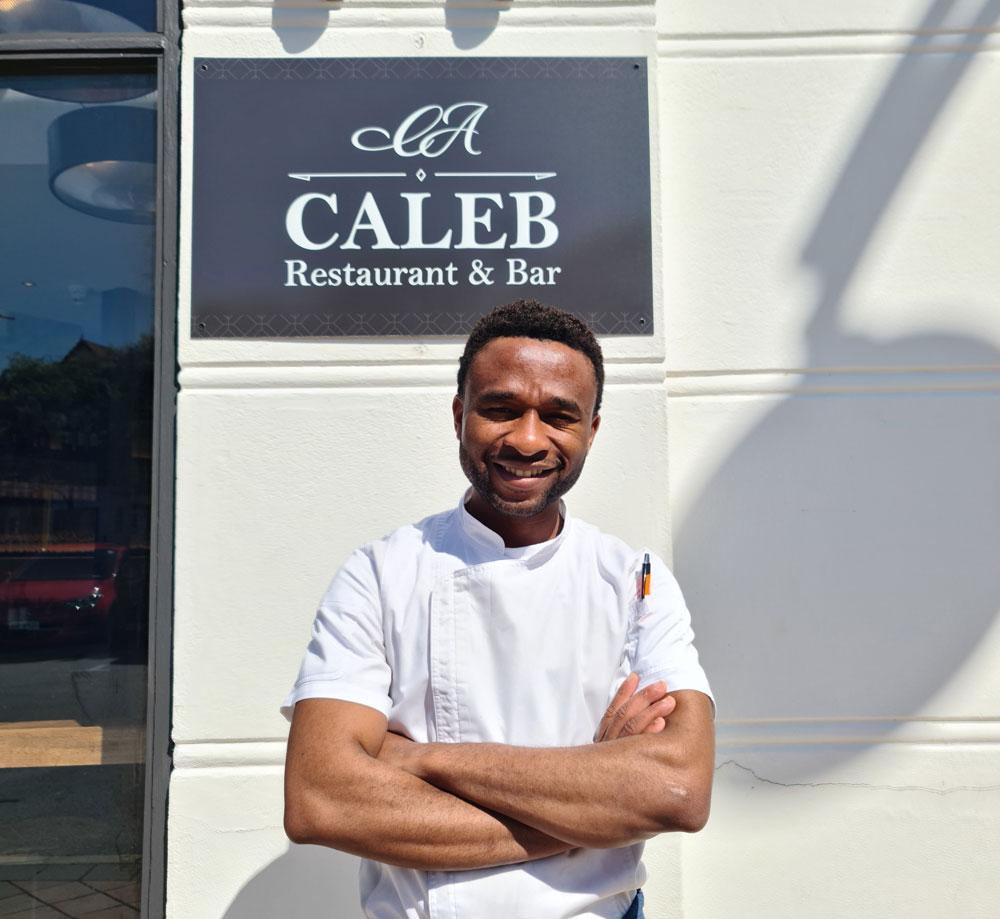 How does a boy from Africa, who grew up in Italy and worked in the United States, end up running a restaurant in Perth?
Caleb's family relocated to Bologna when he was young - he was first exposed to food as a child when his Nona owned a small trattoria, cooking homestyle Italian dishes. Instead of playing with his friends after school, he would help her in the kitchen to prepare food for guests – not just because he loved spending time with her, but also because he loved the aroma and taste of her dishes.
"From Italy, I moved to the United States to learn and explore how Americans cook Italian cuisine," he recalls. "In time I became a renowned Chef, heading different restaurants and performing cooking shows in Atlanta, Georgia.
"I met my beloved wife Angelina during one of the shows, she was visiting from Australia. We both fell in love, the long-distance relationship was not easy, so we got married in the States at my restaurant."
When the couple decided to raise a family, they moved to Perth to be closer to Angelina's parents and siblings – they are now a family of five.
"I'm an African boy, who grew up in Italy and travelled the world to work with the best Chefs to grasp how different countries cook Italian cuisine in their own way – now I'm cooking my version based on my experiences," he explains.
"I'm about fresh local vegetables and produce and my menu at restaurant Caleb transforms traditional Italian dishes by infusing them with beautiful Western Australian produce. I call it 'New Age Italian' and the plating just makes the menu a home run hit!"
While Caleb's favourite dish is 'Memory of Carpaccio' – thin slices of butter-aged Wagyu beef, drizzled with lemon EVOO, hand-picked capers, fresh basil and wood fire rustic flat bread – it is this recipe for
crispy skin snapper with peas bonne femme
that he has chosen to share with AGFG.
"Fresh snapper has a delicate, sensational ocean flavour when pan-fried with sage. Here I serve it with onions, bacon and peas."
Over the years, he has saved his best creation for the venue that bears his name – expect that grand dish to make the menu over the Summer.
A floating cheese balloon, filled with smoked basil and truffle, it creates the sensation of emotions bursting at the centre of your tongue and is sure to be a spectacular signature for the restaurant.
"These days when I close my eyes, I mostly think about transplanting my emotions and feelings into creating dishes for my guests. That's what makes restaurant Caleb a special place to dine – I want to give guests an experience which leaves them feeling better than they were before they walked into my venue."
Caleb's love of music, singing and dancing is the catalyst for the venue switching from fine dining to live DJ music on Friday and Saturday nights, with other theme nights planned for the future.
"It's a happy place to come to, a place to experience sensational food, to relax and to have a good dance and fun," he says. "The truth is I love music, composing songs and dancing, which is why I decided to introduce them to my venue so I could be me even more at work."
In five years' time, this talented and motivated Chef aims to be at the top of his game, along with creating more employment opportunities and culinary training centres so that the less fortunate, regardless of who they are and where they come from, can be equipped with skills to take care of themselves and their families.
"I see myself inspiring future Chefs and educating the young African community in Perth to grow and aspire to their full potential and not settle for less."
As they say…you can take the boy out of Africa, but not Africa out of the boy!