By Leigh O'Connor.
"Beer is made by men, wine by God."- Martin Luther.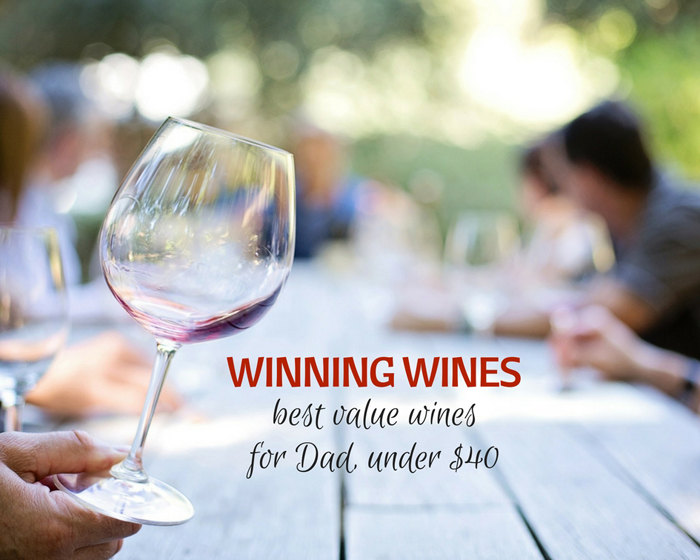 Whether an active Dad or one who prefers watching movies at home on the couch, most will enjoy a tipple now and then. As Father's Day approaches on September 3, a nice bottle of red to go with a home cooked meal shared with family, will go down a treat and it doesn't have to break the bank.
From the fertile valleys of South Australia to Margaret River and Tasmania, Australian wines are lauded as some of the best in the world, so keep it home grown and choose a bottle from the 10 suggestions – all under $40 – we have put together.
Passing Cloud's Pinot Noir 2016
Passing Cloud Winery near Daylesford are renowned for their reds and this pinot noir is no exception. A truly cool climate wine with elegance and complexity, it has intense aromatics of red fruits – fresh Summer raspberries and cherries with a touch of grenadine and quality oak. These follow through to a vibrant and crisp palate showing plenty of fruit weight, complemented by bright acidity and chewy tannins. This versatile drop enhances dishes such as poached salmon, or rich braised duck breast – so cook up a storm and spoil Dad on his day.
Steve Wiblins 2015 Erin Eyes Blarney Stone Shiraz
This Clare Valley shiraz is for those Dads who enjoy a rich, meaty meal with a matching glass on the side. Ageing in 100% French oak has made this red into a fine drop, with a deep purple colour and spicy nose of black and white pepper, combined with sweeter berry notes. Blarney Stone Shiraz has a palate full of blackberry and plum flavours enhanced with spicy pepper, that is sure to tingle Dad's taste buds and make his special day one to remember.
Mount Avoca 2014 Limited Reserve Fume Blanc
From the Pyrenees wine region of Victoria, comes this reserve fume blanc, with wild yeast fermentation for added complexity, weight and texture. A delicious match for seafood, chicken or pasta, Dad will be enticed by its pale gold colour and hints of peach and meringue that meld elegantly with sweet cashew, vanilla and pastry notes. Subtle oak adds to the creamy apple and peach palate, leading to a crisp, lingering tail and while smooth and delicious now, it will improve over the next decade.
A World War II survivor, Josef Chromy fled his war-torn Czech village as a 19-year-old and came to Australia – the rest as they say is history. Now the grandfather of a once fledgling Tasmanian wine industry, Josef is still as hands on as ever and this pinot noir is sourced from his Relbia vineyard. Ideal paired with pork belly or confit duck, its aroma of red cherries and wild forest fruit is balanced by hints of toasted oak and spice. Dad will savour its silky rich, dark chocolate palate that leads to a long, focussed finish.
This deep straw coloured chardonnay from the Margaret River complements salmon and creamy chicken or pork dishes - so plate Dad up a special meal and pour a glass to celebrate. A wealthy, complex perfume of lemon pie crust and hints of pineapple and buttery apple, mingle with secondary notes of nougat and spiced oak, bringing depth to the bouquet. A full bodied palate arrives soft and rich with a creamy, broad fruit base, while wood spice and custard cream flavours extend the long, dry finish.
From the cool climate of NSW's Southern Highlands, comes this clean and elegant riesling with sparkling yellow and green hues. Attractive floral notes join with green apple and lime aromas, while the palate is crisp with a dry finish and fresh apple flavours that linger on the tongue, giving the wine a pleasant and long lasting after taste. Riesling has a food-friendly character that will help tame the heat of spicy Thai, Middle Eastern or Mexican dishes, so fire Dad up and party in style.
Pierrepoint 2015 Sparkling Pinot Gris
Nothing says celebration more than a glass of bubbles and this sparkling pinot gris from Pierrepointis a great partner for appetisers and cold seafood. Made using traditional methods, it has a pale straw colour and an aroma of fresh, golden delicious apples, pear and brioche as it warms the glass. A lively palate with pleasant yeasty creaminess and generous acidity, creates a well-balanced dry, crisp finish that will have Dad asking for a refill.
Oliver's Taranga 2015 Corrina's Shiraz Cabernet Blend
Born in McLaren Vale, this shiraz cabernet blend is made via an old technique called co-fermentation, where the fruit is blended in the vineyard and fermented as one. This means Corrina's isn't made every year at Oliver's Taranga Vineyards, as both grapes need to ripen at the same time for the process to work. With smoky toasty notes and bright black fruits, Dad will love the rich mulberry and chocolate palate, slippery texture and crunchy tannins, ideally paired with rare roast beef and pepper sauce.
This cool climate sauvignon blanc is a fresh, aromatic wine that matches well with fish and chips, as the acidity helps cleanse the palate after eating crispy battered fish. Pop down to the local takeaway and grab Dad dinner, with a glass of Holm Oak on the side and watch him savour the lovely floral, citrus and herbal characters. Fermented in stainless steel, this wine has powerful passionfruit and gooseberry aromas, while the palate is refreshing and crisp.
Sirromet Winery 2014 In Cahoots Cabernet Sauvignon
From the Coonawarra wine region of South Australia comes this cabernet sauvignon, harvested in late March and early April. Close proximity to the ocean means a cool, mild climate resulting in a medium bodied wine with intense black currant character and floral violet tones. Granite Belt cabernet had an outstanding vintage in 2014 and this Sirrometwine features firm tannins and carefully balanced oak, best enjoyed with finger licking garlic chicken wings or braised beef short ribs. Dad will delight in this drop….pour on.
For more wine selections sure to please, click here.