"28 minutes for 28 days is all I need from you to change your life." ~ Sam Wood.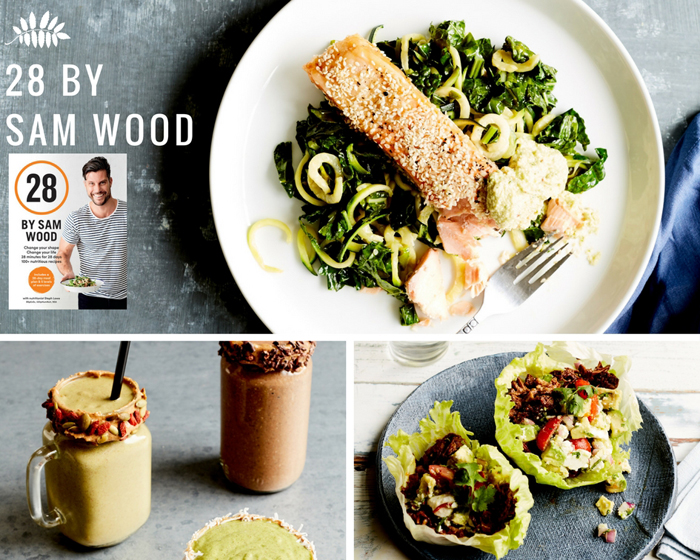 When most think of Father's Day, they think of grabbing Dad a beer and cooking a backyard barbeque with his favourite greasy eats. However, many men are shedding more than the stigma of being new aged and watching what they eat, opting instead to lose the beer gut and create a healthier version of themselves. We have found the perfect gift idea for Dads who are in this exact position; we introduce to you 28 by Sam Wood.
For over 16 years, personal trainer Sam Wood has used his training methods and techniques to help thousands of clients achieve incredible results. He possesses a unique way of understanding and relating to real people and breaking down the barriers that hold them back, to show them that with just 28 minutes of exercise a day, incorporated with eating clean healthy meals, real transformation is possible.
Teaming up with renowned nutritionist Steph Lowe, 28 delivers recipes that are simple enough to whip up at any time of the day, any day of the week, with each recipe incorporating a handy nutritional table so you can keep track of your protein, energy and sugar intake to keep on track with your 28-day plan.
Breakfast is the most important meal of the day, however it is usually skipped by many who are in a hurry, only leading to mid-morning sugar cravings that have you reaching for that muffin. For a quick and nutritious morning meal, try the most popular brekky option in the 28 program, Snez's Kickstarter Smoothie. With a shot of espresso to wake you up, banana for energy, oats to keep you full for longer and a touch of honey for a little sweetness, this almond milk smoothie is a time-poor, early starters' dream.
For a great midweek meal that is easy to make without the need to be in the kitchen all night, create the nutritious baked salmon with zucchini, kale and avocado cashew cream, offering an impressive 30 grams of protein per serve. The cashew and avocado cream makes for a versatile sauce that can also be used as a dip, salad dressing or substitute for sour cream. This is also a fun recipe for the kids to get involved with, calling for a spiraliser to be used to prepare the zucchini into "pasta."
It can be tricky to keep to a healthy eating plan when you are socialising or have guests over, with the usual suspects of snacks coming out. Why not whip up Mexican beef tortillas instead, making a great finger food option. This recipe gives the option to serve in lettuce cups for those watching their carbohydrate intake, while the addition of goats cheese feta, brings a creamy element to the dish.
"With minimal effort you can make this part of your life. It's authentic and, I promise, it won't drive you insane." ~ Sam Wood.
This is an edited extract from 28 by Sam Wood published by Hardie Grant Books RRP $39.99 and is available in stores nationally. Food Photography: © Chris Middleton. Lifestyle Photography: © Rich MacDonald.