Discovering Mount Avoca Winery & the Eco Luxe
The process of discovering all of Australia's great wineries continues. Now it may seem obvious but the focus of discovering great wineries is to uncover fantastic wines at affordable prices and this month we're celebrating with a delightful find. Mount Avoca winery has long been renowned for producing some of Victoria's best wines from the Pyrenees region and their 2010 Mount Avoca Sauvignon Blanc and 2008 Mount Avoca Shiraz, representing exceptional value at $18 and $25 respectively, are no exception.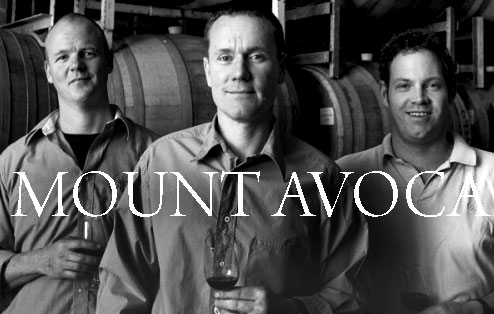 Described by celebrated wine critic James Halliday as "… one of the stalwarts of the Pyrenees region", Mount Avoca produces some of Victoria's most enjoyable drinking wines. Set amidst the vines and olive grove at the foot of Mount Avoca, a world away from the city and suburbs but only two hours from Melbourne, Mount Avoca's organically managed vineyard, winery, cellar door and Eco Luxe accommodation make for a truly idyllic location. From here the picturesque Grampians region with its majestic walking tracks, waterfalls and driving routes await, while the scenic towns of Ballarat, Daylesford, Castlemaine, Ararat, and St Arnaud are all within an hour's drive.
The Barry family are regional pioneers and have been producing wines here since 1970. Grapes on the estate are handpicked, crushed and crafted on-site. Enjoy a tasting in the relaxed sandstone cellar door and meet the winemakers led by second generation owner Matthew Barry. Other members of the wine making team include John Harris, Mount Avoca's Senior Winemaker. John's appointment marks a return to Mount Avoca, where he was a cellar hand during his studies. His experience includes managing the Chandon sparkling wine portfolio, developing their Green Point label and international experience with the Shell and Domaine Chandon. Cameron McPherson is the newest member of the Mount Avoca team boasting over 10 years experience in Australia and overseas. He comes fresh from three years in Margaret River. Ask any one of them and they will be more than happy to explain how the unique Pyrenees terroir has translated into award winning wines.
Best known for their cool climate Pyrenees reds - Shiraz and Cabernet Sauvignon are joined by Merlot and Tempranillo as varieties with which Mount Avoca have enjoyed great success. (Hint: The highly acclaimed Reserve Shiraz is found in the Limited Release section of their website.) The current generation of stylish, tight, flavoursome white wines, however, are also winning their fair share of medals and reviews garnering new respect. Whites include the stunningly fresh and aromatic 2010 Sauvignon Blanc and the tight and stylish 2009 Chardonnay. These are well structured wines of depth and flavour with classic Victorian elegance that makes for sumptuous drinking immediately. Careful cellaring will of course add an extra dimension – if you can keep them that long!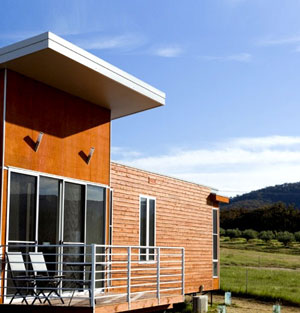 If an afternoon of tasting, assessing and appraising leaves you a little fatigued. The solution is but a stones throw away! The Eco Luxe @ Mount Avoca is the perfect place to recuperate. Three newly completed lodges harmoniously blend luxury with eco sensibility. Tranquillity is the key in these beautiful self contained lodges with picture windows overlooking the Pyrenees Range, setting the tone to recharge. Stylish and comfortable, generous living spaces open onto private balconies, this is a perfect spot to watch the sun set over the vineyard.