By Leigh O'Connor.
During the last decade, Middle Eastern fare has become a global sensation with its fresh, wholesome, healthy and aromatic flavours skyrocketing in popularity – none more so than in Australia.
Considered the new Asian by many Down Under foodies, Middle Eastern cuisine is far more than kebabs, hummus and tabouleh… it transcends borders, taking inspiration from countries like Egypt, Morocco, Lebanon, Turkey and Iran.
Long considered the cradle of civilisation, playing a vital role in promoting trade and linking the East with the West, the Middle East has been the birthplace of major religions and ancient cultures.
But did you know that Saudi Arabia imports sand and camels from our shores? Known as the 'ships of the desert', apparently Saudis don't find their camels to be tasty – Australian camels are fatter and more delicious – while the sand found in the Kingdom is not fit for construction.
We may not be able to visit the Middle East right now, but we can recreate a feast at home to enjoy with family and friends with this three-course menu to delight all tastebuds:
Coya
mastermind Ashraf Saleh delivers the mouth-watering tastes of the Middle East to Sydney diners from his Chef-hatted restaurant on Carawa Road in Cromer. Catering to the 'adventurous foodie', Ash serves up plates that are works of art, bursting with flavours you are unlikely to have tried anywhere else before.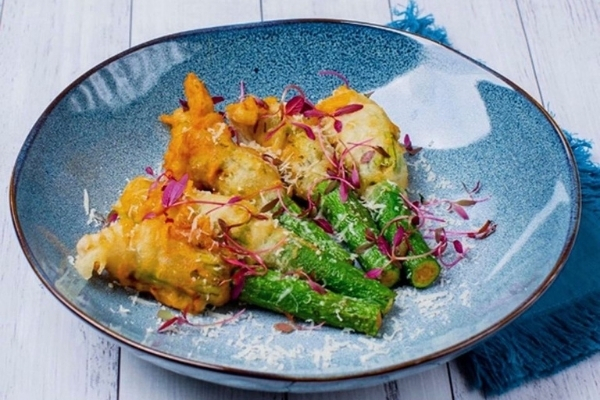 Check out the vibrant colours and textures of this stuffed zucchini flower dish.
Hoda Hannaway
is a feeder…she loves feeding people more than she loves eating herself.
For this Mum, celebrity Chef and former MasterChef contestant, the self-satisfaction she receives when people enjoy and appreciate a meal she's created is the ultimate reward.
Her recipe for
slow-cooked lamb shoulder with roasted vegetables
is an ideal dish to serve family and friends for any occasion. Rubbed with a Lebanese 7-spice mix similar to garam masala in Indian cooking, this roast will entice even the pickiest of eaters.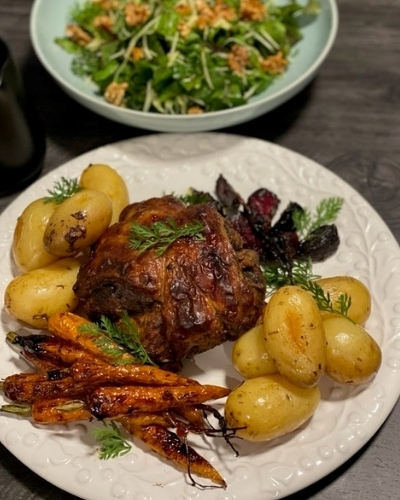 Hoda Hannaway's slow-cooked lamb shoulder and roast vegetables.
"Adding whole spices like cumin seeds to the vegetables not only gives flavour, but you also achieve a little crunchy texture. I have to give credit to Matt Preston for the carrots, he taught me that if you push the roasting of carrots past the overcooked stage, you actually achieve a meatier texture and that's how I love roasting most of my veggies now."
Finish your feast with an indulgent
macadamia baklava
from
Australian Macadamias
. So sweet but so delicious, macadamias soak up the heavenly flavours of honey and cinnamon and come out the star in this adaptation of a traditional Middle Eastern sweet.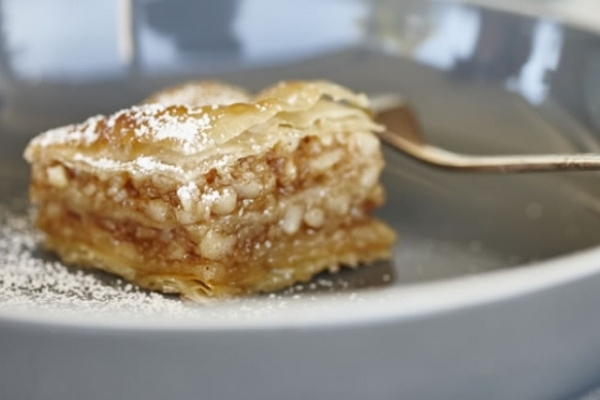 Sweet and delicious…macadamia baklava.
Don't feel like cooking? Click
here
to find a Middle Eastern restaurant near you.