By Leigh O'Connor.
Like everyone these days, Australia's sauciest Chef Manu Feildel has been spending more time in the home kitchen during isolation and lockdown.
So, what is Manu's favourite food to beat the isolation blues?
"Obviously all the usuals, liked slow-cooked meat dishes and pies are great, but I tried not to over indulge in comfort food as I didn't want to have a hard time back at the gym, when we started up again!"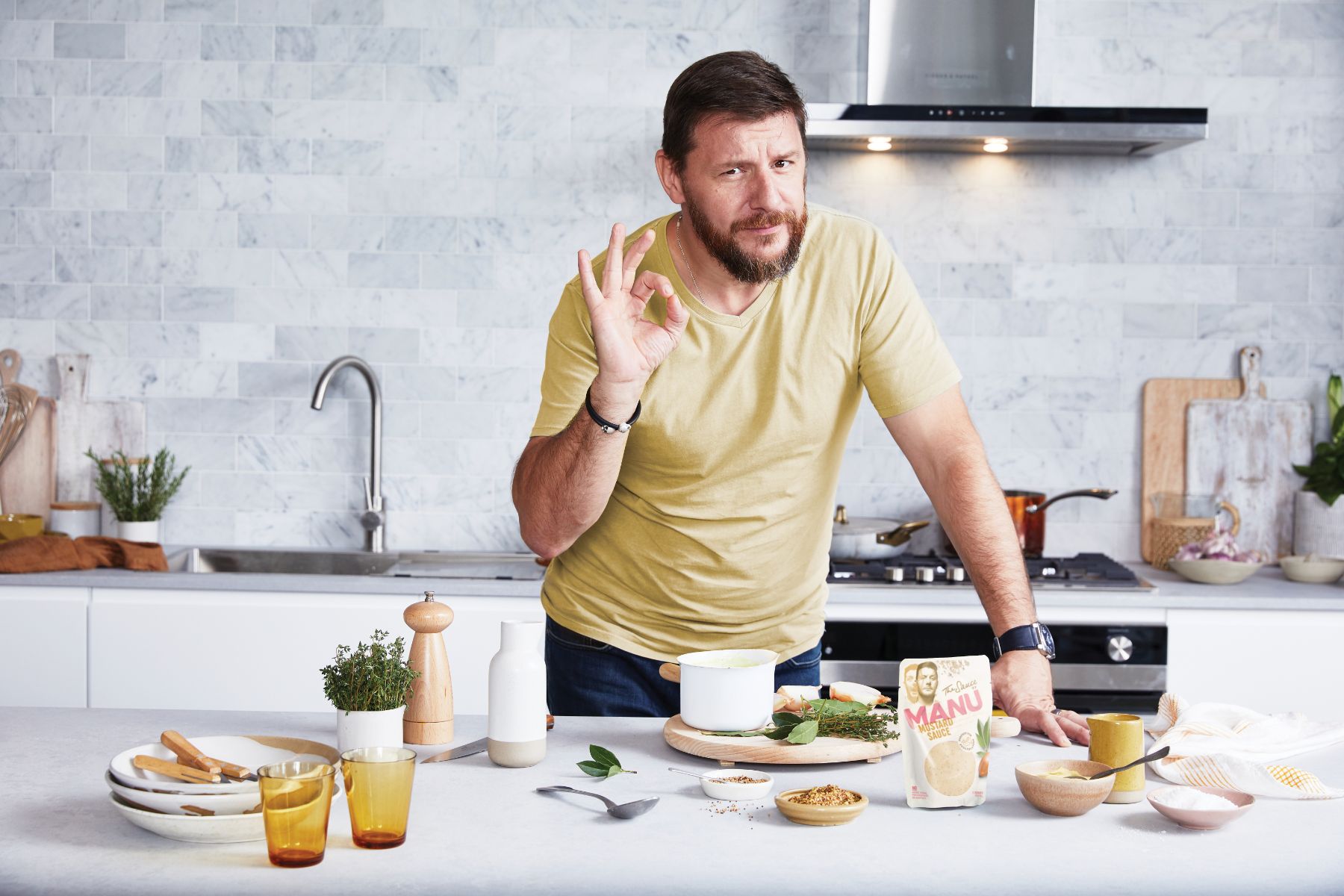 For years on TV's My Kitchen Rules, this well-loved celebrity Chef has been asking – 'where's the sauce?' When he looked at the pre-made market, he realised there was nothing readily available that resembled the French sauces he loves to create.
As Francophiles around the country prepare to celebrate Bastille Day on Tuesday, July 14, Manu brings his top 10 sauces to the AGFG table.
"A good, well-made, balanced and flavourful sauce elevates a dish," he says. "In French cuisine, the sauce is critical. It brings together all the elements on the plate – the protein, vegetables and carbs – as well as giving a dish moisture."
Manu has launched his own line, aptly named The Sauce by Manu, so we mere mortal home cooks can create sensational French dishes at home.
"To be honest, when I am working my wife Clarissa does most of the cooking as I am not at home, or will come in late from filming," he says. "During lockdown, we had more time to cook so we shared it more and also cooked with our daughter Charlee.
"I did create new recipes, mainly around my sauces. I realised people were all home wanting to cook more and although the main use for The Sauce by Manu is as a pouring sauce on protein; I discovered it worked really well in other dishes too and was a quick cheat to some dishes, meaning you didn't need lots of extra ingredients."
He says the project was never about making loads of cash, but more about fulfilling a passion to educate people in better and real food.
"It took me some time to perfect the range and actually be able to manufacture it, as I wanted it to be as authentic as it could be, almost as if I was making each batch in my own kitchen. I didn't just want to put my name to anything, I wanted it to be the real thing.
"I grew up around French cuisine, where sauce was an integral part of every meal and not just red sauce on your pie! Maybe if the French had landed here before the English and the Irish, Aussies would have a better understanding of proper sauces!"
With hundreds of different sauces to choose from, deciding on his favourites was 'un peu difficile', but here's Manu's best sauces of all time:
Bordelaise (red wine): The French love their red wine, but so do Aussies. This is a classic red wine sauce, which served over a medium-rare steak is a match made in heaven.
Peppercorn: an all-time favourite that elevates any steak, or schnitzel.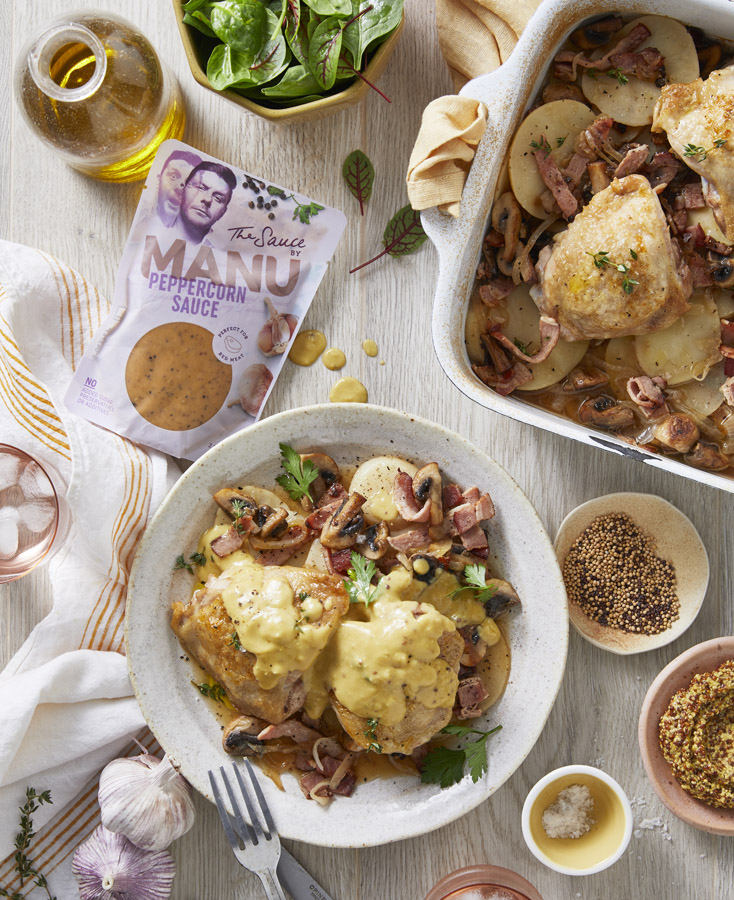 Bisque: originally created as a soup using lobster, it is also a gorgeous silky sauce for any shellfish, or surf and turf combo.
Mustard: Manu always uses Dijon mustard for a real bite, perfectly matched with a juicy pork chop.
Mushroom: a beautiful earthy and creamy mushroom sauce is incredibly versatile – stir it through pasta and sprinkle with Parmesan, for a delicious and easy dish.
Duglere: created by Chef Aldolphe Duglere in 1866, this sauce combines white wine, tarragon, tomato and parsley and is a great accompaniment to white fish.
Grand veneur: also known as The Huntsman's Sauce, this uses venison scraps along with cognac, red wine and aromatics, to create a complex flavour that goes well with venison, wild boar, hare and kangaroo.
Hollandaise: one of the five mother sauces of French cuisine. Find some fresh eggs and create yourself the best eggs Benedict.
Bearnaise: great for red meat, al dente asparagus, or a beautiful piece of salmon.
Beurre blanc: meaning 'white butter', this sauce is served with pike in Brittany, Northern France, where Manu comes from; but is it just as good over crispy skin salmon.
What lies ahead in 2020 for Manu and his family? Like all of us, plans have changed this year and they are trying to take things as they come.
"For me, this is unusual as for the last 10 or so years that I have been doing MKR, we've always been working about 18 months ahead, knowing what is coming up. I am spending a lot of time on the sauce business, creating new flavours for the range; I also have a renovation project La Botanique, which will hopefully open in August.
"I'd love a holiday, but who knows if and when that can happen. It really is a strange time, because for once I have the time to go on an overseas holiday and can't!"