Seeking Australian Tours, Cruises and Top Spots
I've just returned from Fraser Island in Queensland, the largest island formation built entirely of sand, spanning 125 km in length. A remarkable scene in and of itself, I was somewhat regretful that whale watching season was still a month or so away as the isolated bays attract acrobatic and playful Humpback Whales come late autumn.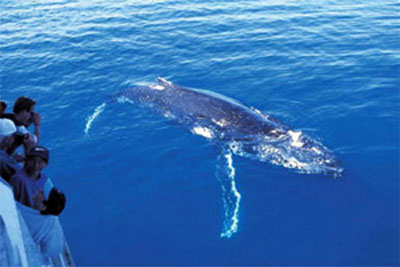 Aside from my poor timing, the one thing I did do right was book a site seeing tour. If you've heard it once you've probably heard it a hundred times, there are definitely times when you want to include professional tours in your travel budget and visiting Fraser Island or other exceptional destinations definitely calls for it; if guaranteed whale sighting is what you're after, then this is one of those times.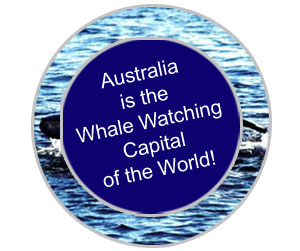 Guaranteeing a Trip of a Lifetime
Guided tours often guarantee a sighting
Unique viewing platforms are typically part and parcel of the package
Fancy a 24 knot cruising speed?
Perhaps an underwater viewing window?
And yes, complimentary morning or afternoon tea (fully licensed) are typically part of the deal
Note: If the tour company has been around for awhile, they may have embraced technology. What this means to you is that you may be able to hear the whales sing, via their Hydrophone (underwater microphone), or view the whales on screen in the comforts of their viewing room, courtesy of their in-hull whale cam.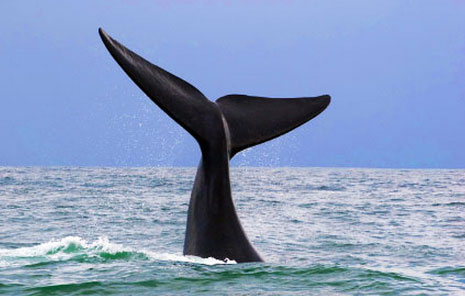 Discovering Australia's Gentle Giants of the Sea
When it comes to whale watching in Australia a similar theme emerges. By taking a land tour or booking a cruise you benefit from the knowledge of guides who know the lay of the land, are familiar with the water ways and certainly know the migration patterns of the whales that emerge annually near their shoreline. You'll also find that tourist groups are taken out during opportune times as the company you choose has a vested interest in your successful sighting of awe inspiring whales.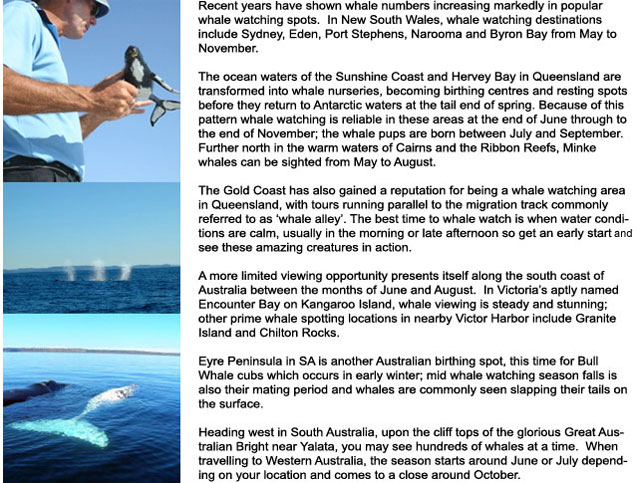 The remarkable recreational whale viewing opportunities in Australia are overwhelming, with a variety of whales visiting Australian waters that include Southern Humpback, Bull and Minke Whales. Narrowing down the possibilities, the best thing to do is consider where you're at and take advantage of the nearest whale spotting sight.
Whale watching worldwide is a billion dollar industry so when you select a destination and book the cruise or tour you certainly will not be alone – over 13 million people partake in recreational and/or educational whale watching per year.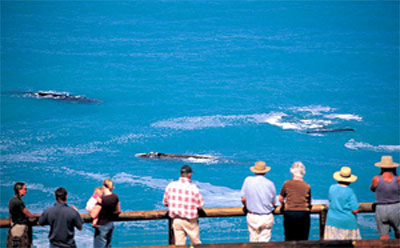 When selecting your whale watching destination, local companies will offer helpful information and for those on a tight budget confer with the local or governmental tourism body because they may have "ocean giant lookout kits" for land viewing.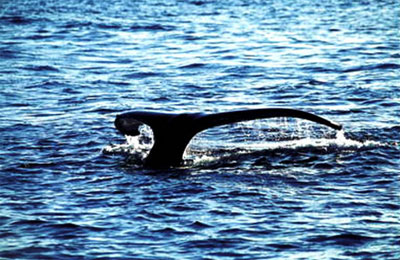 But of course there are designated land tours out there as well, often in association with a national park body. In the Sydney area you will find guided walks of pristine coastline up to 15km long, and when you partake in this adventurous pursuit during whale migration season the chance of seeing a humpback whale is high. Lucky hikers may even gaze upon a rare Southern Right whale whilst taking in sandstone formations, secluded Marley beaches and rock engraving sites attributed to the local Dharawal people.
Something to keep in mind, wherever you travel with your sights set on whale watching, the supreme natural beauty surrounding you will be awe-inspiring. Even if it is a relatively quiet day in the water, the water or land based experience will inevitably create memories beyond your imagination.