By Leigh O'Connor.
In 2000, Hollywood movie 'The Beach' brought Thailand's coastal beauty into lounge rooms around the globe.
We watched Leonardo DiCaprio as he and a group of travellers found a pristine, uninhabited and restricted island in the Gulf of Thailand, where crystal clear azure seas and a white sandy beach provided the ultimate backdrop for a tale of love, betrayal and death.
Set in stunning Maya Bay on the island of Koh Phi Phi, the film was a catalyst for world adventurers to journey to Thailand in search of this awe-inspiring cove, surrounded on three sides by towering cliffs. Day trips from Patong by speed boat are overwhelmingly popular, as tourists bask in the warm water or snorkel the bay in wonder of the sea life below the emerald waters.
Just one of many iconic beaches in the region, Thailand remains a hot spot for international jetsetters looking for sun, sand, surf and great food. Grab your towel, sunscreen and hat as we swim around the coast taking in the best beaches on offer…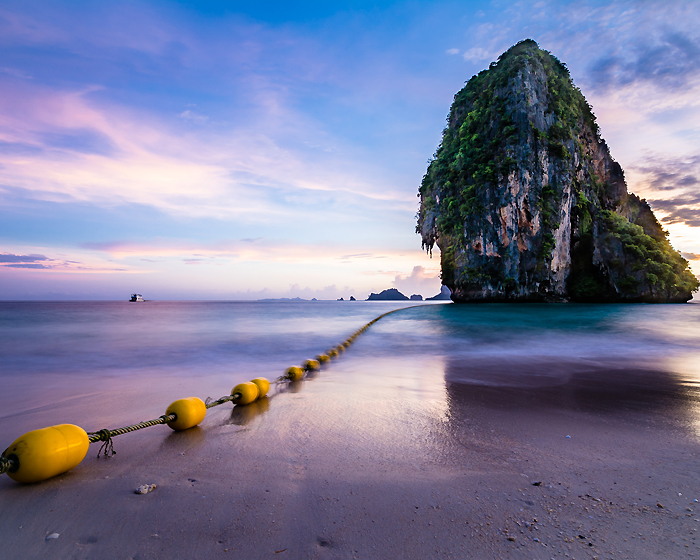 Photo: Phra Nang Beach, Thailand by Marco Nürnberger / Flickr.
Phra Nang Beach, Krabi:
Well known for its nightlife, Krabi attracts numerous tourists seeking fun and a little adventure. While the mainland beaches are popular, they can't compete with those in Railay Bay, only accessible by boat and surrounded by lofty limestone cliffs.
Providing shade from the sun and rock-climbing activities, the cliffs at the southern end of the beach also hide the famous Princess Cave, said to be the home of a mythical sea princess. Hikers can follow a trail into the side of the cliff to a hidden lagoon called Holy Princess Pool – it's a bit of a climb but that's what makes a swim in the water even more appreciated.
Sunset Beach, Koh Kradan:
Watch the sun go down with the best seat in the house at Ao Chong Lom Beach – aka Sunset Beach – in the country's south. Trang Province has a shoreline stretching more than 100 km in length, along which can be found the island of Koh Kradan, home to some of the most stunning beaches and coral reefs on the planet.
A great place to swim or snorkel, the postcard like destination of Sunset Beach requires a short hike through the tropical forest to claim a blanket space with a beer and watch the glowing red orb of the sun sink into the water at the end of another peaceful day.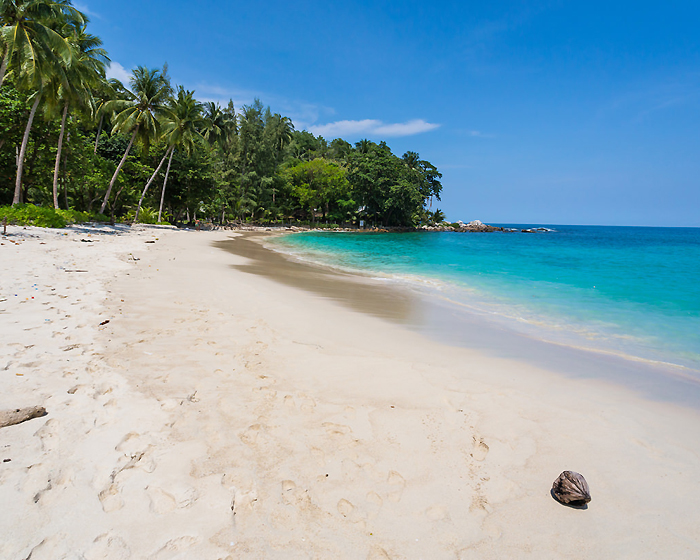 Freedom Beach, Phuket:
Phuket is a well-known tourist trap and Patong Beach is over-run with tourists, but there are still a handful of sandy shores that remain relatively remote, including Freedom Beach. This secluded stretch of beach is just a short drive from Patong and also accessible by long boat; while there is a small entrance fee it is well worth the effort of getting there, particularly if you hike in from the road.
One of the few remaining places to get away from the crowds in a laid-back tranquil atmosphere and outstanding natural environment, unwind on a sun lounger in peace and quiet, as there are no vendors or motorised water activities to spoil a fun day of swimming and snorkelling.
Lamai Beach, Koh Samui:
Long considered Koh Samui's second favourite beach behind big sister Chaweng, Lamai has atmosphere with the shadow of the island's central mountain pressing close to the ocean, huge granite boulders and coconut groves fringing every edge of the beach. For many, it is the true image of a tropical paradise by day and at night, it comes alive with scores of bars and restaurants making for a party scene.
Don't forget to take a break from the sun and visit Wat Khunaram, where the remains of monk Luong Pordaeng are on display in an upright glass case at the temple, seated in a meditative pose since his death in 1973. A visual reminder of Buddha's teachings, Loung is among the most highly revered monks in Thailand and an inspiration for followers to walk the middle path.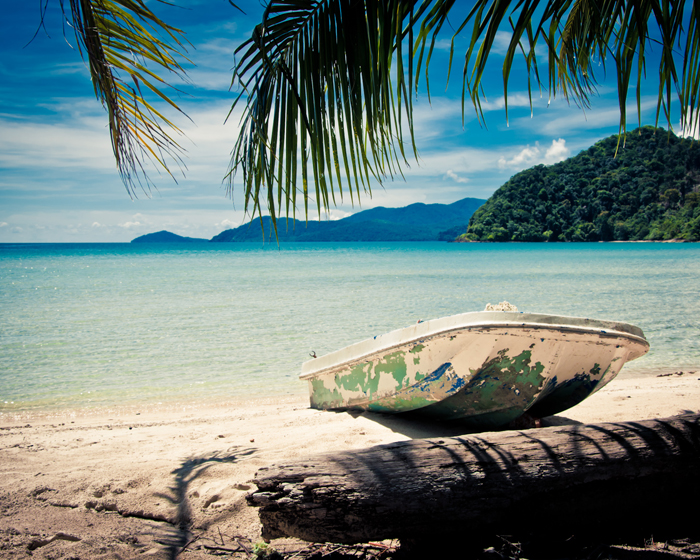 Photo: Koh Chang, Thailand by Hendrik Terbeck / Flickr CC.
White Sand Beach, Koh Chang:
Once the domain of backpackers a decade ago, White Sand Beach is now growing into the resort scene on the island of Koh Chang. The northern end of the beach still has some of the old bamboo bungalow charm and as the name implies, the sand is soft, white and powdery; fringed by palm and coconut trees, against a backdrop of gently sloping hills.
Easily accessible and long in length, the beach has plenty of room for visitors to grab a stretch of sand for themselves and sun bake; when hunger pangs strike, take advantage of the number of relatively inexpensive dining options lining the foreshore.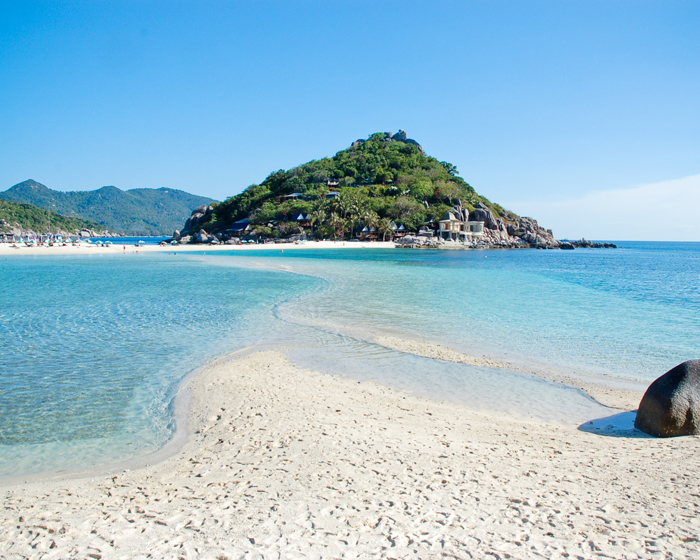 Photo: Koh Tao, Thailand by Marc-Olivier Bergeron / Flickr CC.
Had Sai Daeng Beach, Koh Tao:
The smallest of the three most popular islands in the Samui group, Koh Tao packs a punch with those hoping to get up close and personal with the abundance of coral found in its waters. Also known as Turtle Island, there are a plethora of dive shops for those who want to get certified, while one of the most stunning beaches is Had Sai Daeng.
With a small, sandy shore, crystal clear water and a super view of Shark Island, it is a great place to see the golden phenomenon, which occasionally happens just before sunset depending on weather conditions and cloud cover. While beautiful above sea level, Had Sai Daeng is just as captivating beneath the waves, where divers can catch a glimpse of black tip reef sharks and sea turtles.
Kata Beach, Phuket:
A pleasant bay south of Karon Beach, Kata entices and charms visitors with white sands and clear waters, making it a popular destination for families. From May to October, surfers take to the waves of this palm-lined beach, while sunseekers can be found all-year round; taking advantage of the abundance of shops, restaurants and lively bars surrounding the foreshore.
Snorkelling can be enjoyed in the warm waters at the northern end of the beach, while for a great picture or cocktail with a view, drive up to the viewpoint between Kata and Nai Harn and take in the spectacular scenery as the sun sets.
Got you hooked? Throw in your bathers, pack a surfboard and head to Thailand for some of the best holiday beach days on record. For more Thai tourism info, click here.