By Freya Ensbey.
The lead up to Christmas is undoubtedly one of the busiest times of the year, however, Christmas Day feasting doesn't need to be stressful if you are savvy and plan ahead.
As Christmas falls within the warmest months of the year, many Australians steer away from the hot and steamy European traditions of roast meats and instead opt for light and fresh servings of seafood.
We have all been in the situation where we have left buying the crucial seafood stock up until the last minute, only to be met with bare ice when arriving at the market. Or planning an entire menu around dishes containing certain seafood species only to be disappointed when the local fishmonger tells you they are not in season, having you start from scratch with the menu planning at the last hour.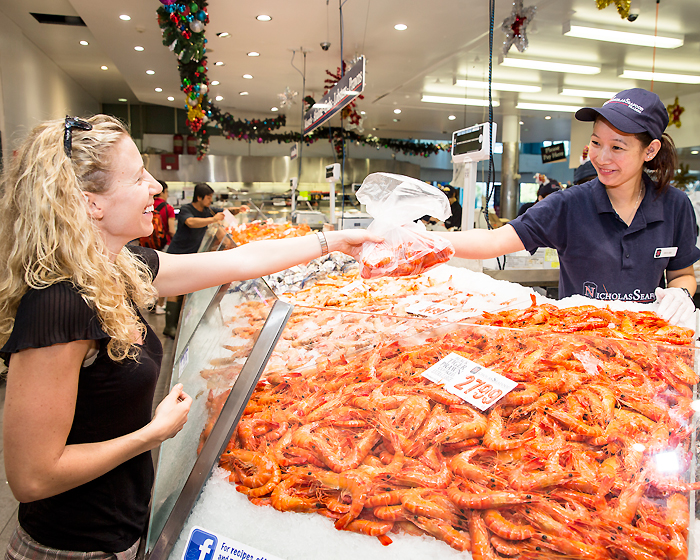 Christmas at the Sydney Fish Market. Photo: James Horan.
We spoke with those in the know, the Sydney Fish Market and Chef, Ross Lusted from acclaimed Sydney restaurant, The Bridge Room, to get their professional tips on planning ahead for a stress-free seafood feast.
The Sydney Fish Market is the largest of its kind in the Southern Hemisphere, trading over 13,500 tonnes of seafood annually from its Pyrmont Bridge Road location. Over the Christmas period the market extends their hours to accommodate for the larger volume of customers entering its doors, trading for an impressive 36 hours straight, from 5am Saturday the 23rd to 5pm Sunday the 24th of December.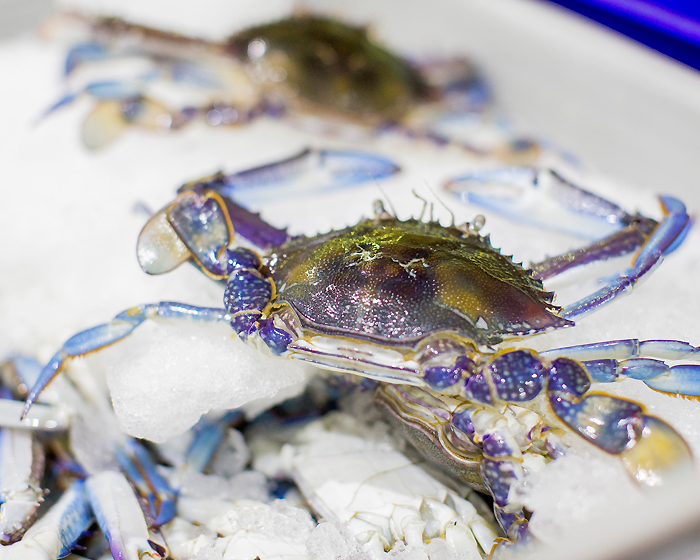 Blue swimmer crab on ice at the Sydney Fish Market. Photo: James Horan.
This year De Costi Seafood's at the Sydney Fish Market will be launching an online purchasing and delivery service for those residing in Sydney, just in time for Christmas. The majority of the seafood retailers at the Sydney Fish Market offer a range of pre-order and pick up options, inviting customers to communicate with their opted fishmonger as to what they are needing or wanting for the weeks ahead to ensure they are stocked up with the right varieties to avoid any disappointment.
For those who are not Sydneysiders, the Sydney Fish Market have shared with you a few of their must know tips when choosing seafood from your local co-op, fishmonger or deli.
When searching for a whole fish, seek out a lustrous skin and scales, you want a firm flesh that springs back when touched and has bright pink or red gills. If its fillets or cutlets you are after, there should be an absence of discoloration, gaping or bruising and a pleasant fresh sea aroma instead of smelling "fishy." Whilst shopping for prawns, look for a vibrant coloured shell, with firm, intact shells, heads and tails, again with only a pleasant fresh sea aroma present.
Another imperative tip the Fish Market suggests when doing your seafood shopping is to come prepared with a chiller bag or esky and some ice to keep your seafood as fresh as possible upon departure. Once home, keep your crabs in a cool place on ice and covered with a damp cloth, whilst prawns and fish should be kept in the coldest part of the fridge covered in plastic wrap and mussels covered with a damp cloth and stored in the warmest part of the fridge.
If you are purchasing a seafood species you are a little intimidated by, simply ask the fishmonger their advice on how to prepare it or search the Sydney Seafood School's compilation of recipes to find the perfect dish to make.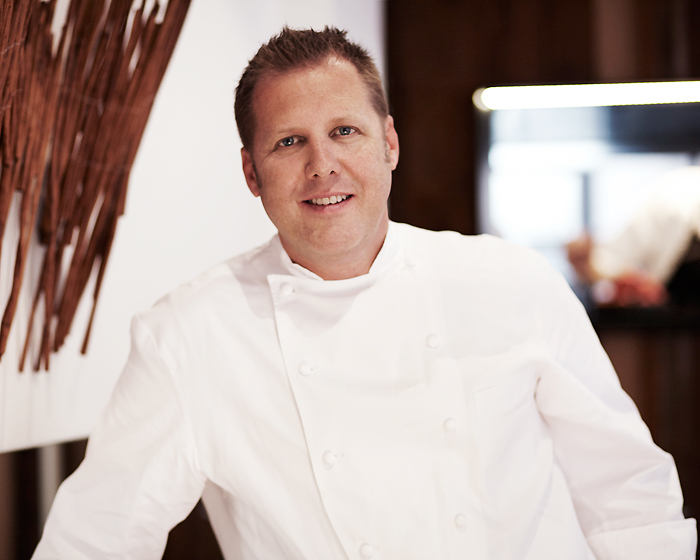 Chef, Ross Lusted.
Sydney based Chef, Ross Lusted, explains that Christmas to him is all about two things; family and seafood. Migrating to the golden beaches of Byron Bay for three weeks over the Christmas period, Lusted and his family enjoy the warm sunshine of Northern NSW along with its bounty of local seafood delights.
Donning shorts and hovering around the backyard barbeque, he enjoys nothing more than sitting with family on Christmas Day and enjoying simple, fresh mud crabs.
"Seafood is about not having to do too much in the kitchen or spend all of your time cooking," says Lusted.
And what might you ask is the go-to Christmas crab recipe that one of Australia's most celebrated Chef's creates?
"For me steamed mud crab, burnt butter and lemon juice is the best way to do it. Paired perfectly with a glass of Chablis or an Australian Chardonnay," he says.
Another Christmas time favourite among his family is panettone, toasted most mornings of the holidays for breakfast to accompany a plate of seasonal stone fruit like cherries, lychees and pan-fried peaches, which he explains is more Christmas to him than sitting down to pudding and custard.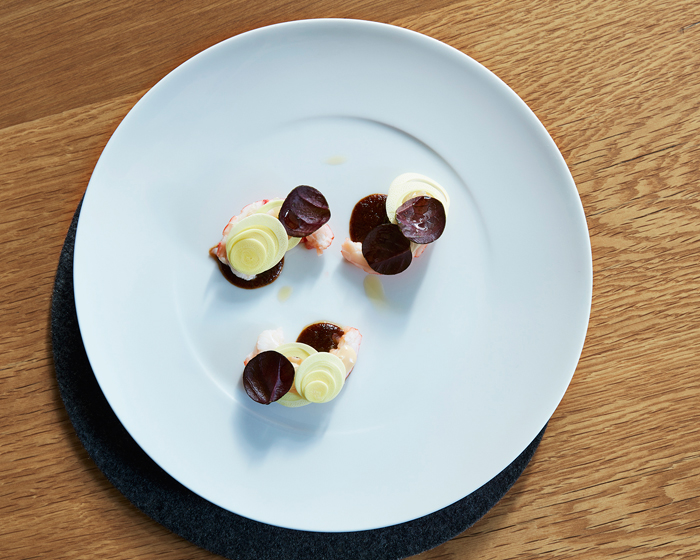 Ross Lusted's red claw yabbies with tamarind, chilli, pomelo, cashew nut butter and palm hearts at The Bridge Room.
Highlighting that the biggest mistake people make when sourcing seafood is leaving it to the last minute, Lusted explains that the key is in the planning. He recommends visiting your local fish monger a week or two before the big day and communicating with them as to what you are looking for as it may not be in season or available at all.
"Some people may want Kingfish, but it's just not the best time of year to get it, for example. So I think the key is to have a couple of options with whatever you are cooking. Flexibility is the key to not being disappointed," Lusted explains.
Lusted recommends also doing your research on what is readily available during the month of December. Blue Swimmer crab for example, is usually in abundance during Summer so you can begin basing your menu around the given species.
For more Christmas Day menu inspiration, peruse our collection of favourite
seafood recipes here
.