A refreshing piece of nature
Mainly concentrated in the tropics of the Northern Territory, waterfalls in Top End territory are amongst some of Australia's most breathtaking natural wonders. A trip that requires some prior planning, ensure your waterfall trip is undertaken between the monsoonal rains of summer and the post flood period in which some access roads are limited. Cool off in the plunge pools, keep a look out for outback wildlife and get exploring amongst the Northern Territory's water wonderland.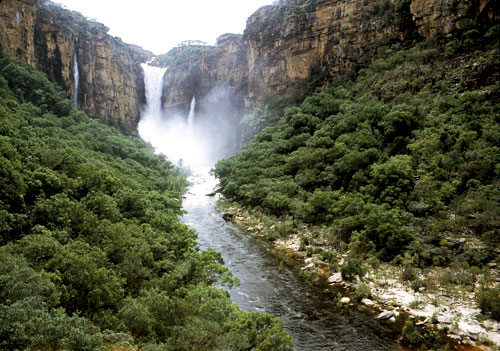 What are some of the best waterfalls in the Northern Territory?
Perhaps the territory's most famous icon, Kakadu National Park holds a plethora of scenic waterfalls, each situated in secluded, serene surrounds. Within the park, the spectacular Jim Jim Falls is encompassed by 150 meter high cliffs and can only be reached in the dry season by four wheel drive track. The wet season however is a perfect time to take to the skies and see Jim Jim in full flow.
Also situated in Kakadu National Park, Twin Falls continue flowing a lot longer than Jim Jim does, with turtles and freshwater crocodiles seen on the tiny beaches of the gorge. Additionally, one of the most popular wet season waterfall destinations in Kakadu is that of Motorcar Falls, a 25 meter waterfall that drops down into a rock plunge pool.
A number of the territory's cascading waterfalls are situated in Litchfield National Park, including Wangi Falls, Edith Falls and Robin Falls. Each of these falls are unique in sight and surrounds, but carry the same beauty that resonates throughout Litchfield.
For more cascading beauty, head to Australia's waterfall wonderland