By Freya Ensbey.
Drawing on its surrounds, Vietnam's culinary history is varied and seductive, from the Chinese and Khmer dynasties and the Indian empire as well as the short lived Japanese occupation, to the French colonisation of which Vietnam celebrates its independence each year on September 2.
Although Vietnam is made up of 50 provinces, in terms of food, Vietnam is split into the North and the South – each having their own climate, sub-culture and culinary traditions. However, one element remains synonymous throughout most Vietnamese dishes, with a foundation of rice and umami tastes of fish or soy sauce and shrimp paste used to highlight lean proteins and vegetables.
Vietnamese cuisine has been adopted the world over, especially in warmer climates like Australia, offering healthy, light and fresh dishes with the minimal use of dairy and oils, ideal to enjoy on hot days.
We have collated the tastiest, hands on Vietnamese recipes yet, from rice paper rolls to fried chicken, get the kids involved in the kitchen and create an excuse to invite friends over to eat as the Vietnamese do, and share in conversation and good food around the dinner table.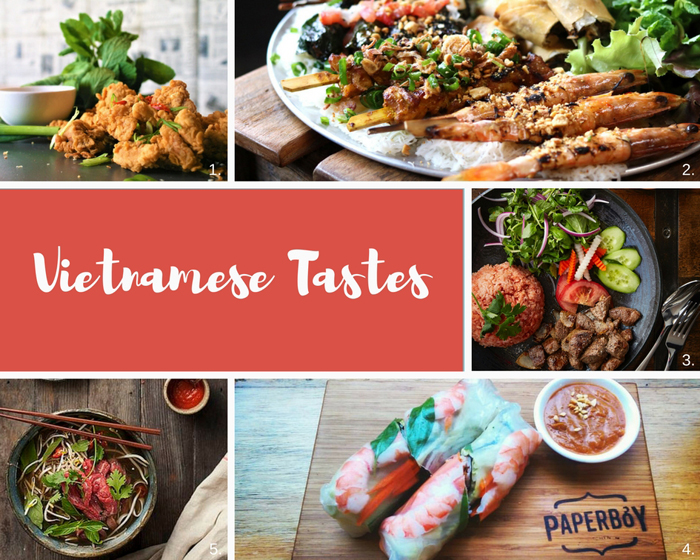 There is something intrinsic about texture within a dish, making the difference between a fail and a holy grail within a recipe. Hailed across Vietnam for its explosive crunch and tasty accompaniment of a punchy dipping sauce, it is no wonder Vietnamese fried chicken is a well requested favourite in many households.
For an all-round crowd pleaser, try your hand at this Vietnamese DIY plate. Have a whole tribe to feed? Why not double the ingredients list to make enough to go around with pork, chicken and prawns to please all tastes.
3. Scotch Fillet with Tomato Rice and Watercress Salad
Keeping true to basing itself around rice, popular Sydney Vietnamese restaurant, District 1 HCMC have given us insight into how they create their scotch fillet with tomato rice and watercress salad. The scotch fillet is marinated in a vibrant oyster, fish, sugar and soy elixir, creating tasty and succulent beef pieces which can be used as an addition to any salad or wrap.
4. Rice Paper Rolls by Paper Boy Kitchen
Ask any Vietnamese home cook and they will agree that one of the most important condiments to have on hand in your fridge is a tasty dipping sauce, and this recipe delivers just that. These rice paper rolls are a fun way to eat, with each individual mixing ingredients and using their hands to create a meal right at the table.
5. Pho
Known as Vietnam's national dish, the word 'pho' is derived from the French beef stew pot-au-feu (literally 'pot on fire'). When it comes to flavours, beef has traditionally been an enduring favourite but chicken is also popular. The aromatic beef pho stock is made by simmering beef bones, steak, oxtail, charred onion, ginger and spices in water for hours. Garnished with onions, basil, bean sprouts and chillies, pho warms both the body and soul.